US's Asia allies – Japan, RoK – continue to invest in closer ties with China despite concerns
Japan and the Republic of Korea (RoK) – US's allies in Asia – are continuing to invest in closer ties with China, recognizing its importance despite their deep-seated geopolitical concerns.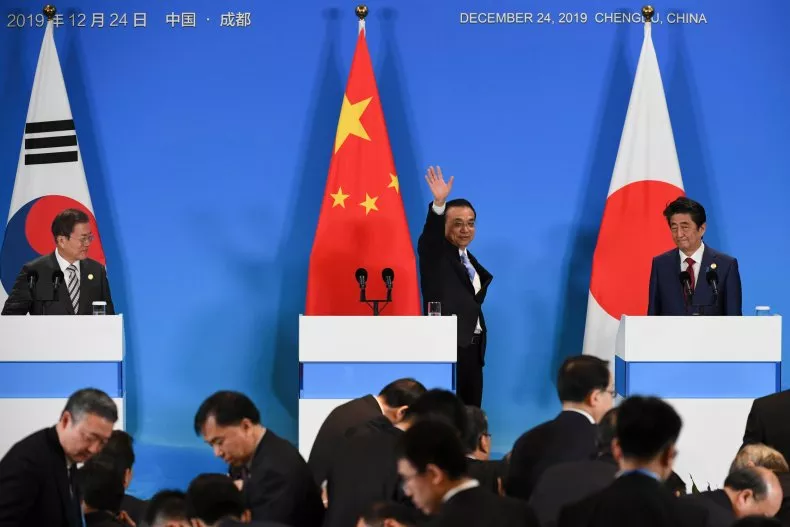 China's Premier Li Keqiang (C) waves at the conclusion of a joint press conference with Japan's Prime Minister Shinzo Abe (R) and the RoK's President Moon Jae-in (L) at the 8th trilateral leaders' meeting between China, the RoK and Japan in Chengdu, southwestern China's Sichuan province on December 24, 2019. Photo: AFP
Japan and the Republic of Korea (RoK) – US's allies in Asia – are continuing to invest in closer ties with China, recognizing its importance despite their deep-seated geopolitical concerns over certain positions held by an assertive Beijing in an era of increased great-power competition in the Asia-Pacific region.
The emerging strategies of Tokyo and Seoul come as Washington calls on the international community to stand up to the People's Republic, a policy on the ballot on November 3 as President Donald Trump faces off with former Vice President Joe Biden for the national election, according to Newsweek.
While the White House urges nations to rethink their relations with China, those in the region don't see confrontation as an option.
"China is the world's second largest economy, and the Japan-China relationship is one of the most important bilateral relationships for Japan," the Japanese Foreign Ministry told Newsweek.
"Although there are various issues of concern between Japan and China, we will continue to claim what Japan should claim and resolve each issue, strongly urging China's positive response by taking the opportunity of high-level meetings and visits," the ministry said.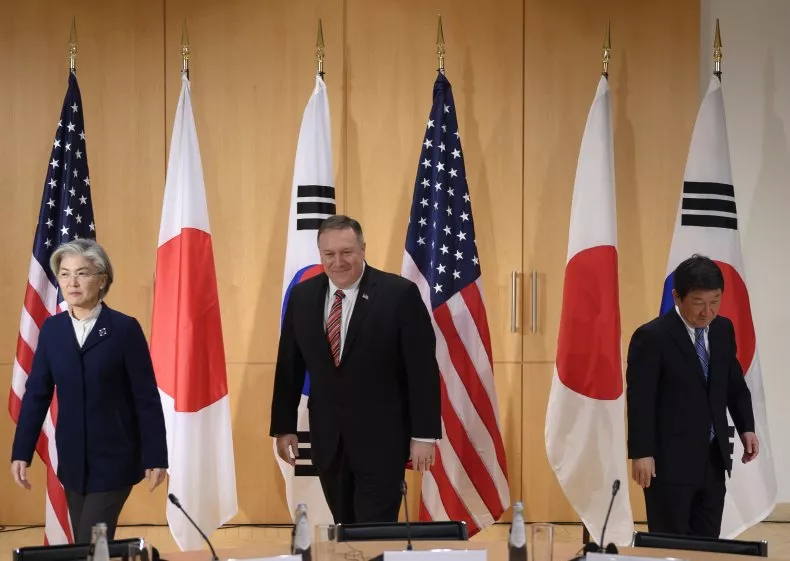 (L-R) RoK Foreign Minister Kang Kyung-wha, US Secretary of State Mike Pompeo and Japanese Foreign Minister Motegi Toshimitsu arrive at a trilateral meeting during the 56th Munich Security Conference (MSC) in Munich, southern Germany, on February 15. Photo: AFP
For the RoK, ties with China have transformed even more significantly in the years since the two established modern diplomatic relations 28 years ago.
"The Republic of Korea (ROK) and the People's Republic of China (China) established diplomatic relations in August 1992, ending the history of separation for half a century, resuming historical exchanges that had lasted for thousands of years, and paving the way for forging friendly and cooperative relations for the future," the RoK Foreign Ministry told Newsweek.
But both also recognize serious challenges in dealing with China.
Japan-China dispute over Pinnacle Islands
US Navy and Japan Maritime Self-Defense Force ships sail in formation to kick off exercise Keen Sword, Oct. 26. (Navy/MC2 Erica Bechard)
China and Japan have for decades been locked in a territorial dispute over the Pinnacle Islands in the East China Sea. Known to Japan as the Senkaku Islands and to China as the Diaoyu Islands, the uninhabited land formations fell under the rule of Japan at the end of the 19th century.
China says records indicate the islands were historically part of China, and should be returned along with other seized territories conceded after Japan's defeat in World War II. Instead, a victorious U.S. occupied the islands in the immediate aftermath of the conflict and transferred control back to Japan in the 1970s.
Defying Japan's claims, a record number of Chinese vessels have sailed in and around the islands, prompting the Japanese Coast Guard to respond.
"It is extremely regrettable that Chinese government vessels continue navigation within Japan's contiguous zone and intrusion into the Japanese territorial sea around the Senkaku Islands," the Japanese Foreign Ministry told Newsweek. "We have repeatedly lodged strong protests against such activities by China through diplomatic channels."
The ministry vowed to demonstrate restraint while safeguarding its claimed territory, which is subject to a treaty requiring a U.S. military response in the event of an attack.
"Japan continues to deal with the situation in a calm and resolute manner under the firm determination to defend Japan's territorial land, sea, and airspace," the ministry said.
But Beijing continues to claim the right to patrol the disputed territory.
"Diaoyu Dao and its affiliated islands are an inseparable part of the Chinese territory. Diaoyu Dao is China's inherent territory in all historical, geographical and legal terms, and China enjoys indisputable sovereignty over Diaoyu Dao."
"China is firmly opposed to Japan's violation of China's sovereignty over Diaoyu Dao in whatever form and has taken resolute measures to curb any such act. China's position on the issue of Diaoyu Dao is clear-cut and consistent. China's will to defend national sovereignty and territorial integrity is firm and its resolve to uphold the outcomes of the World Anti-Fascist War will not be shaken by any force," Foreign Ministry spokesperson Zhao Lijian said in the white paper issued in September.
US challenges Chinese claims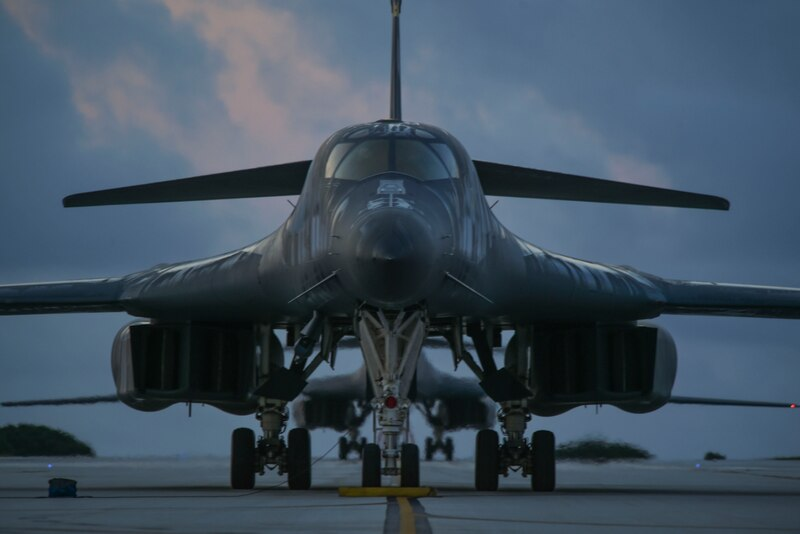 Two B-1B Lancer aircraft sit on a runway during a Bomber Task Force deployment at Andersen Air Force Base, Guam, Oct. 21, ahead of the Keen Sword exercise. (Pacific Air Forces)
Lieutenant General Kevin Schneider, commander of US Forces Japan, said the US military will help Japan monitor "unprecedented" Chinese incursions around East China Sea islands controlled by Tokyo but claimed by Beijing.
"The United States is 100 percent absolutely steadfast in its commitment to help the government of Japan with the situation," he was quoted by Reuters as saying.
Last month, US Indo-Pacific Command forces teamed up with units from the Japan Self-Defense Force and launched exercise Keen Sword 21— bringing together approximately 9,000 service members from the U.S. Navy, Air Force, Army and Marine Corps.
The exercise, conducted in Japan, Okinawa prefecture, and surrounding waters, includes ships from the Reagan Carrier Strike Group, more than 100 aircraft and ground forces, and comprises maritime, ground and air events.
Additionally, the exercise will require U.S. and Japanese forces to train as part of a "comprehensive scenario" to employ capabilities needed to defend Japan or respond to a crisis in INDOPACOM's area of operations, Navy Times said.
Seoul looking to balance relationship with Beijing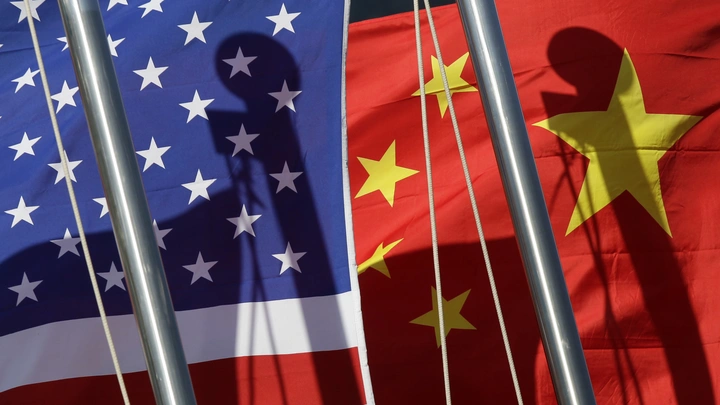 Photo: Reuters
Like Tokyo, Seoul is looking to balance its relationship with Beijing despite points of contention.
"Although, differences in positions regarding THAAD deployment posed challenges for bilateral relations between the RoK and China, the outcome of the consultation between RoK and China on improving bilateral relations in October and President Moon Jae-in's state visit to China in December 2017 led to the normalization of the bilateral ties," the RoK Foreign Ministry told Newsweek.
"Relations between the ROK and China continue to develop in a stable way with active high-level exchanges."
The ministry noted that these ties were also developing despite the COVID-19 outbreak that emerged in the region but has since more seriously affected the West.
On the other hand, the Trump administration's approach to the RoK has tested the decades-long relationship with a country the US went to war to defend against the Democratic People's Republic of Korea (DPRK) and China in the mid-20th century.
Moon embraced Trump's unprecedented approach to direct, top-level diplomacy with the DPRK, but no deals ever emerged and fragile ties between Pyongyang and Seoul ultimately collapsed. The US leader has also taken a tough stance on trying to force the RoK to pay more for their cost-sharing agreement for US military forces in the country.
In the absence of a deal, the future of the American military presence appears uncertain, and RoK officials have raised this question in public.
"Just because Korea chose the US 70 years ago does not mean it has to choose the US for the next 70 years, too," RoK ambassador to the US Lee Soo-hyuck said during an audit of the National Assembly's Foreign Affairs and Unification Committee earlier this month.
"Korea can choose to keep siding with the US only if it is able to love the country and if it serves the nation's interests," he added, noting that Seoul was recognizing the importance of Seoul's economic relationship with Beijing, the RoK's top trading partner./.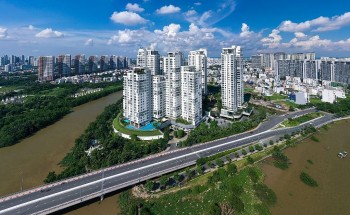 Economy
Vietnam Business & Weather Briefing (Sep 29): Vietnam among world's best performers in digital banking, Vietnam's new overseas investments surge 2.31-fold in nine months.