Hello 2021, and goodbye 2020! The year of the COVID-19 pandemic has officially ended with New York City Mayor Bill de Blasio dropping the ball in an eerily empty Times Square as millions of Americans watched the annual event from home.
Times Square is usually at the center of the world's New Year's Eve celebrations, with tens of thousands of people packing in to the commercial hub every December 31st to watch the ball drop at midnight.
De Blasio was seen pushing the button to start the crystal ball's decent as his wife, Chirlane McCray stood by his side. The pair then danced into the new year onstage.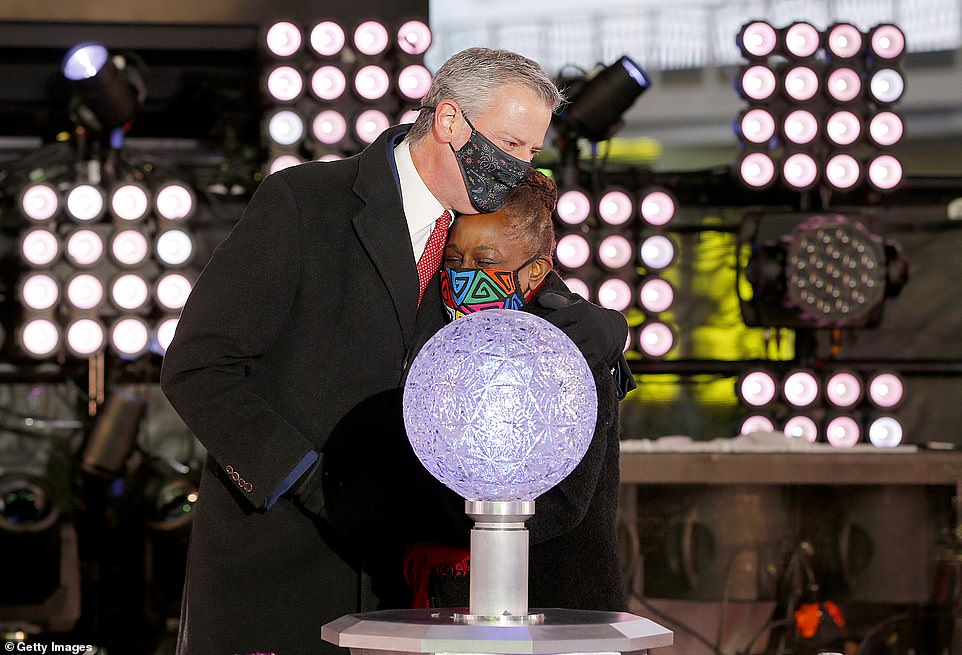 The year of the COVID-19 pandemic has officially ended with New York City Mayor Bill de Blasio (pictured with his wife) dropping the ball in an eerily empty Times Square as millions of Americans watched the annual event from home. Photo:dailymail.co.uk
Times Square remains the center of American revelry this New Year's Eve, but only virtually. Physically, it was closed. The only spectators witnessing the ball-drop in person were performers — part of the show, pre-screened for COVID-19.
Police had promised to vigorously enforce a ban on gatherings of any kind in New York City Thursday night, especially at its most famous intersection.
"My message to those ringing in the New Year," said NYPD Chief of Department Terence Monahan, "Please stay at home."
"Don't come. Watch it at home. It'll be a spectacular television show. Next year, we'll all gather together and fill Times Square. But this year, don't even attempt to come down there to watch it."
Different right down to the confetti. 2,000 pounds of it released at midnight Thursday included the printed wishes of people from all over the country — their hopes and dreams for 2021, reported Fox8.
In Austin, Texas, an increase in COVID-19 cases in 2020 has overwhelmed hospitals, leading to indoor drinking and dietary restrictions that are currently facing legal issues. Local civil servants believe they will win. Judge Andy Brown of Travis County, Texas, appealed to residents in a zoom message Wednesday afternoon.
"I'm asking you to cancel the New Year's Eve celebration, because it's not time to meet people outside the house in person," he said.
In Las Vegas, the strips are open, but the clubs are closed, which could raise concerns for people renting homes and having parties on Airbnb, which could lead to "superspreading" events.
Las Vegas-based Dayvid Figler told NewsNation's affiliate KLAS, "I think everyone is now generally worried about house parties because of the potential for regulatory and illness epidemics." It was.
"We are familiar with recent events, especially the vehicle explosion in downtown Nashville on Christmas Day," NYPD Anti-Terrorism Director Martine Materasso told reporters.
The ministry has confirmed that there have been no credible threats associated with this year's celebration, but is on the alert as usual. The NYPD states that there will be about 80% fewer police officers around Times Square, without giving specific numbers. This will allow for stronger enforcement across the city's five provinces.
"Come to Times Square for New Year's Eve is a family tradition for some and a bucketlist item for others," said Chief Fanita Holmes, who heads the station's patrol station. "But this year is different."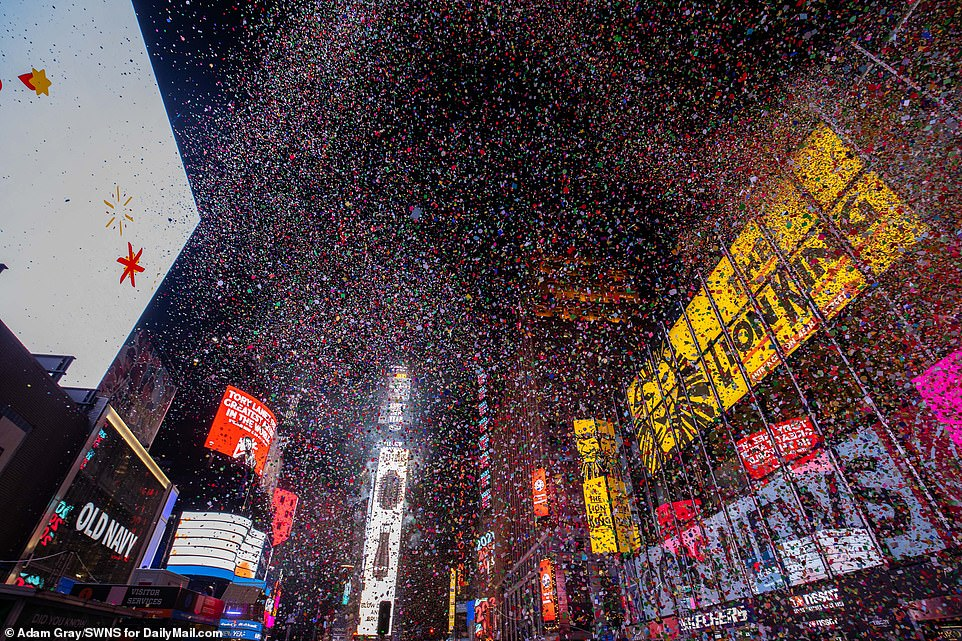 this year, the time-honored tradition was modified amid the ongoing pandemic, with members of the public prohibited from gathering in the area for the first time since the ball-drop began back in 1907. Photo:dailymail.co.uk
Even confetti is different. The £ 2,000, released Thursday midnight, includes the printed wishes of people across the country, their hopes and dreams for 2021.
President-elect Joe Biden, who will take office in January, sounded a positive note as the US, the worst-hit country by COVID-19, is nearing 20 million recorded infections and 345,000 deaths.
'I'm more optimistic about America's chances than I've ever been,' he said in a video interview on ABC's countdown program.
'America can do anything and I'm absolutely positively confident, confident we're gonna come back and come back even stronger than we were before.'
However, for many weary New Yorkers, there does not seem much to celebrate.