Overseas Vietnamese in Laos hold prayers for new year 2021
Vietnamese expatriates in Laos joined together in Phat Tich pagoda in Vientiane on December 31 to pray for peace and happiness in the upcoming New Year.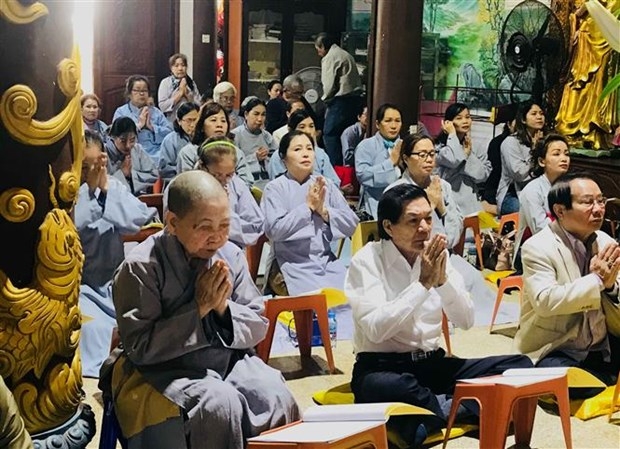 Vietnamese expatriates in Laos hold prayers at Phat Tich Pagoda in Vientiane. Photo: VNA
Buddhist practitioners and followers held prayers at Phat Tich Pagoda in the Lao capital of Vientiane on December 31 to wish for peace and happiness in the upcoming new year of 2021.
The event is an important annual activity of Buddhism followers as well as the Vietnamese community in general as it is an occasion to pray for peace and luck in the New Year and show their solidarity through charity activities.
Venerable Thich Minh Quang, a member of the Executive Council of the Vietnam Buddhist Sangha (VBS) in Laos and head of the coordinating board of Vietnam-Laos Buddhist cooperation, said followers in Laos have upheld solidarity and helped one another overcome the difficulties from COVID-19.
In response to a call from the pagoda, LAK 200 million (USD 21,510) and necessities were raised for disaster-hit people in Vietnam's central region and districts in Laos' Savannakhet province, and delegations sent to support the disadvantaged in Laos.
Quang voiced a hope that followers will maintain solidarity and further support their homeland.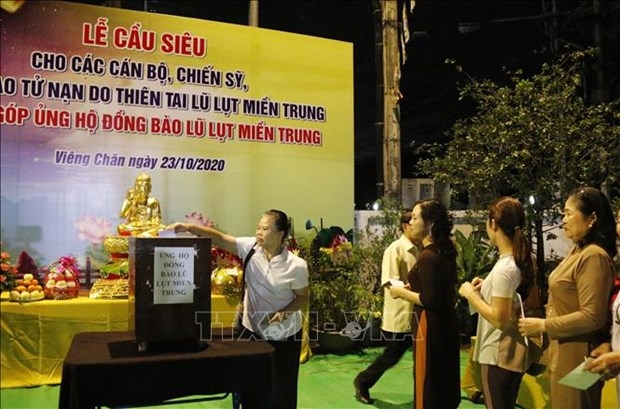 Vietnamese people in Vientiane make donations to help flood-hit people in central Vietnam and Laos. Photo: VNA
Built in 1957, Phat Tich Pagoda has been among spiritual centres of the Vietnamese community in Vientiane and nearby localities. The pagoda has also acted as a bridge for Vietnamese in Laos to support each other in their lives.
It was estimated that approximately 100,000 Vietnamese people are residing, studying and working in Laos, most of them follow Buddhism. Many see Vietnamese pagodas in Laos as common houses not only for religious practices but also for meeting each other.
Earlier, a requiem has been solemnly held for soldiers, officers and civilians killed in the recent devastating floods and landslides in central Vietnam by Vietnamese expats in Laos at Phat Tich Pagoda.
The event also sought to raise funds for people affected by flooding in both countries./.