Vaccinated Tourists No Longer to Be Isolated in Quarantine
Full quarantine may not be needed for the vaccinated
Deputy Prime Minister Vu Duc Dam had said that individuals entering Vietnam who had received two vaccines and tested negative did not have to go into quarantine isolation, at a meeting with the Ministry of Health on Dec. 8.
The ministry must issue new instructions on isolation and health monitoring for those entering Vietnam by Dec. 15, "in the same spirit as people from pandemic zones entering other regions of the country."
"For people who have not been vaccinated, there must be an isolation facility in the country with the suitable time, conditions, and convenience for people and a vaccination organized for them," the Deputy Prime Minister noted.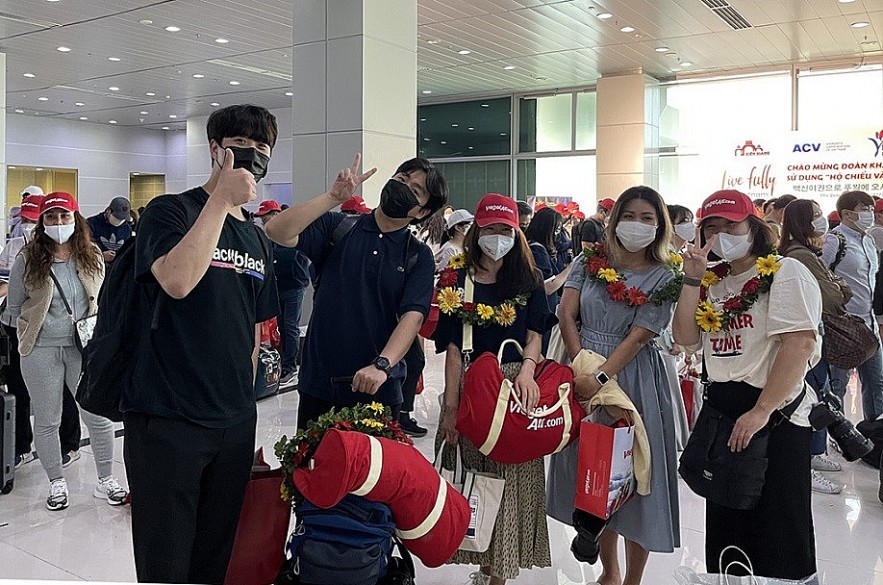 Korean Tourists entering Phu Quoc airport, Kien Giang in November. Photo: VNExpress
Dam stressed that ministries should pay special attention to the needs of Vietnamese citizens stuck overseas as they work, study, or visit relatives affected by Covid.
He said Vietnamese people living abroad with their relatives "received the same regime as Vietnamese people according to regulations."
"This is a very real requirement, and we must address it immediately, particularly in light of the Lunar New Year approaching," the Deputy Prime Minister added.
He also mentioned that the current situation was different from what it was previously.
Despite the presence of numerous pathogens in the community with a significant number of cases, Vietnam is essentially in control of the pandemic; the vaccination rate has risen rapidly, and the focus is on preventing severe cases and deaths.
As a result, all units must "fundamentally modify the concept of coordinating the welcoming of Vietnamese citizens returning home from abroad."
At the conference, the head of Vietnam's Civil Aviation Administration stated that it was urgent for airlines to resume international commercial routes.
The Department has linked up with other countries' "vaccine passport" systems to ensure that everyone who orders tickets from Vietnamese airlines gets the full dose of vaccinations.
Those who have not been immunized can only purchase tickets after registering and obtaining a specific quarantined address in the country.
Since the Covid-19 pandemic began, Vietnam has accepted over 200,000 foreign specialists, engineers, and high-tech employees to assist with socioeconomic development.
Units have planned numerous flights to welcome Vietnamese citizens who are in desperate need of returning home, ensuring disease prevention and control principles as well as domestic isolation capacity. Some localities have recently experimented with welcoming overseas tourists.
According to a Ministry of Transportation spokesman, the ministry has been working with partners to discuss resuming international commercial lines as soon as possible.
However, it has not been reopened since it is based on the principle of reciprocity with partners; at the same time, authorities must have regulations governing who is permitted to fly into Vietnam on commercial flights as a basis for airlines to reopen routes.
The largest challenge presently, according to ministry executives, is balancing the ability to control disease in the country, especially when the Omicron strain develops, with the admission demands of abroad Vietnamese and international experts.
As a result, ministries and branches will continue to work closely together in the coming months to welcome overseas Vietnamese and foreigners into the nation.
Since August 2021, anyone entering Vietnam who has received a complete dose of Covid-19 vaccination and tested negative for PCR will be quarantined for 7 days and monitored for the next 7 days, according to Ministry of Health regulations.
People who have been infected with Covid-19 and have a certificate of recovery from the disease issued by the competent authorities of the treatment nation for a duration of not more than six months are likewise isolated for the same period.
VNExpress