Vaccination for 200 NGOs Officials and Employees in Ho Chi Minh City
The Vietnam Union of Friendship Organizations (VUFO) coordinated with Ho Chi Minh City to organize vaccination rollout for about 200 officials and employees of foreign non-governmental organizations (NGOs) living and working in the city.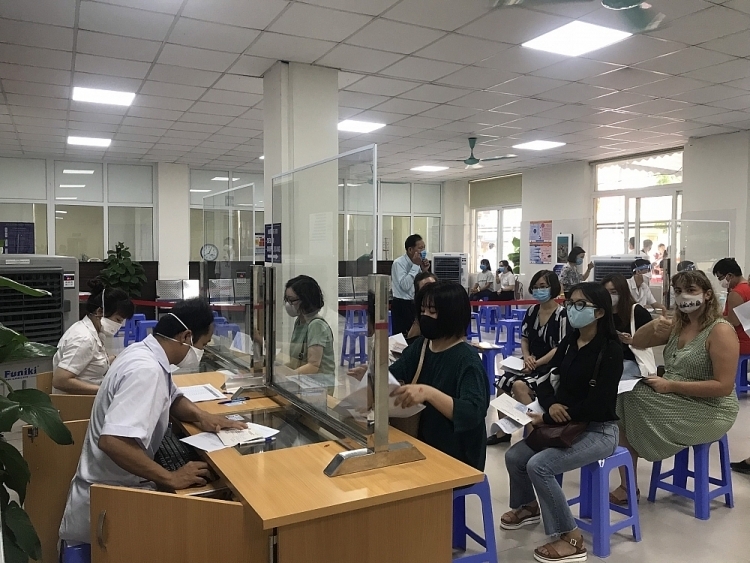 More than 1,000 NGO officials and staff in Vietnam have been vaccinated at the Hanoi-based Central Lung Hospital.
After the rollout in Hanoi on July 13 for more than 1,000 NGOs staff, the VUFO continues to organizing vaccinations for 200 NGOs officials and employees in Ho Chi Minh City on Aug. 8.
They have registered for Covid-19 vaccination with the People's Aid Coordination Committee (PACCOM) and VUFO.
Prior to the injection, NGO staff were tested for Covid-19 on Aug. 7. The place for injection and testing for Covid-19 this time was the Vinmec Saigon International Clinic.
In the notice sent to NGOs, PACCOM recommends that organizations absolutely follow the instructions of the clinic and strictly implement pandemic prevention and control regulations, especially the Health Ministry's 5K message - khau trang (face mask), khu khuan (disinfection), khoang cach (distance), khong tu tap (no gathering), and khai bao y te (health declaration) during the injection process.
In order to facilitate the vaccination rollout during the social distancing period, Vinmec Saigon International Clinic has sent a message to notify the specific time to individuals registered with PACCOM this time. The message is the basis for each person to be allowed to move from the place of residence to the injection site and vice versa.
Earlier, the VUFO coordinated with the Ministry of Health organizing vaccinations for more than 1,000 NGO staff at the Central Lung Hospital in Hanoi on July 13. According to the VUFO, more than 100 of the patients were foreigners.
NGO staff were arranged to receive the shots during different time frames so as to strictly follow the prevention and control rules of the Health Ministry.
The ongoing pandemic has greatly affected NGO activities in Vietnam. As the focal point for NGO advocacy in Vietnam, VUFO wishes and is always ready to support NGOs to the maximum extent, to solve their difficulties in the fight against the Covid-19 pandemic.
In addition to Hanoi and HCM City, VUFO is continuing to contact the local authorities so that NGOs employees and officials working in other localities can be vaccinated soon.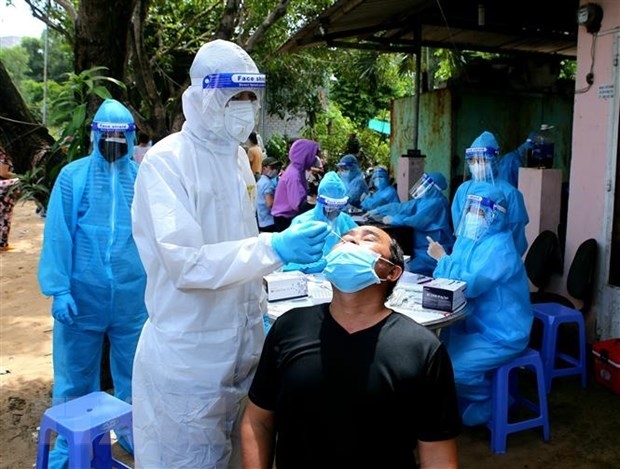 A Vietnamese man has his sample taken before being vaccinated against Covid-19. Vietnam is striving to complete vaccinating its citizens in late 2021 or early 2022. Photo: VNA
Vietnam recorded 4,941 new infections, including 4,937 domestic and four imported cases, in the past 12 hours to 6 a.m. on Aug. 8, the Ministry of Health said.
HCM City, which is the current largest pandemic hotspot, logged 1,896 cases, while its neighbouring Binh Duong province reported 1,477 infections.
The new infections brought the national count to 205,656, including 203,313 locally-transmitted and 2,343 imported cases.
8,896,615 doses of vaccines have been administered so far, including 888,459 second shots.
According to Minister of Health Nguyen Thanh Long, Vietnam is striving to complete vaccinating its citizens in late 2021 or early 2022.