Vaccine Diplomacy - A Breakthrough Initiative
Since its appearance, the concept of vaccine diplomacy quickly became the focus of the Party and State's foreign affairs.
From a country with little access to the Covid-19 vaccine at the beginning of the year, thanks to the promotion of vaccine diplomacy and a widespread, drastic, and methodical vaccination campaign, Vietnam has so far achieved impressive vaccine coverage.
Those results are the outcome of the government's effective policies and determination to secure enough vaccines for everyone.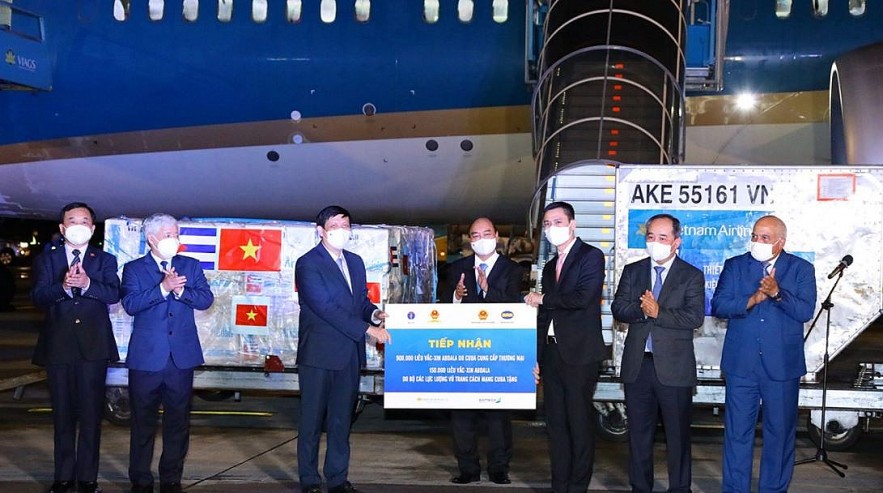 A reception ceremony for vaccines, medical equipment and supplies in September 2021. (Photo: Baoquocte)
Determining and timely strategy
Looking back on the beginning of this year, when the domestic and international pandemic situation was complicated due to new virus variants, the requirements for Covid-19 prevention became more urgent than ever. At that time, when vaccine was a scarce commodity, the term "vaccine diplomacy" appeared and became one of the fronts to decide the success of the country's vaccine campaign and pandemic fight.
Prime Minister Pham Minh Chinh signed a decision to establish a government working group on vaccine diplomacy on August 13. The group aims to strengthen close coordination among relevant ministries, thereby promoting the effectiveness of vaccine diplomacy. Minister of Foreign Affairs Bui Thanh Son, head of the group, once said that the group establishment implies important meanings.
The establishment is a timely decision, serving the country's needs, demonstrating the consistent and transparent policy of the Vietnamese party and state, which is putting the people's health above all. It thoroughly grasps the content of foreign policy stated in the 13th Party Congress, promotes the pioneering role of foreign affairs in creating and maintaining a peaceful and stable environment, mobilizing external resources to develop the country, improving the country's position and prestige.
According to Deputy Minister of Foreign Affairs Nguyen Minh Vu, who also serves as the standing deputy of the government's working group on vaccine diplomacy, since its establishment the group has been working non-stop.
Finding support for vaccines, drugs, medical equipment, and technology transfer have been identified as top priorities in high-level foreign affairs activities.
Leaders of the Party, State, Government, and National Assembly have been paying close attention to, direct and participate in all forms of diplomatic activities, from bilateral or multilateral meetings, phone talks, to discussions with leaders of countries, international organizations, large pharmaceutical/medical companies. All of those efforts aim to serve the number one priority of accessing the largest, fastest, and earliest supply of vaccines.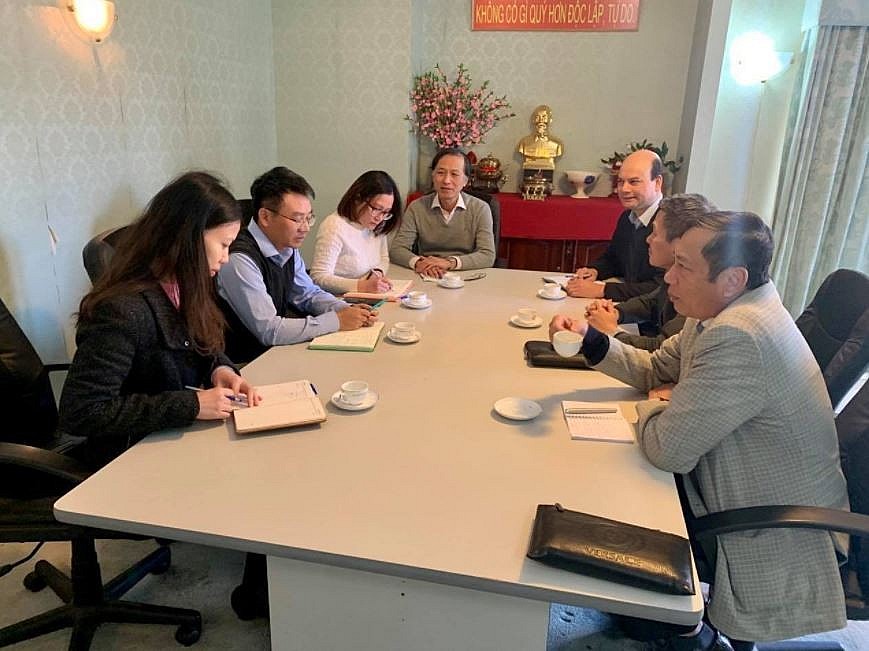 The Vietnam Embassy to Australia held a meeting to discuss vaccine diplomacy. (Photo: Vietnam Embassy to Australia)
Fruitful results
With the participation of the whole political system, Vietnam's vaccine diplomacy has yielded fruitful results. Batches of vaccines keep landing in Vietnam from different sources.
According to the Ministry of Health, Vietnam has received 156 million doses of vaccine and many medical equipment and medicines from partners and overseas citizens from March 2021 to December 7, 2021. Along with that, many partners pledged to continue to support, deliver vaccines on time or prior to the deadline. Many also promise to cooperate with Vietnam in vaccine and drug production in the near future.
Vietnam is current among countries with a high vaccination rate and a significant reduction in the negative impact of the pandemic, thereby creating a solid foundation for the country to move to the phase of safe and flexible adaptation to the pandemic and quickly recover the economy.
The outstanding results prove Vietnam's prestige and position in the international arena as well as its wide network of partners on all continents. This is the result of 35 years of Doi Moi (Renovation), the consistent efforts to implement its foreign policy of independence, self-reliance, multilateralization, and diversification.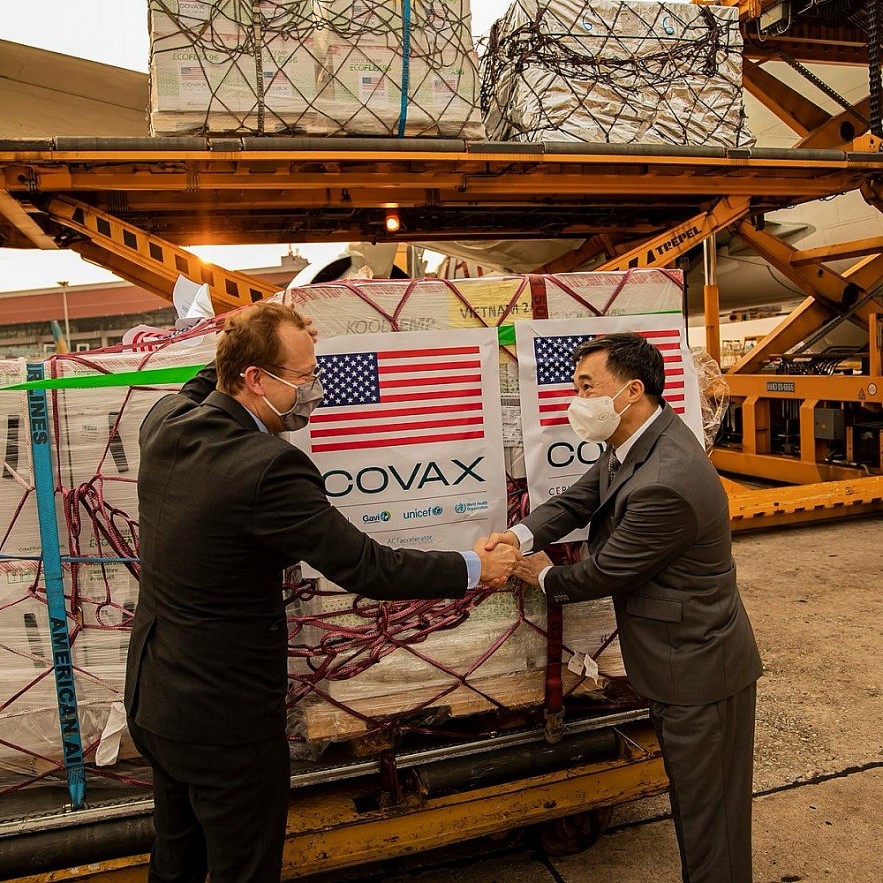 US Chargé d'Affaires to Vietnam Christopher Klein (L) and Vietnam's Deputy Health Minister Tran Van Thuan with US-donate vaccines in Hanoi in early August. (Photo: US Department of State)
Continuous efforts
The pandemic is forecasted to complicatedly develop and show no sign of ending in the near future. The risk of new outbreaks remains. The shortage of vaccines and drugs still exists, especially in developing and underdeveloped countries.
Vietnam's fourth outbreak, although under control, still holds potential risks, especially in industrial parks and crowded areas. At a regular press conference on December 9, the spokesperson of the Ministry of Foreign Affairs Le Thi Thu Hang said that vaccine diplomacy would continue to be promoted in the coming time to ensure the demand for vaccines in 2022.
Vaccine diplomacy also fuels the access to potential vaccine sources for children, supports domestic vaccine production, ensures the source of purchasing, and supports the production of drugs. It mobilizes international support in medical equipment, attracts investment in public health, contributes to improving the quality of health infrastructure.
According to minister Bui Thanh Son, the government's working group on vaccine diplomacy has developed a plan to buy vaccines in 2022 to ensure resources for children and third dose for adults. It also plans to access treatment sources; strengthen international connectivity to improve the country's capacity of grassroots and preventive health care.
The group will also promote international cooperation in vaccine production to support domestic vaccine development, ensure stable supply and long-term autonomy of vaccines. It places significance on finding access to drugs, considering drugs play an important role in limiting critical cases and providing a long-term solution.
Vaccine diplomacy has been and continues to be one of the breakthroughs in the fight against the pandemic, promoting the pioneering role of foreign policy and marking the successful implementation of the 13th Party Congress's Resolution.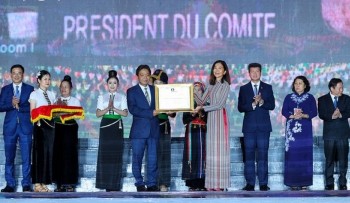 Viet's Home
UNESCO presented Vietnam a certificate recognizing Xoe Thai dance as an Intangible Cultural Heritage of Humanity at a ceremony held in Yen Bai province on September 24.