Vietnamese Ambassadors Share Secrets to National Vaccine Diplomacy's Success
Vietnamese vaccine diplomacy involves not only 'asking for help' but also buying and transferring vaccine production technology.
On the sidelines of the 20th National Conference on Local Diplomacy, which took place on Dec. 13, the Vietnamese Ambassador to the US Ha Kim Ngoc said that Vietnam had so far received 24.5 million doses of vaccine from the USA, equivalent to one-third of America's vaccine donation to Southeast Asia.
According to the ambassador, the donation reflects the good relations between Vietnam and the USA, as well as Vietnam's proactive communication and efficient use of vaccines.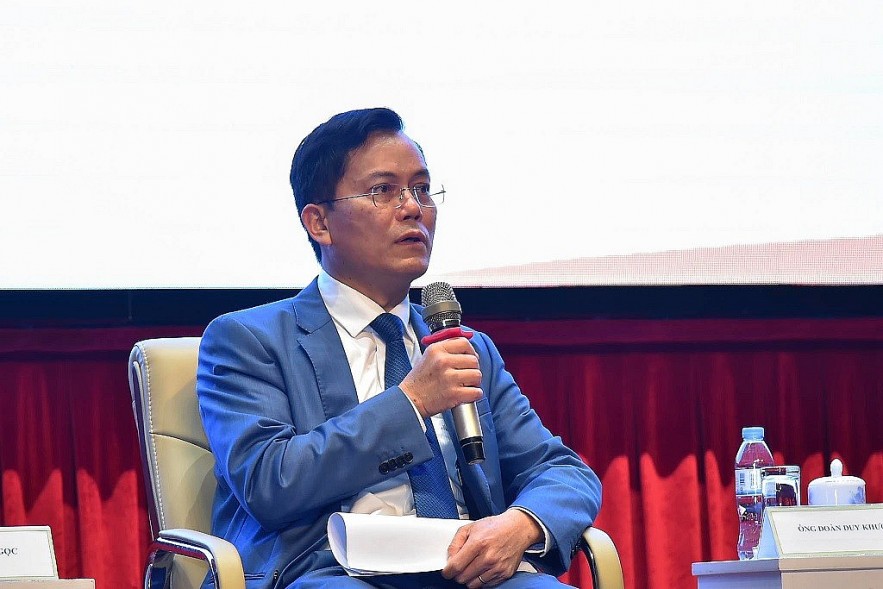 Vietnamese Ambassador to the US Ha Kim Ngoc. (Photo: Vietnamnet)
Not single dose is wasted
"When discussing with American partners, I always emphasize that any dose of vaccine is used, nothing is wasted. When the Covid-19 pandemic initially broke out and America was in a difficult situation, even though Vietnam was also facing hardships, we still tried to support [the USA], which leaves a good imprint," said the ambassador.
"When I mentioned the vaccine issue to the USA, they all said: "A friend in need is a friend indeed." Until now, they still repeat the quote whenever they donate us vaccines."
Commenting on the topic, Vietnam Ambassador to Belgium and the European Union Nguyen Van Thao said the key to the success of vaccine diplomacy was Vietnam's system of affectionate friends who share close links in interests and the country's position and role in the global value chain.
"When we are a member of the global supply chain, if we are too severely affected by the pandemic, the chain faces the risk of disruption. Other countries in the chain, namely European Union countries, will therefore be affected. That argument was used in our discussion with EU countries about vaccine support. They are well aware of the situation and proactively donate vaccines both through COVAX and bilateral programs. The EU currently ranks second in vaccine donation for Vietnam, only behind the USA," said ambassador Thao.
He added that Vietnam had smooth collaboration among political diplomacy, economic diplomacy, and cultural diplomacy. In the field of political diplomacy, we have mobilized strategic partners, comprehensive partners, building political ties. In economic diplomacy, we have tried to avoid disruptions in the supply chain. In terms of culture, when Europe was affected by the pandemic in 2020, we sent them masks, therefore, they are now willing to return our favor."
Ambassador Ha Kim Ngoc said the result that Vietnam has achieved so far was built on many efforts in many aspects. The US government has presented Vietnam with about USD40 million in medical equipment and worker training.
He said: "The US Centers for Disease Control and Prevention researched methodically and strategically. Under Trump's presidency, I myself met with the director of CDC asking for support. They told me: "Ambassador, please stop urging us. All equipment is already on its way to Hanoi and Ho Chi Minh City." I mention the story to prove that vaccine diplomacy has a very broad content, not just about asking for vaccines."
Ngoc said the next priority was strengthening cooperation with the USA so that Vietnam would become the next center for vaccine, drug, and medical equipment production. During US Vice President Kamala Harris's visit to Vietnam in August, the USA established a CDC's regional office in Vietnam, which was a significant milestone.
The two sides have supported each other over the past time. Vietnam supported the USA with medical equipment and supplies in April 2020. The USA takes its turn to send Vietnam vaccines.
"I think this is a very good foundation for us to promote cooperation in the future, while the most important focus is still autonomy in vaccines," said ambassador Ngoc.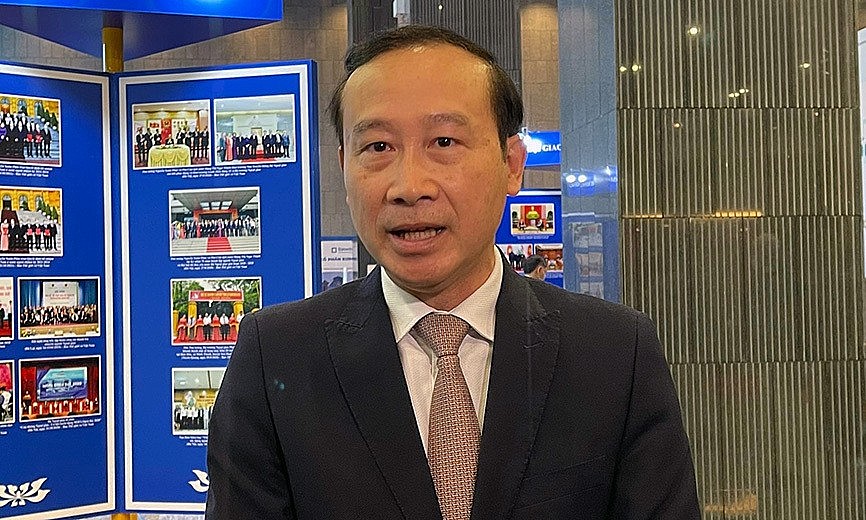 Vietnam Ambassador to Belgium and the European Union Nguyen Van Thao. (Photo: Vietnamnet)
Confidence to release restrictions
"Europe was severely affected by the pandemic in 2020. However, the region has quickly and soon vaccinated its citizens on a mass scale. As the Omicron variant recently appeared, Europe applies some further restrictions to prevent the pandemic but it does not close down. I think with the effort of the government and diplomatic agencies, we now have a relatively good vaccine supply and coverage. Therefore, we can totally be confident in releasing restrictions," said Nguyen Van Thao.
Restrictions should not only be removed in tourism but also in trade and commerce. During the pandemic, the biggest blockage in Vietnam's trade with other countries, including the European friends, was container shipping fee, which has increased by five to ten times compared to the pre-pandemic period because the crew was quarantined after each trip and there was a lack of empty containers to bring goods back to Europe.
If strict restrictions are still kept, the economic and social life will be harshly affected, especially in Vietnam, an agricultural producer and exporter. Such impacts directly influence the daily life and work of dozens of millions of farmers and leave long-term social issues.
"EU has a deal with the situation relatively well over the past time. Even in difficult times, products are smoothly transported among EU members while no blockage was caused by quarantine of crew members or goods," said ambassador Thao.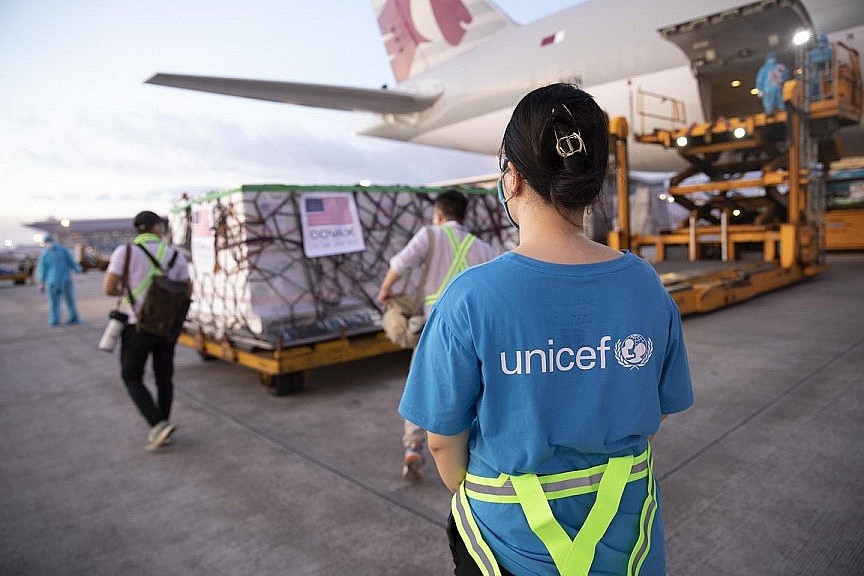 US donated vaccines to Vietnam via COVAX. (Photo: Unicef)
Appreciation given to gifted employees
At the event, ambassador Ha Kim Ngoc stressed the huge potential of knowledge from the Vietnamese overseas community. 200,000 intellectuals are living in the US, accounting for half of the total number of Vietnamese intellectuals abroad, and is considered a highly educated group compared to immigrant communities in the USA.
To call for their contributions to the homeland, the ambassador said state agencies must come up with practical and effective measures to attract overseas intellectuals, a mechanism to receive and respond to their initiatives and recommendations. Localities should be prioritized.
"We need attractive domestic policy mechanisms and working environment, and sufficient equipment serving their work. And it is important to appreciate talent," Ngoc said. "After the August Revolution, Uncle Ho welcomed many intellectuals back to the country, such as Tran Dai Nghia, Luong Dinh Cua. They were willing to give up their high status to suffer the poor life together with other citizens. We must respect them. That is the key issue."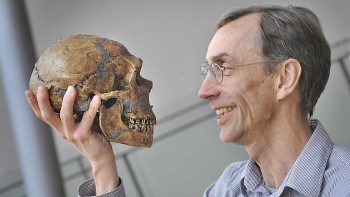 World
The Nobel Committee in Stockholm (Sweden) has announced the 2022 Nobel Prize in Biomedical Sciences to scientist Svante Paabo, for the discovery of genes and human evolution.