Vaccine of "Friendship" to Support Vietnam
When the Covid-19 pandemic broke out in Vietnam, Australia helped Vietnam by sponsoring more than 26 million doses of vaccines for both adults and children through a comprehensive support package. Australia has become one of Vietnam's leading partners to support the national campaign against Covid-19 vaccination.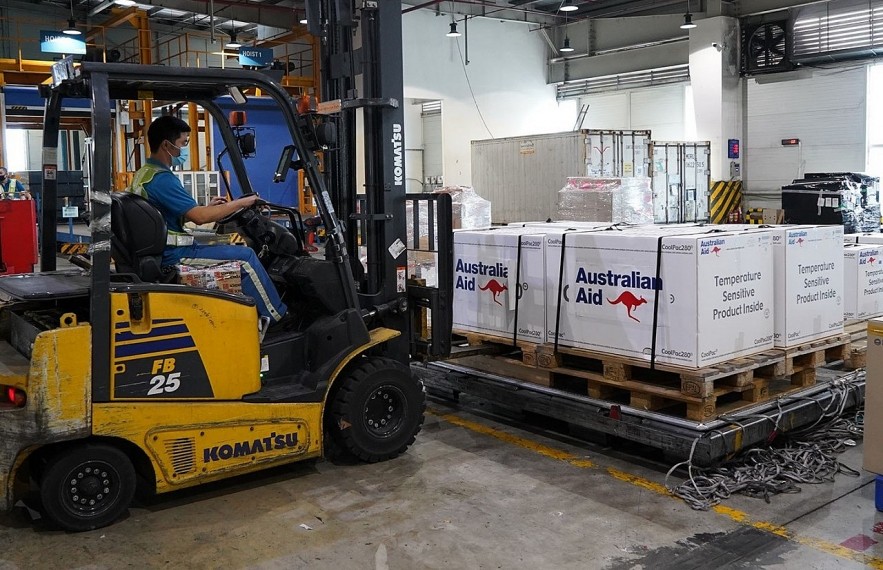 300,000 doses of vaccine from Australia to Vietnam arrived at Noi Bai airport on September 30, 2021.
Join Vietnam to fight the pandemic
At the end of August 2021, when Ho Chi Minh City, Vietnam struggled to cope with the pandemic, the Australian Consulate General in Ho Chi Minh City promptly handed over 403,000 doses of Covid-19 vaccine to the Vietnamese representative.
Robyn Mudie, Australian Ambassador to Vietnam at the time, said: "We are united in the fight against Covid-19. Australia's support for Vietnam's national immunization program will help save lives and accelerate economic recovery. As partners and close friends, we will weather this crisis, becoming stronger and more determined to face the challenges of the future".
According to the commitment of the Australian government, in 2021 Canberra has supported 1.5 million doses of AstraZeneca vaccine for Vietnam to fight the Covid-19 pandemic. In September 2021, 300,000 doses of Astra Zeneca vaccine against Covid-19 produced by Australia continued to be delivered to Vietnam.
Ambassador Robyn Mudie received these vaccines at Noi Bai International Airport before transferring them to the vaccine storage facility. She also handed over personal protective equipment that Australia transferred to Vietnam, including more than 600,000 N95 masks and surgical masks, more than 40,000 sets of protective clothing.
On October 28, 2021, Australia handed over 800,000 doses of Covid-19 vaccine to Vietnam. With this third vaccine delivery, Australia has fulfilled its commitment to share 1.5 million doses of the Australian-made AstraZeneca vaccine before the end of 2021.
On April 8, 2022, the first shipment of Covid-19 vaccines for children supported by Australia in Vietnam, with 921,600 doses, arrived at Noi Bai International Airport (Hanoi). The remaining doses were delivered throughout April 2022. On May 10, 2022, Australian Embassy's Deputy Head of Mission Mark Tattersall officially handed over 7.2 million doses of Covid-19 vaccine to children at the National Institute of Hygiene and Epidemiology.
"These children's Covid-19 vaccines will help strengthen Vietnam's efforts to contain Covid-19, by expanding the vaccination program for young people, helping us to achieve new normal. I am pleased to see that the rollout of Covid-19 vaccination for children in Vietnam has been started with doses of vaccines supported by Australia," said Mark Tattersall.
Vietnam steps up vaccination campaign
According to the assessment of the World Health Organization, Vietnam is a country that started late but finished early in vaccination against Covid-19, becoming one of the 6 countries with the highest vaccination coverage rate in the world. This result is thanks to the Government's efforts, the sharing, support and participation of the people in the country and the international community. Right from the early days when the pandemic broke out in the world and appeared in the country, Vietnam has received enthusiastic support from international partners, neighbors and friends, including Australia.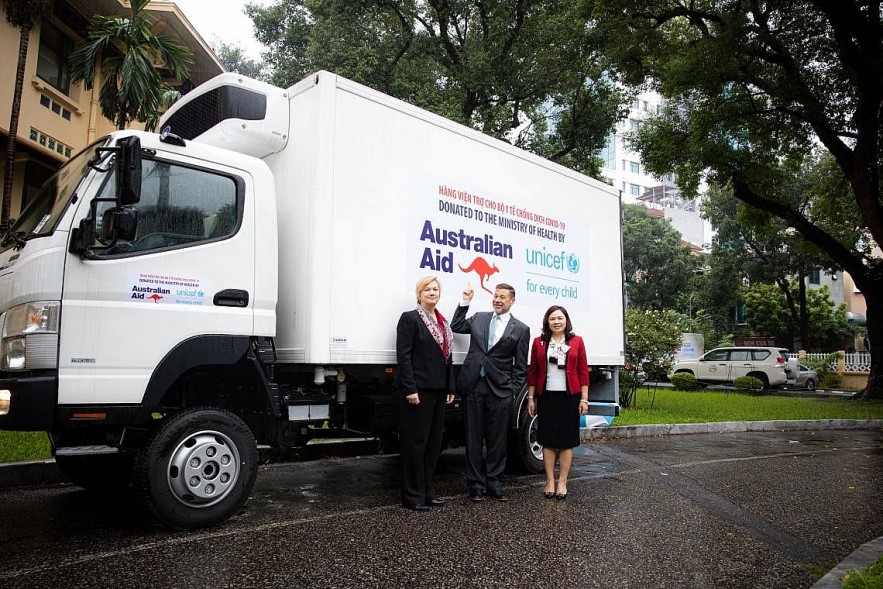 Australia and UNICEF hand over 5 refrigerated trucks carrying vaccines to Vietnam.
In early October 2021, Prime Minister Pham Minh Chinh sent a letter to thank Australian Prime Minister Scott Morrison for the support of vaccines and medical equipment to prevent and control the Covid-19 pandemic.
In a phone call with Australia's Minister for Foreign Affairs Australia Marise Payne on March 24, 2022, Foreign Minister Bui Thanh Son affirmed that the valuable and timely help of the Australian Government has helped Vietnam accelerate its vaccination campaign, contributing to the prevention of the Covid-19 pandemic in Vietnam.
By the end of 2022, Australia has helped Vietnam achieve its national vaccination target by supporting more than 26 million doses of Covid-19 vaccine, becoming the second largest country in Covid-19 vaccine aid to Vietnam.
Previously, Australia committed a comprehensive support package worth 60 million AUD for Vietnam's Covid-19 vaccine program. This support package includes funding to purchase vaccines through an agreement between Australia and UNICEF, as well as funding for syringes, cold chain equipment, including 1,900 refrigerators and 5 refrigerated trucks, training of medical staff and support the implementation of vaccination in remote provinces.