VCF Raises USD250,000 for Storm-Hit Quang Nam
VCF's Our Hearts to Central Vietnam Campaign has successfully raised about USD250,000 for disaster-stricken Nam Tra My district of Quang Nam province.
Tran Van Man, vice chairman of Nam Tra My District People's Committee presents the certificate to representatives of the campaign's sponsors.
The VinaCapital Foundation (VCF) on March 10 held the closing ceremony of disaster relief activities of the "Our Hearts to Central Vietnam" campaign in Nam Tra My district, the central province of Quang Nam.
In 2020, Quang Nam was heavily damaged by seven weeks of continuous tropical storm flooding and two typhoons, especially Nam Tra My district.
The storms destroyed much of the healthcare infrastructure provided by the 11 medical facilities in this district that benefit 27,297 people, about 15,000 of whom are under 20 years of age.
Since October 2020, VCF's Our Hearts to Central Vietnam Campaign had organized donations to support thousands of people in the affected regions.
VCF has successfully raised over VND5.6 billion (about USD250,000), assisted the disaster recovery process in Nam Tra My district with the restoration of three battered rural commune healthcare centers and the district hospital, providing four mobile healthcare clinics in four communes as well as medical equipment and water filtration systems to 11 medical facilities.
Mobile clinics in Tra Leng, Tra Van, Tra Nam, and Tra Tap communes have provided free health examinations for 3,133 children and adults in rural areas.
The activities under the Critical Response and Survive to Thrive programs of VCF are held thanks to donations from individuals, companies, and other organizations.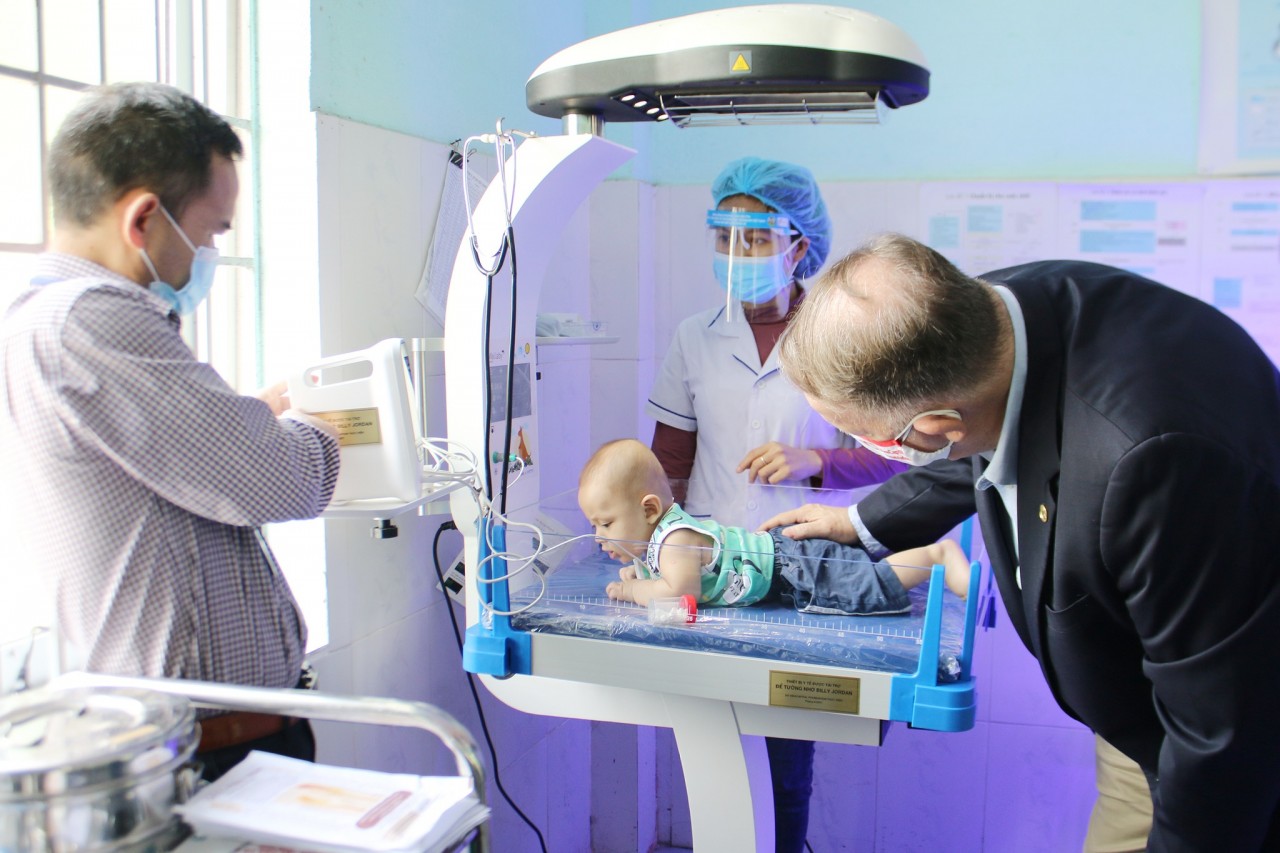 From January 2021, the campaign focused on rebuilding medical infrastructure and providing mobile healthcare clinics in Nam Tra My district.
In addition, Australian Phil Jordan, who has lived and worked in Vietnam for many years, and his family donated USD10,120 to the Survive to Thrive program to provide one neonatal resuscitation system, one jaundice light, and one SPO2 oximeter for the neonatal unit of Nam Tra My district hospital.
The aid will ensure a reduction in mortality and healthier children in the district.
Quang Nam has long been a focus area of VCF's programs, so VCF was ready to answer the call from the provincial People's Committee, through the campaign, to support the affected areas to recover from the disaster, according to Rad Kivette, CEO of VinaCapital Foundation.
Over the last 10 years, VCF has provided equipment and emergency medical training to district healthcare facilities in Quang Nam province.
"Nam Tra My has always been our priority as this district is heavily ethnic, impoverished, and the population is often remotely located with living conditions and education levels that are far below standard. The campaign aims to ensure our commitments in providing quality public healthcare for everyone regardless of their location or ethnicity," said Kivette.
Survive to Thrive helps to improve pediatric healthcare across Vietnam through training doctors, donating essential neonatal care equipment and training doctors to teach other healthcare professionals.
Through these initiatives Survive To Thrive aims to reduce the neonatal mortality rate by 1% across Vietnam by providing aid to healthcare centers to care for infants when they need it most.
The program's priorities are district and provincial health centers in remote areas, where people are facing difficulties in healthcare.
Friendship
In Da Nang, the Vietnam-Laos Solidarity and Friendship Year 2022 was celebrated on July 2. Collectives and individuals of the Lao Women's Union were also awarded medals of Vietnam.