COVID-19 elderly patients died after giving up ventilator to help others
While many hospitals, medical facilities around the world are facing dire shortage of personal protective gears, and medical treating equipments as the COVID-19 pandemic is going more rampant, some old patients are willing to put other's lives before their own. Don Giuseppe Berardelli, Italian, 72, and Suzanne Hoylaerts, German, 90, both refused intensive care treatment for COVID-19 to save ventilator for younger patients in need.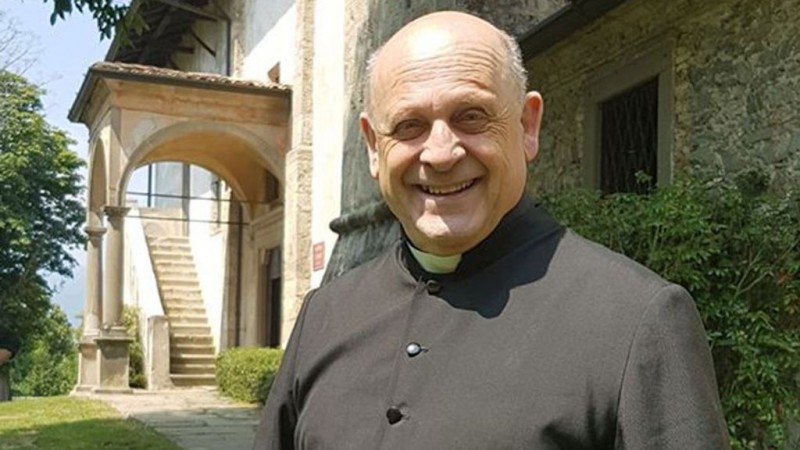 Don Giuseppe Berardelli decided to save venitalors for younger patients. He passed away on March 15 at the age of 70. (Photo: BBC)
Berardelli, a priest of 47 years, was serving as the Archpriest of Casnigo in the Diocese of Bergamo in Northern Italy, one of the hardest-stricken by the novel coronavirus. Berardelli had been suffering from a respiratory condition for some time, so his parish had previously purchased the breathing apparatus to help him cope.
"A great person… he was always cheerful and full of enthusiasm, he gave peace and joy to our communities," Clara Poli, the mayor of the town of Fiorano, where Don Giuseppe was a longtime pastor spoke about Berardelli's character to the Italian publication FarodiRoma.
"He was a priest who listened to everyone, he knew how to listen, whoever turned to him knew that he could count on his help", Poli added.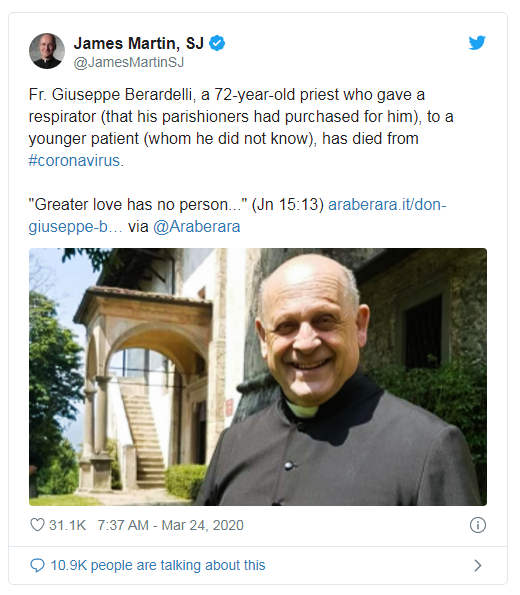 Many people turn to social media to express their admiration and gratitude to Berardelli (Photo: 10tv WBNS)
Commenting on Berardelli's selfless act, a health care worker in a Casnigo retirement home told FarodiRoma, "I am deeply moved by the fact that the archpriest of Casnigo, Don Giuseppe Berardelli — to whom the parish community had bought a respirator — renounced his will to assign it to someone younger than him."
Don Giuseppe Berardelli passed away on March 15, in a hospital in Lovere, Bergamo. As with most victims of this pandemic, there was no in-person funeral, but local reports say the people of Caserta, Italy, applauded him from their balconies at noon on Monday, March 16.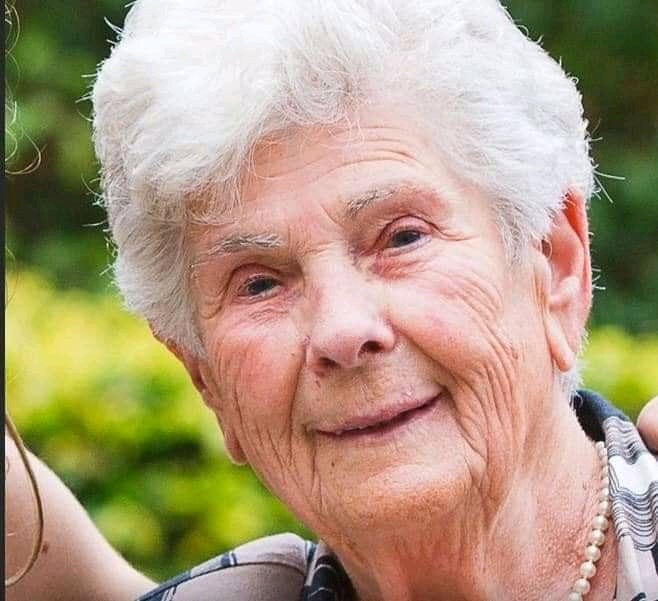 Suzanne Hoylaerts (Photo: I heart Intelligent)
Suzanne Hoylaerts from the town of Binkom was first brought to see a doctor by her daughter Judith when she started losing her appetite and experienced troubles with breathing. Eventually, she was put into a hospital and her test results came out positive for COVID-19. She was subsequently placed in isolation, away from her daughter.
Suzanne reportedly spoke to her doctors saying, "I don't want to use artificial respiration. Save it for younger patients. I already had a good life".
Suzanne was in need of critical treatment due to low oxygen concentration.
She passed away on March 22, just a couple of days after being admitted to the hospital, as per Belgian newspaper BelHat Laatste Nieuws.
Judith revealed that her dear mother was put into a hospital last year for pneumonia, lived by herself and "took the lockdown seriously," leaving people to wonder how she got infected in the first place.
Before she was isolated, Judit said her mom told her, "You must not cry. You did everything you could."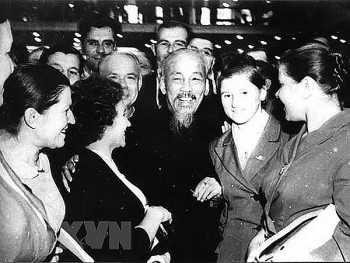 National
Throughout its history Vietnam has come into contact and exchanged with many cultures and civilizations.