Veteran leaves battlefield for success in farming fields
Though he's in his 60s, war veteran Đinh Văn Ửng is still leading from the front. The man from Phù Yên District, Sơn La Province, has applied farming techniques he learned himself to grow plants that bring high economic values to the northern mountainous area.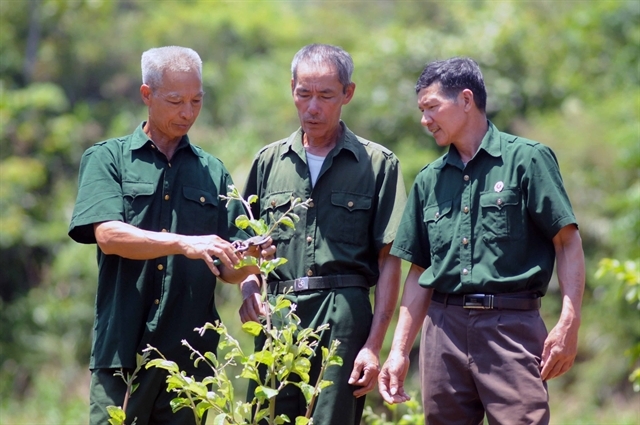 Đinh Văn Ửng (first from left) shares farming techniques with his fellow veterans. VNA/VNS Photo Quang Quyết
Back in 1982 when he returned to his village after his military service ended, Ửng started to farm but couldn't make ends meet.
From 1999-2000, CARE International, a humanitarian organisation fighting global poverty and providing lifesaving assistance in emergencies, introduced seedings of rice, mangoes, lychees and bamboo shoots to support the local community.
Ửng then invested in buying more seeds to grow 1ha of bamboo and 1.5ha of bamboo shoots.
After two years, the area grew, helping his family escape poverty. From the profits he earned, he bought buffalos and goats.
In 2006, local authorities handed over 5ha of forest land to the veteran to protect and plant more trees on.
He tried growing acacia and cinnamon and learned new farming techniques, allowing his family to earn huge profits from 15-20 buffaloes, dozens of goats and 7.5ha of orchards, gaining hundreds of millions of đồng each year, reported the VNS.
The 5ha of cinnamon is expected to be harvested next year, bringing nearly VNĐ500 million annually.
He plans to expand the growing area with pomegranate, apple and plum trees to increase income.
Starting from a poor local returning from the battlefield, the veteran, now 63 years old, is an example of an outstanding inpidual in the province with his farming and economic success.
He is also one of the most active members of the local veteran's union and is involved in other social activities.
He has donated money to help veterans' families repair house and shared farming techniques to help local farmers escape poverty.
Trần Huy Quang, chairman of Phù Yên Commune's War Veteran Association, said Ửng's model of breeding animals and growing forests has developed from a small one to a big one with high economic value.
He has made contributions to building local infrastructure and helped other farmers succeed as well.
For his efforts, he has been honoured by the provincial War Veteran Association as a veteran succeeding in developing farming models in his homeland, said the VNS
VNS