Vietnamese veteran with prosthetic leg volunteers in COVID-19 test station
The senior Nguyen Van Thao, 73, is the very first veteran registering to line up in local COVID-19 combat forces despite his agedness and amputation, saying "ready whenever the nation calls his name".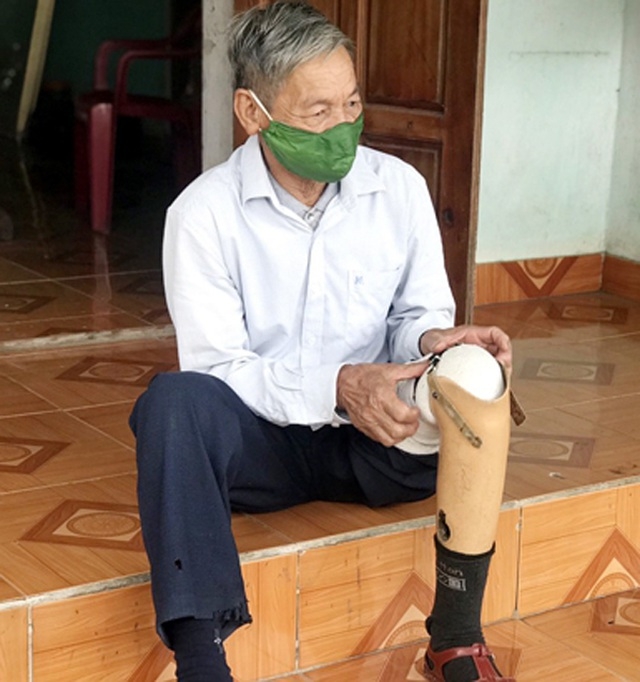 Thao has his left leg amputated after a fierce battle in wartime (Photo: Dan Tri)
The elder volunteer has his left leg amputated after joining in a fierce battle in the central province of Thua Thien Hue in 1976.
He has since faced a lot of difficulties getting around in normal life with his artificial leg, and his health gradually deteriorating as he gets older. The veteran is held in high esteem by local people and gains much-loved for the way he leads his life and contributes to the hometown.
When COVID-19 pandemic sweeps across the country, Thao is one of the first volunteers to join the guard force even though those of his ages are among the most vulnerable group when it comes to infection and have been warned to stay home.
In the past three weeks when Vietnam was still under social distancing, the old soldier kept cycling the old bike on time for his shift at one of the 10 check stations set up in Ky Ha village. The spirit of "Uncle Ho's soldiers" in wartime is still undaunted when it comes to the battle against coronavirus.
With a gentle, persuasive voice, the old veteran patiently informed people about the government's preventive measures to every passer-by. He also sterilized people and their vehicles, reminded everyone to wear face masks.
And yet, Thao sometimes wades through the mud to catch fish or shouldering kilograms of rice for the task forces at a centralized quarantine zone in the commune, even though he still struggles to earn a livelihood every day.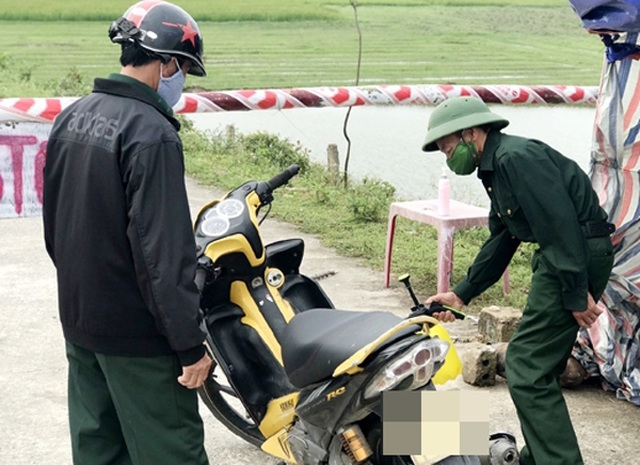 He sterilized motorbike of one passer-by (Photo: Dan Tri)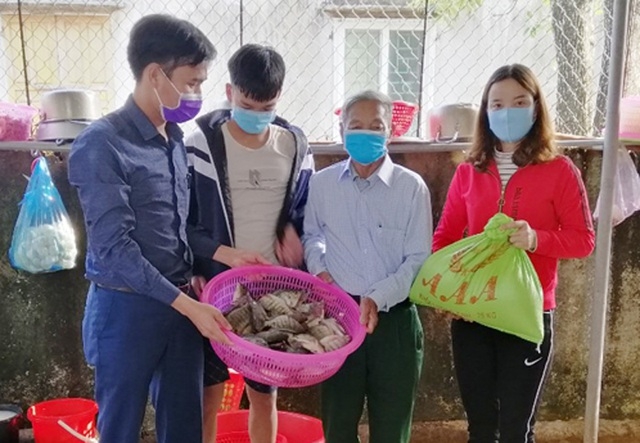 He brings freshly-caught fish and rice to the local quarantine zone (Photo: Dan Tri)
"We really love and admire him for what he has done," chairman of Ky Ha Commune People's Committee Le Van Luyen told Dan Tri in a statement, adding that Thao would show up whenever he need help.
"He makes us all respect him. We are more confident in the fight against COVID-19 thanks to him", Le Thi Hoa, a local woman told Dan Tri.
Answering about his good deeds, Thao recalled "I carried a gun during the resistance war, now that it's peacetime, I'm ready whenever the nation needs me".
"Moreover, it's the first responders who sacrifice and suffer the most, risking their lives round the clock. Us people in the backline must contribute something for the community", he adds.
Thao is among the many elderly volunteers join the battle. His fellow villager, Ms. Nguyen Thi Luong, 103, is blind in one eye and unsteady on her feet, donated all of her 'lucky money' she received from Lunar New Year to the commune's fund for COVID-19 prevention and control. The donation is only VND 1,000,000 (US $43), but it was a pure act of kindness.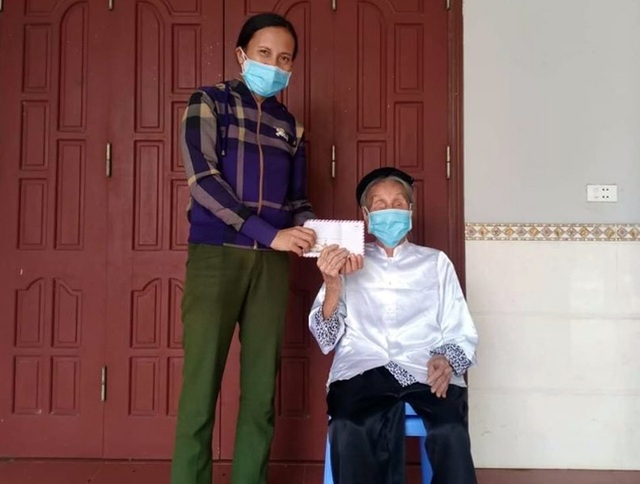 Ms. Nguyen Thi Luong donates US $43 to local und for COVID-19 prevention and control (Photo: Dan Tri)
Another old woman in Thanh Hoa province rode her bicycle all the way from home to community house to raises money curbing the pandemic. Mr. Nguyen Van Thai, 89, in Ha Tinh last month cycled all by himself to the communal quarantine zone, donating 1kg of rice, one gourd, one bunch of spinach, one bag of veggies and VND20,000 (US $0.85), leaving all staff in tears, VTC News reported.
Elsewhere in the world, two old COVID-19 patients both refused intensive care treatment to save a ventilator for younger patients in need, willing to put other's lives before their own. Mr. Don Giuseppe Berardelli, Italian, 72, and Suzanne Hoylaerts, German, 90, passed away in the respect and gratitude of many people.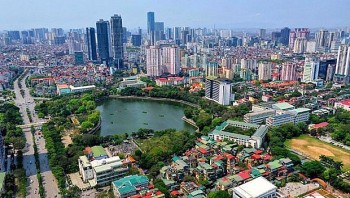 National
Vietnam News Today (Jan. 29): Quang Ninh: Cross-border trading with China resumed after Tet; Hanoi in the world's top three culinary destinations: Tripadvisor; Intertwined opportunities, challenges for Vietnam's economy in 2023; Supermarkets, traditonal markets gradually resume normal operations amid abundant supply.