Vibrant Methods to Promote Vietnamese Culture
Organizing friendship tours for representatives of diplomatic missions and international organizations, performing traditional musical instruments and folk songs abroad, and holding festivals,... are effective ways to promote Vietnamese culture to the world. Each locality has a method based on its own cultural identity and strengths, all of which contribute to actively introducing the image of a modern Vietnam that still retains its traditions, an open, friendly Vietnam that is loyal to friends, respectful of partners, responsible for the global common work.
Hanoi' spring tours to promote culture
Over the years, spring tours have become a traditional foreign affairs activity of Hanoi city. Participating in the event, Ambassadors, their wives, husbands, representatives of diplomatic missions and international organizations in Vietnam had many activities to experience Vietnamese culture such as: wrapping banh chung, writing calligraphy and traditional woodblock printing.
Ambassador and diplomatic staff make to he - one of the Vietnamese folk games in Duong Lam ancient village. (Photo: Hai Trieu)
The activity aims to introduce the culture of Vietnamese people to foreigners living in Vietnam. It is also an opportunity to meet and exchange cultures to strengthen the friendship and mutual understanding between Vietnamese and international friends.
In the spring of 2022, Anton Golubev, Embassy of the Russian Federation in Vietnam said he was looking forward to the Vietnamese New Year. He was impressed with Vietnamese cuisine, especially Tet dishes. The journey to experience in Duong Lam ancient village helps him visualize the traditional Vietnamese New Year.
Many international friends have also expressed interest and impression on Vietnamese cultural values. After 20 years of organization, the spring tours attract more foreigners, especially government representatives of international organizations and non-governmental organizations in Vietnam. Nguyen Lan Huong, chairwoman of the Hanoi Union of Friendship Organizations said: "At the beginning of the year, they say they are anxiously waiting for often the new spring tour, and ask us in advance where we are going this year. They see this. After our spring tour, they will introduce those destinations to their people."
Ha Giang: Integrating cultural promotion in activities
With the Vietnam cultural diplomacy strategy, Ha Giang province has implemented cultural promotion with a variety of activities.
The province has introduced products, cuisine and unique cultural features of Ha Giang at many events such as: 132nd General Assembly of the Inter-Parliamentary Union; food festival of ASEAN and other countries; buckwheat flower festival; half-marathon, car and motorcycle race on the terrain of Dong Van Karst Plateau.
Every year, based on the foreign activities, programs and cooperation mechanisms plan between Ha Giang and Yunnan, Zhuang Region, Guangxi Province (China), and some localities of Japan, Philippines, and South Korea, the province sends working delegations led by provincial leaders on business trips abroad, welcome delegations of partnering localities, international organizations and foreign embassies in Hanoi to visit and work in the province.
In working sessions with partners, leaders of Ha Giang province always focus on introducing the province's potential, strengths, and unique cultural values. Diplomatic gifts are products bearing the cultural identity of ethnic groups in the province such as: Traditional musical instruments of the Mong ethnic group, Lung Tam, Can Ty brocade, and Bac My brocade of the Pa Then ethnic group.
They help to introduce the unique features of ethnic cultures, economic and tourism potentials to international friends as well as foreign investors.
Bac Ninh: Participating in international cultural events
In 2019, during a tour to several European countries, Bac Ninh's Quan Ho Folk Theater performance left a strong impression on the Vietnamese community and international friends through the famous and earnest quan ho melodies such as ''Moi nuoc - moi trau,'' ''Tuong phung-tuong ngo,'' ''Nguoi oi den hen lai ve,'' ''Gia ban.''
During the performances, representatives of the Vietnamese associations in the countries that came to perform emphasized the meaning and importance of preserving and promoting the national culture among the overseas Vietnamese community in general and in the Czech Republic in particular, especially quan ho, a national cultural heritage recognized by UNESCO as a world intangible cultural heritage.
Along with quan ho, over the years, activities to introduce and promote typical cultural values ​​of Bac Ninh - Kinh Bac to the world have contributed to building trust and love among the international community. Absorbing the quintessence of human culture helps enrich and deepen traditional cultural values, contributing to the construction of Bac Ninh culture, strengthening Vietnam's soft power, and contributing to raising the country's position.
The province has actively participated in forums and expanded annual and large-scale cultural diplomacy activities abroad; strengthening cooperation in culture, education, science, and tourism... through conferences, seminars, and national, regional, and international exchanges. The province actively participates in cultural-tourism promotion activities of the Tourism Promotion Organization of Asia-Pacific Cities (TPO) of which Bac Ninh is a member. It also integrates cultural diplomacy activities into leaders' agendas during abroad trips.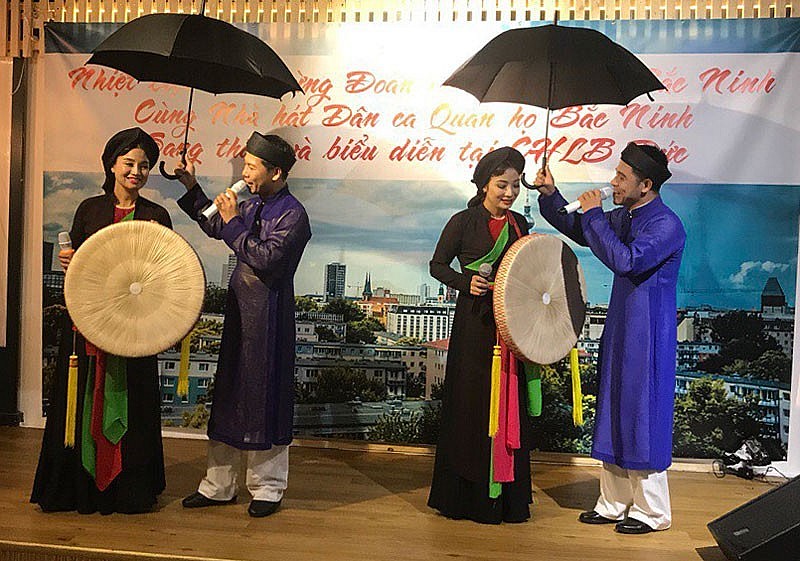 Quan ho folk songs in Germany. (Photo: Hong Ky)
The province also expands the presence of Bac Ninh's image at prestigious international cultural events, such as EXPO, and major cultural and sports events abroad. It actively introduces and promotes the value of its intangible cultural heritages honored by UNESCO in countries with a large Vietnamese population. Bac Ninh boosts tourism promotion activities, introduces destinations, festivals, historical sites, heritages, and unique traditional craft villages; promotes introduction on national and local mass media and social networks about the unique and special values ​​of its culture heritages.
The province also has guidelines and policies prioritizing the development of the cultural industry; building and researching markets to promote culture, publications, and handicraft products of traditional craft villages with Bac Kinh - Kinh Bac's cultural characteristics to international friends;
In particular, the province creates favorable conditions for people-to-people exchanges and cultural exchanges among scholars, cultural researchers, artists, journalists, students, and young people in Bac Ninh and other countries or regional and international organizations. The province supports, encourages, and creates conditions for each citizen to become a cultural ambassador in everyday communication to introduce the cultural quintessence of the homeland to the world.
Together with Hanoi, Ha Giang, Bac Ninh, and other provinces have also made efforts to promote their unique cultural values ​​to domestic and international friends, fostering local socio-economic development.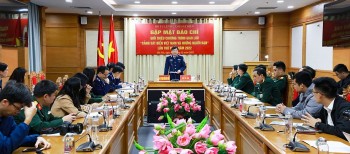 Seas and islands
The first "Vietnam Coast Guard and friends" exchange will take place in December with the participation of National Committee for Maritime Security of Cambodia, Coast Guard Department of China, Indonesian Maritime Security Agency, Malaysian Maritime Enforcement Agency, the Coast Guard of the Philippines, and Thailand Maritime Enforcement Coordinating Center.