Vietnam Asks Pfizer to Speed up Delivery of Children's Covid Vaccine
Prime Minister Pham Minh Chinh has called on Pfizer to quickly supply its Covid-19 vaccine to enable Vietnam to immunize children aged five to 11.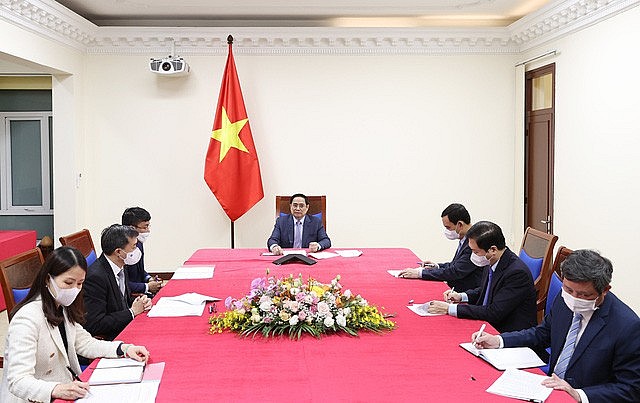 PM Pham Minh Chinh and other officials during the phone talk with Pfizer Chairman and CEO Albert Bourla. Photo: VGP
Prime Minister Pham Minh Chinh has proposed Chairman and CEO of Pfizer Albert Bourla help accelerate the delivery of 22 million doses of its Covid-19 vaccine for children aged 5-11 in Vietnam in the coming days, with a goal of completing the contract in April or May at the latest.
Talking to Bourla over the phone on February 15 evening, Chinh said that this move will help protect children's health and effectively carry out the safe reopening of schools, VietnamPlus said.
This is the second talks between the Vietnamese Government head and Pfizer's leader since the fourth wave of Covid-19 broke out in Vietnam in late April.
Chinh said that Vietnam recently imported Pfizer's vaccine to inject on children aged between 12 and 17, making them safer and more secure when going back to school. To date, nearly 96% of the children in this age group have received the first jab, and nearly 90% the second.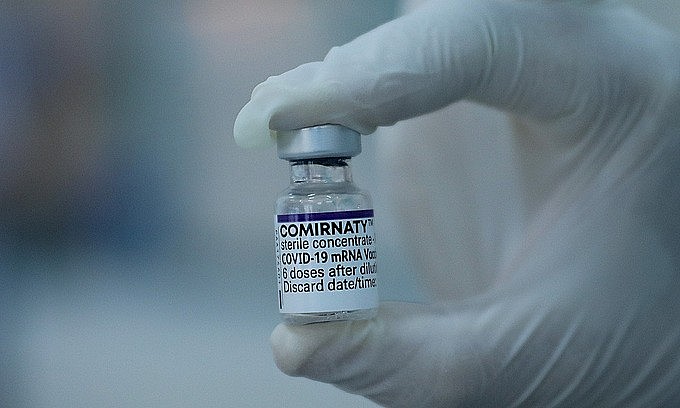 A medical worker holds a vial of the Pfizer vaccine in HCMC, October 27, 2021. Photo: VnExpress
He also thanked and appreciated Pfizer and Chairman Bourla personally for coordinating with the Vietnamese side to complete the supply of 51 million doses, as requested during their previous phone call in August.
With the close cooperation of Pfizer and the timely supply of vaccines from countries, including the US, Vietnam has successfully implemented a rapid vaccination strategy, and transitioned to a strategy of flexibly and safely adapting to and effectively controlling Covid-19 so as to restore production activities and promote economic recovery.
For his part, Bourla affirmed that he will make every effort to speed up the implementation of the contract on supplying the vaccine for children from 5 to under 12 years old for Vietnam in the coming weeks as soon as possible. He also stated that Pfizer can cooperate with Vietnam in transferring technology to produce drugs to treat Covid-19.
On this occasion, PM Chinh invited the Pfizer leader to Vietnam as a guest of the Prime Minister to discuss and promote a long-term bilateral cooperation plan.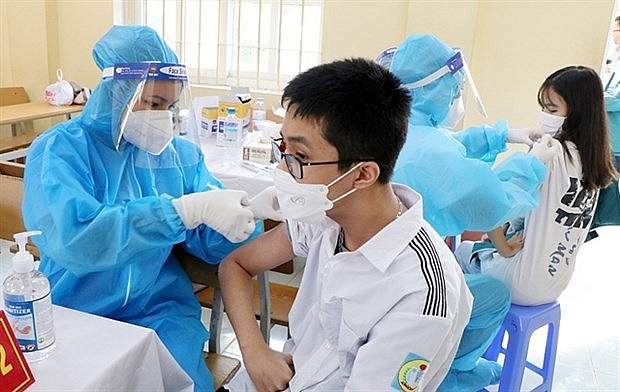 Students receive COVID-19 vaccine shots at a high school in the northern province of Phu Tho in late November 2021. Photo:VNA
According to VnExpress, more than 20 countries have vaccinated children 5-11 years old, including the US, Bahrain, Canada, Chile, Cuba, Italy, Israel, Oman, Saudi Arabia, Spain, and the UAE.
Brazil approved the Covid-19 vaccine for children 5-11 on a voluntary basis on Jan. 5.
A report from the US Centers for Disease Control and Prevention last December said children from 5-11 years old rarely have serious side effects after vaccination. Myocarditis, a side effect of Pfizer vaccination in some adolescents and adults, "appears rare" among young children, it said./.
By February 14, Vietnam had injected over 186.47 million doses of vaccines, with over 74.76 million people now fully inoculated with two doses, and more than 32.48 million booster shots and third shots administered. Vietnam has become one of the six countries with highest Covid-19 vaccination coverage in the world.
The country began to administer Pfizer Covid-19 vaccine to children aged from 12-17 in November 2021.
Up to 95.4% of the children aged 12 – 17 had received at least one dose of Covid-19 vaccines and 89.7% doubled vaccinated as of February 13, data from the Ministry of Health shows.
More than 16.4 million vaccine shots had been administered on this group across the country, the ministry said.
Forty-two out of the 63 cities and provinces, including Hanoi, reported over 90% of their children aged 12 – 17 provided with two coronavirus vaccine doses, while eight have the vaccine coverage on the group among the lowest in the country, below 80%.
The Vietnamese Government has approved the Ministry of Health's proposal to purchase 21.9 million doses of Pfizer Covid-19 vaccine for children from five to 11 years old.
The ministry said the vaccination for the 5-11 aged group would be rolled out in the first and second quarter of this year when the vaccine arrives in Vietnam.