Vietnam Covid-19 Updates (Feb. 15): Close to 30,000 New Infections in Single Day
As of 6 pm on February 14, Vietnam has detected 2,540,273 Covid-19 cases since the start of the outbreak, ranking 34th out of 225 countries and territories worldwide.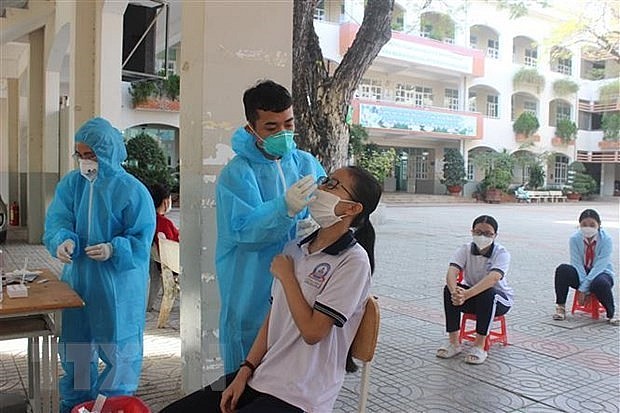 Photo: VNA
Covid-19: Vietnam records close to 30,000 new infections in single day
For the first time since the Covid-19 disease broke out, the daily number of new infections of the coronavirus in Vietnam has surpassed the 29,000 case mark, hitting 29,414 on February 14. The February 14 caseload for new infections represents an increase of more than 3,000 cases compared to the previous day. Of the total, as many as 20,924 cases were detected in the community, meaning the virus infection risk is very high.
All eyes are on northern localities which have seen the virus spread very quickly over the past few days. On February 14 alone, the Hanoi capital topped localities, registering 3,507 new infections, followed by Hai Duong, Hai Phong, Lang Son, Nam Dinh, Thai Nguyen, and Phu Tho which reported more than 1,000 new cases each.
The daily count of new infections has skyrocketed after people returned to work from the nine-day lunar New Year holiday that ended on February 6. Experts fear the figure is likely to keep rising over the coming days as localities are launching spring festivals that attract large crowds of people and Vietnam is going to reopen all international air routes shortly.
Official data from the Ministry of Health show the past 24 hours saw an additional 6,193 patients recover from the disease and 91 more patients died of the virus and other underlying illnesses.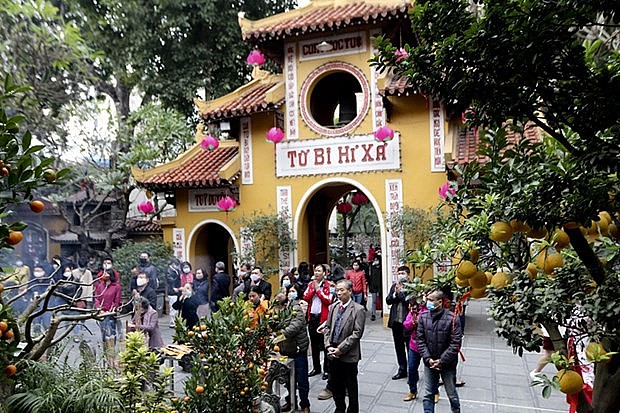 Photo: VNA
Hanoi relic sites welcome visitors back
Hanoi authorities have allowed relic sites to reopen and welcome visitors back following a long time of closure prompted by Covid-19. However, most temples and pagodas in the capital city reported fewer numbers of visitors compared to the same period of previous years.
The municipal Department of Culture and Sports has asked localities to strengthen preventive measures at relic sites and their reopening has to strictly follow the health guidance of relevant agencies and the city. Historical and cultural sites are asked to build plans and prepare equipment for Covid-19 prevention and control.
Visitors are encouraged to receive at least two shots of the Covid-19 vaccine or test negative for the disease within 72 hours using the RT-PCR method before going to the sites. Regarding festivals, only basic rituals will be held and activities that attract crowds will be limited.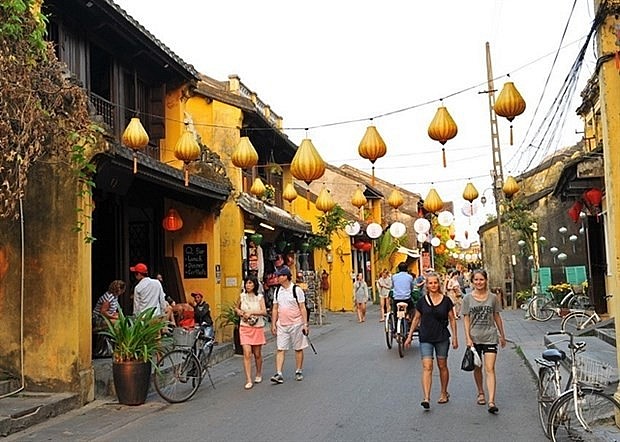 Photo: VNA
Ministry seeks resumption of pre-pandemic visa waiver policy for tourists
The Ministry of Culture, Sports, and Tourism has proposed the Government resumes pre-pandemic waivers of visas for tourists from 24 countries when the country restarts international tourism. The ministry earlier proposed March 31, 2022, to be the beginning of the total reopening of international tourism in Vietnam, as the country expects to finish its Covid-19 vaccine booster shot campaign by then.
The list of 24 countries on the visa exemption list comprises Brunei, Myanmar (for 14-day stay or less), the Philippines (21-day stay), Thailand, Malaysia, Singapore, Indonesia, Cambodia, Laos, Kyrgyzstan (no more than 30-day stay), Belarus, Japan, the Republic of Korea, Switzerland, Norway, Denmark, Russia, Finland, Germany, France, United Kingdom, Italy, Spain (less than 15-day stay), and Chile.
Arrivals from 46 countries could enter Vietnam on e-visas, as before the Covid-19 pandemic broke out and the country closed its border. Negotiations with other countries to push recognition of Vietnam's Covid-19 vaccination certificates should also be expedited, to facilitate outbound tourism.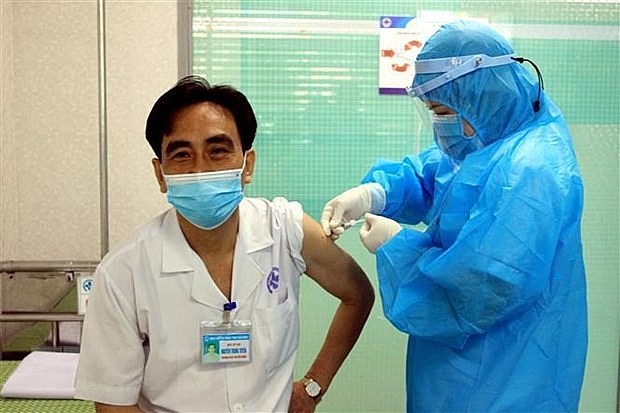 Photo: VNA
Hanoi accelerates Covid-19 vaccine rollout for high-risk people
Hanoi authorities have been urging all its districts to make records of people at a high risk of contracting Covid-19 and give them vaccine booster shots, according to a notice signed by Chairman of the municipal People's Committee Chu Ngoc Anh on February 13.
They asked local administrations to continue encouraging high-risk and vaccine-hesitant people to get double vaccinated and ramp up at-home inoculations for homebound people who are aged above 50 with underlying health conditions, or at a high risk of severe illness from the Covid-19, the notice said.
The move aims to accelerate the city's Covid-19 vaccination for vulnerable people and reduce the hospitalization and death rates.
Chairman Anh also ordered the local administrations to hasten the injection of additional booster shots for high-risk people and those living with these people as part of the "spring vaccination drive" from January 29 to February 28. Vietnam sets to complete the inoculation of additional and booster doses in the first quarter of this year. Chairmen of the district-level People's Committees must be held accountable if any high-risk citizen is left missing out on Covid-19 vaccination, the notice said.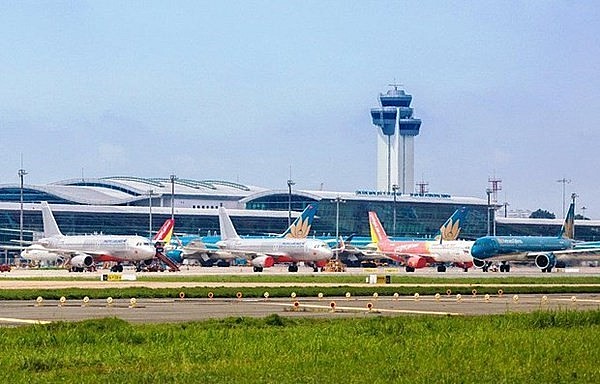 Photo: VNA
Restrictions on international flights to be removed from February 15
The Civil Aviation Authority of Vietnam (CAAV) has asked the Vietnam Air Traffic Management Corporation (VATM) to issue a Notice To Airmen (NOTAM) on the lifting of all restrictions on international flights from February 15, returning to the normal situation as before the outbreak of Covid-19.
According to the CAAV, limits on the number of inbound and outbound international flights in Vietnam will be removed. Meanwhile, regulations on entry and pandemic prevention and control for passengers entering Vietnam will continue to be implemented in line with guidelines of the Ministry of Public Security, the Ministry of Foreign Affairs, and the Ministry of Health, the authority said.
Except for China, all the countries receiving Vietnam's proposal have agreed to restore the aviation links with Vietnam, it said.
Currently, air routes linking Vietnam and European countries, Australia, and the US have been resumed. However, Japan and the Republic of Korea have still applied restrictions on passengers from Vietnam as part of their efforts to prevent Covid-19 from spreading.
As of 6 pm on February 14, Vietnam has detected 2,540,273 Covid-19 cases since the start of the outbreak, ranking 34th out of 225 countries and territories worldwide. Of the infected patients, 2,232,947 have been discharged from the hospital after making a full recovery from the disease, and 39,037 patients have died of the virus.
The number of Omicron infections has increased to 198 in 16 localities, including 97 cases confirmed in Ho Chi Minh City, 27 in Quang Nam, 20 in Quang Ninh, 14 in Hanoi, and 11 in Khanh Hoa.
Approximately 186 million vaccine doses have been administered nationwide, with nearly 75 million people getting their second shot and more than 32 million people receiving their additional shot/booster jab.
Vietnam Covid-19 Updates (Feb. 13): Daily Tally Scales New High With Over 27,000

As of February 11, 185,254,387 doses of the Covid-19 vaccine had been administered, including 79,203,047 being the first dose, 74,674,139 the second, and 31,377,201 the ...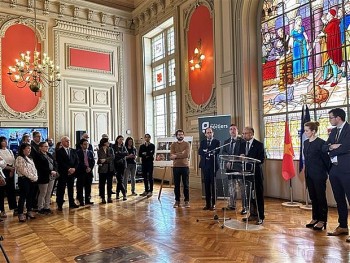 National
Vietnam News Today (Mar. 26): Vietnam and Thailand promote labour cooperation; Vietnamese, French localities look to step up cooperation; Attractive incentives on offer at Hanoi Tourism Festival 2023; E-commerce accounts for 60% of Vietnamese digital economy.