Vietnam aviation industry recovering ater COVID 19
After a long period of "hibernation" due to the Covid-19 epidemic, with great internal effort and the practical support of the Government and their partners, domestic airlines have recovered impressively and expanded their markets. Vietnam aviation industry is now ready and willing to reopen international routes as permitted.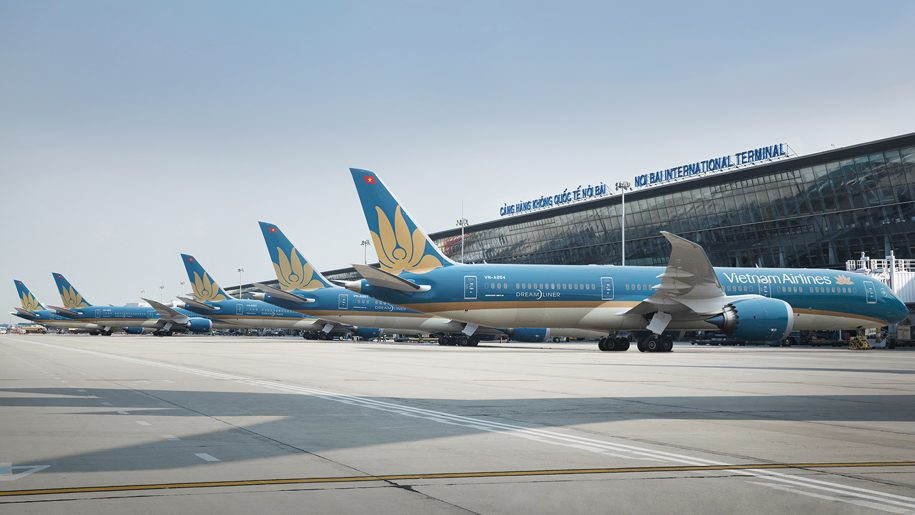 Vietnam aviation industry recovering after COVID 19 (Photo: BusinessTraveller)
Flight network expansion
On June 22, Vietnam Airlines (VNA) has coordinated with Can Tho City to organize a seminar "Vietnam Tourism - Bright Destination" and a talk about promoting tourism in the Mekong Delta.
At the event, VNA signed a cooperative agreement on tourism stimulation with the localities that had new air routes directly connecting with Can Tho. The airline also announced four routes linking Can Tho with Hai Phong, Vinh, Buon Ma Thuot, and Da Lat. On the occasion, VNA launched the Boeing 787-9 Dreamliner aircraft to Can Tho for the first time. The airlines in the Vietnam Airlines Group, including VNA, Pacific Airlines, and Vasco, are currently operating seven air routes from Can Tho to Hai Phong, Hanoi, Vinh, Da Nang, Buon Ma Thuot, Con Dao, and Phu Quoc. In particular, three new Can Tho – Hai Phong, Can Tho – Vinh, and Can Tho – Buon Ma Thuot routes were officially put into operation on June 22.
With the addition of these air routes, the Vietnam Airlines Group is expected to operate 52 return flights and transport 12,000 passengers via Can Tho international airport. According to the Vice Chairman of Can Tho City People's Committee, Duong Tan Hien, the opening of the domestic routes connecting Can Tho with Vinh, Hai Phong, and Buon Ma Thuot as well as the organization of the seminar on domestic tourism stimulation were practical activities to gradually rejuvenate the tourism sector following the Covid-19 pandemic. They were opportunities to attract more investors to Can Tho and other provinces in the Mekong River Delta region. VNA will continue with a new route between Can Tho and Dat Lat with three round trip flights per week, raising the total number of flights to and from Can Tho to 55 per week.
These routes will open up favorable opportunities for tourists to explore the unique tourist destinations of Can Tho as well as the Southwest region such as Ninh Kieu wharf, Cai Rang floating market, Tram Chim National Park, flower villages. , floating markets, horticulture, and other famous destinations in the provinces: Tien Giang, An Giang, Ben Tre, Dong Thap, Vinh Long, Soc Trang, ...
VNA Deputy General Director Le Hong Ha shared: "The Mekong Delta is a potential market that is invested and developed by VNA since its Can Tho branch establishment 10 years ago. Can Tho is a key gateway with seven flight routes connecting directly to localities across the country. Through these routes, VNA expects to contribute to the improvement of Can Tho international airport and the economy of localities, especially in the context that the country is working together to redevelop tourism and economy in this new normal period ".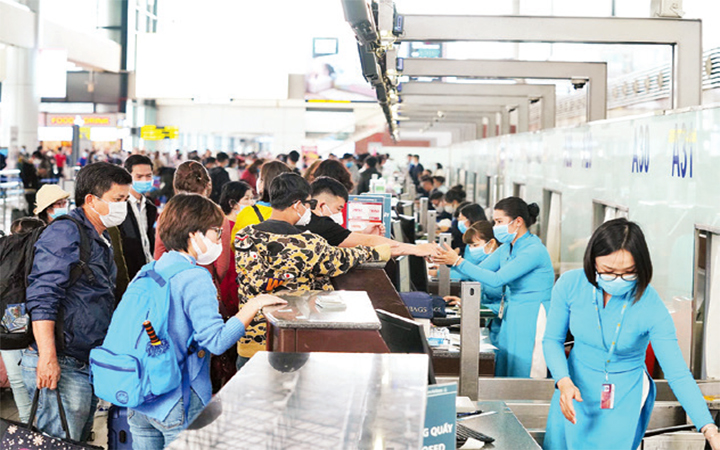 The airline's domestic flights have been recovered (Photo: Nhan Dan)
Linkage for tourism development
According to Deputy General Director of Bamboo Airways (BBA) Truong Phuong Thanh, earlier in June, once the Vietnam Aviation Administration allowed airlines to reopen domestic flights under the allocated schedule, BBA quickly restarted its domestic flight network.
The airline's normalization roadmap prioritized routes in the localities that can quickly facilitate the economic activities, such as Hanoi, Ho Chi Minh City, and Da Nang. Up to now, Bamboo Airways has restarted 75-80% of its domestic flight network, recording an equal occupancy rate, even higher in some cases, in comparison with the period before the Lunar New Year. In addition to the restoration of the domestic flight network, BBA is researching the building of new routes to enhance regional linkage and inter-provincial tourism.
At the recent conference held to launch the domestic tourism stimulus program in Ho Chi Minh City, Director of International Sales and Distribution (Vietjet Air - VJA) Jay L.Lingeswara shared: "Vietnam possesses many safe and attractive destinations such as Hanoi, Ho Chi Minh City, Hue, Da Nang, Nha Trang, Phu Quoc, unique cultural tourism spaces such as Buon Ma Thuot or beautiful pristine beaches in Quy Nhon (Binh Dinh), and the largest cave complex in the world: Phong Nha - Ke Bang (Quang Binh), ...Along with tourism and travel businesses, VJA has quickly returned to the sky with many attractive tourism promotions to attract tourists to destinations throughout the country."
Officially opening ticket sales from June 9, eight new routes of VJA include Hanoi - Dong Hoi (Quang Binh), Hai Phong - Quy Nhon (Binh Dinh), Vinh - Phu Quoc and Da Nang with Phu Quoc, Da Lat, Buon Ma Thuot (Dak Lak), Vinh, Thanh Hoa will bring people and tourists to the most famous and beautiful landscapes in Vietnam.
Standing Vice Chairman of the Vietnam Tourism Association Vu The Binh affirmed: "We highly appreciate domestic airlines as they have proactively joined the stimulus programs with discounts on tickets. We also strongly support the activities of the association and tourism enterprises that have contributed to the success of the tourism stimulation program".
Vietnam has put the COVID 19 pandemic under control and is entering the economic recovery period. With the spirit of initiative, once the pandemic combating process showed positive progress, the Vietnam Tourism Association has coordinated with airlines to develop stimulus programs on a national scale. Although both the aviation and tourism sectors have been most affected by Covid-19, the practice has proved that they have the ability to recover quickly and have taken appropriate and flexible measures, contributing to promoting other sectors. Deputy Director of Civil Aviation Administration of Vietnam, Vo Huy Cuong, said that the aviation industry has returned to its state prior to the outbreak of the epidemic. Airports have been crowded again. The sector has taken advantage of opportunities to recover and develop sustainably as well as showing a willingness to receive certain international tourists towards creating a safe travel area. The administration and the airlines are studying and seeking opportunities to reopen all air routes as before the Covid-19.