Flight carrying over 300 Vietnamese returns home safely from Canada
A special flight carrying a total of 343 Vietnamese citizens that had been left stranded in Canada due to the novel coronavirus pandemic landed safely at Noi Bai International Airport on June 16.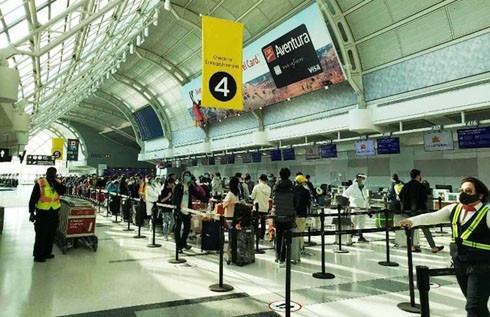 Vietnamese citizens line up for check-ins before boarding the plane in Toronto
According VOV, the fight was arranged by relevant Vietnamese agencies, Vietnamese representatives missions in Canada and relevant agencies of the host country.
The majority of passengers on board the flight were children under 18, the elderly, sick people, stranded travelers and students who were ill or had no accommodation due to the closure of dormitories.
This was the third repatriation flight for Vietnamese nationals stranded in Canada due to the coronavirus pandemic. The two first flight brought home nearly 600 Vietnamese nationals from Canada on April 30 and May 8 respectively.
To date there have been more than 99,000 COVID-19 cases in Canada, and more than 8,000 people have died.
In the context of imposed travel restrictions, the Vietnamese Embassy in Ottawa sent officials to visit some severely ill children before their departure and dispatched officials to Toronto to support citizens at the airport.
Following the additional recovery of two patients suffering from the novel coronavirus on June 16, the total number of recovered cases has increased to 325, representing 97.3% of all patients who had been suffering from the virus.
As of 4pm on June 16, the country has gone over 61 consecutive days without any locally transmitted cases of the COVID-19.
Therefore, upon landing in Vietnam, the passengers received a health examination and went into quarantine as per the regulations to ensure no possibility of community-associated infection.
Service provided to passengers strictly complied with pandemic prevention and control regulations. Pre-boarding temperature checks, health checks, and interviews of passengers were conducted. Passengers were also required to wear face masks during the flight. All members of the flight crew were equipped with complete medical protective gear.
Under Prime Minister Nguyen Xuan Phuc's direction, more similar flights will be arrange to repatriate Vietnamese citizens stranded abroad depending on future developments of the pandemic, the quarantine capacity of Vietnamese localities, and demand among Vietnamese nationals abroad.
Earlier the same day, 335 Vietnamese citizens were also repatriated home from Kuwait, Qatar, Egypt, South Africa, Mozambique, and Eswatini./.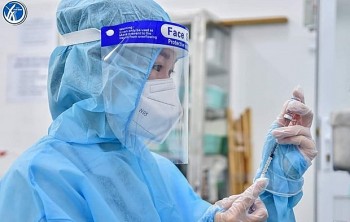 National
Vietnam News Today (December 9): Vietnam confirms 14,595 new Covid-19 cases; Vietnam, New Zealand sign action program to promote strategic partnership; HCM City to inject third Covid-19 vaccine jab from December 10; Hanoi may ban motorbikes in inner areas from 2025.