Vietnam, Bangladesh Deepening Bilateral Business and Investment Activities
As of September 2021, two-way trade between Vietnam and Bangladesh reached USD 981 million, of which over 90% were Vietnam's exports to the South Asian country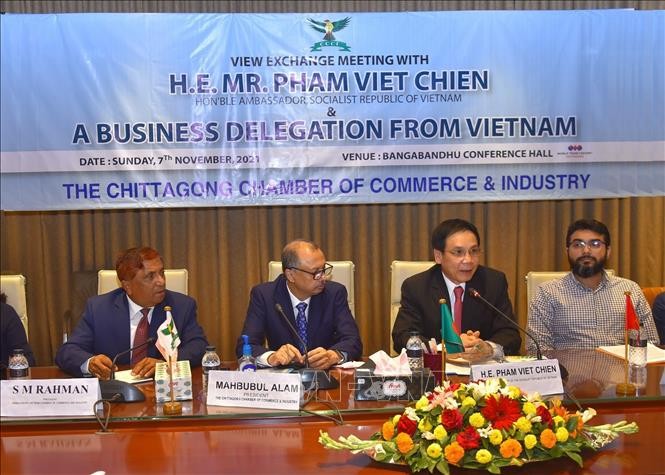 Vietnamese Ambassador to Bangladesh Pham Viet Chien speaks at the business connection forum of the two countries in Chittagong.
In the context of the Covid-19 pandemic in Bangladesh continues to move in a positive direction, production and business activities in the country were basically restored to the new normal state, nearly 10 Vietnamese enterprises operating in construction materials, import and export of agricultural products, household electrical appliances, transportation services, have recently held meetings to promote the market, looking for partners, strengthening and expanding existing business relationships.
According to VNA, meetings between Vietnamese and Bangladeshi firms were held in the capital city Dhaka and the port city of Chittagong on Nov. 7 and 11, respectively, to promote bilateral economic and trade ties.
Co-hosted by the Vietnamese Embassy in Bangladesh, the Bangladesh-Vietnam Chamber of Commerce and Industry, the Dhaka Chamber of Commerce and Industry and the Chittagong Chamber of Commerce and Industry, the events drew about ten Vietnamese enterprises operating in construction materials, farm produce, electrical appliances and transport services.
The Bangladeshi side announced the Government's policy of inviting investment in 100 economic and processing zones nationwide with a number of incentives, with priority given to information technology, telecommunication, farm produce processing, aquaculture, apparel for export, and tourism infrastructure.
They said the country is reforming and simplifying administrative procedures to facilitate inward investment.
Participants highlighted a need to hold similar events to increase exchanges and soon launch direct flights between Vietnam and Bangladesh to facilitate travelling and business.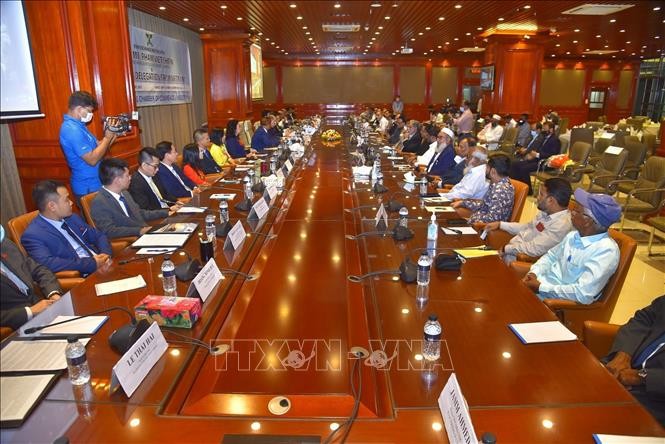 Vietnam - Bangladesh business connection meeting in Chittagong. Photo: VNA
A majority of Bangladeshi enterprises expressed their interest in cooperating with Vietnam in the fields of apparel, agro-fisheries, processed food, construction materials, pharmaceuticals and chemicals.
Vietnam and Bangladesh remain close partners and established ties in February 1973. In 2013 the two nations celebrated the 40th anniversary of the establishment of diplomatic ties.
Vietnam has made several investments in Bangladesh to date: these include investments in Bangladesh's special economic zones, ICT sector cooperation, bilateral cooperation in textile and garments sector, trade in halal products, trade in software services, direct air link, promotion of trade in jute and jute goods, banking sector cooperation and tourism sector cooperation.
The main export products from Vietnam to Bangladesh include clinker, cement, steel billet, and mobile phones. In contrast, Vietnam mainly exports textile, leather, shoe materials, medicine, and sesame from Bangladesh.
According to the General Statistics Office, two-way trade between Vietnam and Bangladesh reached USD 981 million as of September 2021, of which over 90% were Vietnam's exports to the South Asian country, up nearly 80% annually. The figure is expected to reach USD 1 billion this year.
Both countries have identified 11 priority areas including agricultural trade and pharmaceutical exports from Bangladesh to Vietnam. Trade between Vietnam and Bangladesh has grown since the first Joint Trade Committee meeting in 2015.
In some sense, they are even competitors as Vietnam has leapfrogged Bangladesh to become the world's second-largest exporter of clothing as per the World Trade Organization in 2020.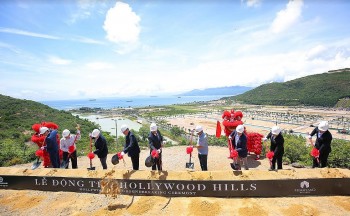 Economy
On October 2, at Hai Giang peninsula (Quy Nhon city, Binh Dinh), Hung Thinh Corporation held the groundbreaking ceremony of Hollywood Hills by YOO Inspired by Starck – a subdivision at MerryLand Quy Nhon. The event marks the first time that the world's No.1 ranked design and branded residence company YOO Inspired by Starck is officially present in Vietnam, with a collection of villas designed by creative director, Philippe Starck.