Hue City Participates in Plastic Smart Cities, Pledging to Reduce 30% of Plastic Waste
Hue City (Thua Thien-Hue province) has became the 7th City of Vietnam and the 32nd in the world to participate in the Plastic Smart Cities Programme.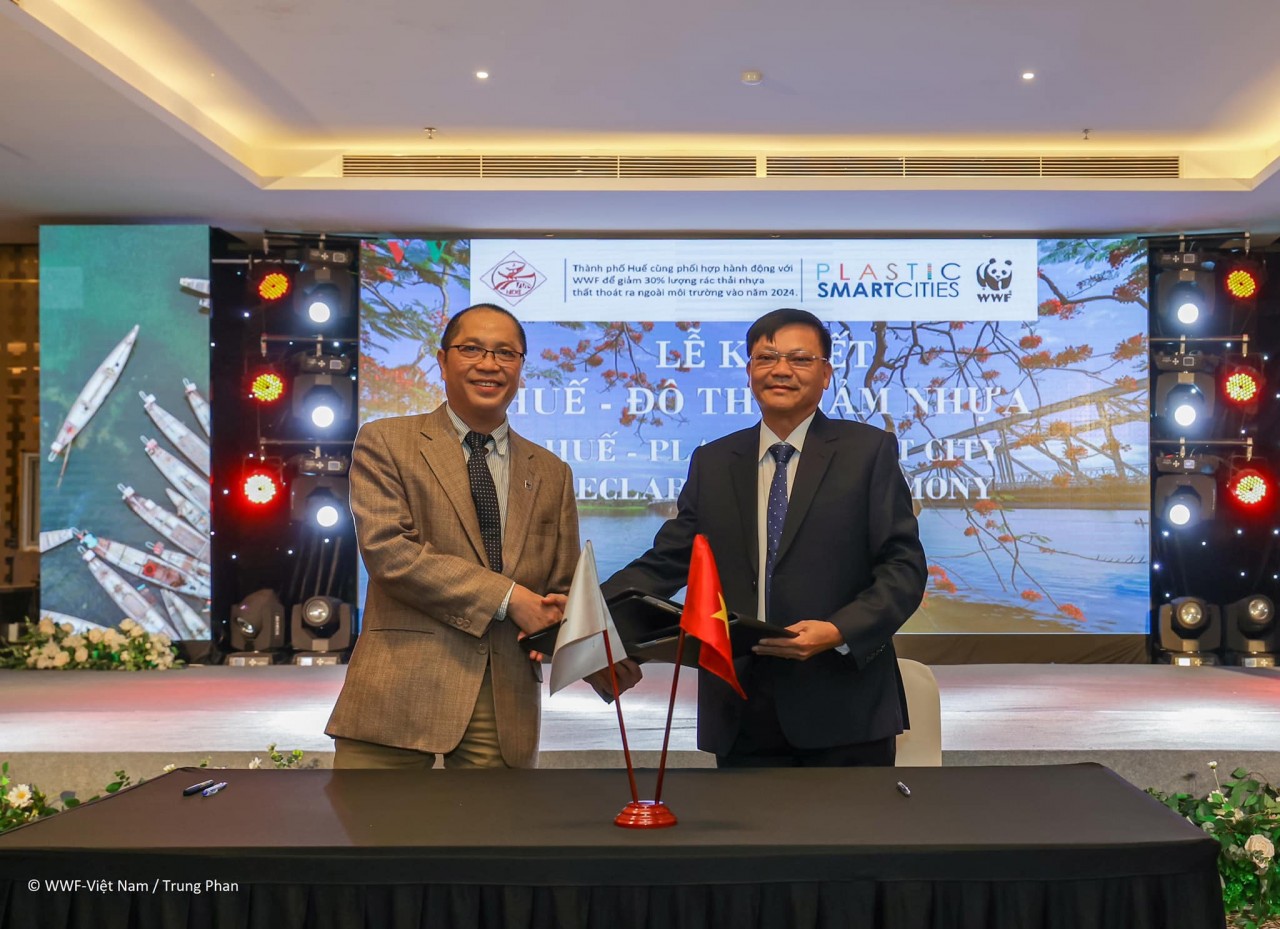 Tran Song, vice chairman of the Hue City People's Committee, and Le Viet Tam, WWF-Vietnam biodiversity conservation director, shook hands and signed a commitment to turn Hue City into a Plastic Reduction City at the kick-off conference of the project "Hue - A Plastic Reduction Cities in the Central region". Photo: WWF Vietnam
The central city of Hue has announced its participation in the Plastic Smart Cities Programme with the goal of reducing 30% of plastic waste by 2024.
A workshop recently has been co-organized by the Hue Municipal People's Committee and the World Wide Fund for Nature (WWF) in Vietnam to launch a project on reducing plastic waste in the central city, according to Nhan Dan (People) newspaper.
The workshop discussed the initial evaluation results of the solid waste management system in Hue City in general and plastic waste in particular; as well as some intervention orientations for the solid waste management system for Hue City in the future.
Although the waste collection rate in Hue City reached 98% in 2020, along with the efforts made by local authorities, volunteer groups, Hue Urban Construction and Environment Joint Stock Company, and other parties, plastic pollution is still a serious environmental problem in some river basins, outdoor markets, public beaches, etc.
The loss of plastic waste clogs rivers and threatens marine and coastal ecosystems and environments, causing negative impacts on many sectors such as tourism, shipping, and aquaculture.
The project will be implemented over four years, from 2021-2024, and is divided into two phases, with the aim to make Hue a plastic-free destination by 2030.
According to the expected results, by 2024, Hue will become a plastic-reducing city with 70% of solid waste being sorted at source, collected and treated, with an accelerated rate of recycled waste from landfills.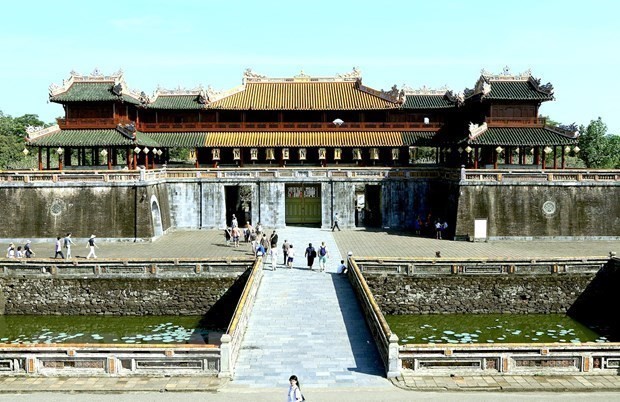 The entrance to the Imperial City of Hue, a popular tourist destination in Thua Thien-Hue province. Photo: VNA
Plastic Smart Cities is a WWF initiative bringing together cities and tourism destinations to commit to fighting plastic pollution.
To date, Hue is the 7th city in Vietnam and the 32nd in the world to participate in Plastic Smart Cities, a WWF initiative bringing together cities and tourism destinations to commit to fighting plastic pollution.
WWF is calling on Asian cities to sign-up and to start sharing best practices through www.plasticsmartcities.org. This is the beginning of a long-term campaign to reduce plastic globally through sharing innovative, tried, and tested solutions for those on the front line in the fight against plastic pollution.
WWF was one of the first International non-government organizations working in Vietnam. In 1985, WWF began working on a national conservation strategy and since then has worked closely with the Vietnamese Government on a diverse range of environmental issues and implemented field activities across the country.
According to the United Nations Environment Programme (UNEP), around the world, one million plastic drinking bottles are purchased every minute, while five trillion single-use plastic bags are used worldwide annually. In total, half of all plastic produced is designed to be used only once and then thrown away.
Vietnam has been listed as one of the top five plastic polluters in the world. The discharges about 22 million tons of solid trash annually, including 10 percent plastic waste and the figure is on the rise.
Right from 2018, in response to the UN initiative "Addressing plastic and nylon pollution", the Government of Vietnam has actively participated in and proactively proposed global and regional cooperation mechanisms on plastic waste reduction in many forums and international cooperation mechanisms such as the G7 Summit 2018 in Canada, the World Economic Forum on ASEAN 2018 in Vietnam and the World Economic Forum Annual Meeting 2019 in Davos, heard the ceremony.
In addition, Vietnam has taken the lead in implementing many strong action programs to tackle plastic waste pollution, which have been actively responded to by all strata of people in the society.
In particular, the National Assembly of Vietnam recently adopted the revised Law on Environmental Protection with additional regulations on minimizing, reusing, recycling, and disposing of plastic waste; restricting the use of single-use plastics and undegradable nylon bags, and encouraging the production of environmentally friendly products to replace traditional plastic products.
Most recently, Vietnamese Prime Minister Pham Minh Chinh's working trip to Europe from Oct. 31 to Nov. 5, which included his attendance at the 26th United Nations Climate Change Conference of the Parties (COP26) and visits to the UK and France, was of important significance and achieved many practical results.
By participating in the conference, Vietnam has reaffirmed its strong message to all international friends about a responsible and proactive Vietnam in handling one of the common challenges, also the most concerning issue – climate change.
PM Chinh's commitment related to net zero emissions by 2050, joining the Global Methane Pledge and the Glasgow Declaration on forests and land use showed the country's determination and political commitment in responding to climate change.