Vietnam-Bangladesh Ties Grow over Five Decades
Vietnam and Bangladesh have enjoyed close ties based on strong political trust, laying the groundwork to promote the partnership in all areas since the establishment of diplomatic relations between Vietnam and Bangladesh on February 2, 1973.
Vietnam-Bangladesh relations: Fruitful 50-year ties
The historic and friendly relations between Vietnam and Bangladesh have witnessed significant advances over the last five decades in a variety of fields, including politics, diplomacy, economics, culture, science, education, national security, and defense. Particularly, the cooperative relationship between the two countries' parliaments has reached significant milestones, playing a critical role in improving Vietnam and Bangladesh's three pillars of Party, State, and people's diplomacy.
In recent years, the two countries have maintained regular high-level exchanges, with leaders meeting and discussing issues at regional and international forums regularly. Both countries have continuously supported each other's aspirations for important positions in multilateral international organizations.
Besides contacts with the ruling party, Vietnam's Party has long-standing relationships with political parties in Bangladesh, including the Communist Party and the Bangladesh Workers' Party. The formation of the Bangladesh-Vietnam Friendship Association in March 2023 is an important step toward increasing cooperation and developing relationships between our two countries. Bilateral trade has grown dramatically in recent years. Trade turnover between the two countries had been roughly US$750 million in 2018, but by 2022, it increased to $1.5 billion and is still growing.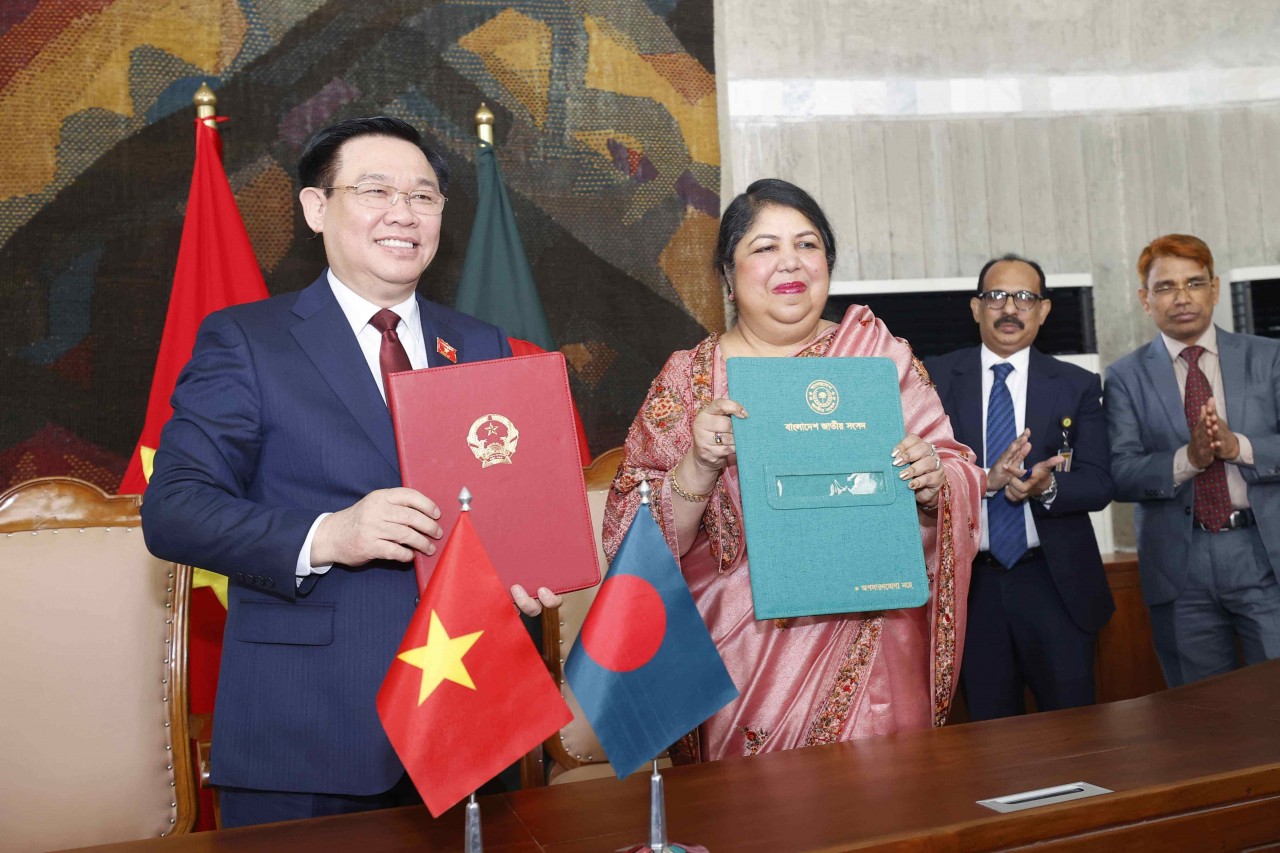 National Assembly Chairman Vuong Dinh Hue and Bangladesh National Assembly Chairman Shirin Sharmin Chaudhury signed the first cooperation memorandum between the two countries' National Assembly.
The parliaments of both nations have made significant contributions to achieving these great outcomes in bilateral relations. Aside from high-level visits, Vietnamese and Bangladeshi leaders continue and foster close contacts, exchanging experiences and keeping each other informed about domestic and international developments.
In terms of multilateral cooperation, the two parliaments have continued to work closely and provide mutual support at regional and international parliamentary forums, particularly the Inter-Parliamentary Union (IPU) General Assembly and the Asia-Pacific Parliamentary Forum (APPF). This collaboration has been making a substantial contribution to the region's and the world's common growth of peace and prosperity.
Saber Hossain Chowdhury, a former President of the IPU and a Bangladeshi parliamentarian, has consistently expressed special sympathy for Vietnam, supporting the National Assembly of Vietnam in successfully hosting the 132nd IPU in Hanoi in 2015, as well as the Professional Conference on the IPU Asia-Pacific region on "Responding to Climate Change - Legislators' Actions to Achieve SDGs".
Besides, the Bangladesh National Assembly recently sent a team of four young parliamentarians to the 9th Global Conference for Young Parliamentarians, which was held in Hanoi from September 14-17, 2023.
Potential for bilateral cooperation
The strengthening and development of Vietnam-Bangladesh relations are dependent on enhancing the great traditional friendship that has been cultivated over the past 50 years. Both countries' historical efforts for liberation and national independence, and their ongoing pursuit of national prosperity, bear striking similarities. Bangladeshis, particularly members of the Bangladesh National Assembly, appreciate Vietnam's historical journey to independence and unification. They also show high regard for Vietnam's recent growth achievements. In addition, both countries share the same foreign policy that prioritizes peace, collaboration, and friendship.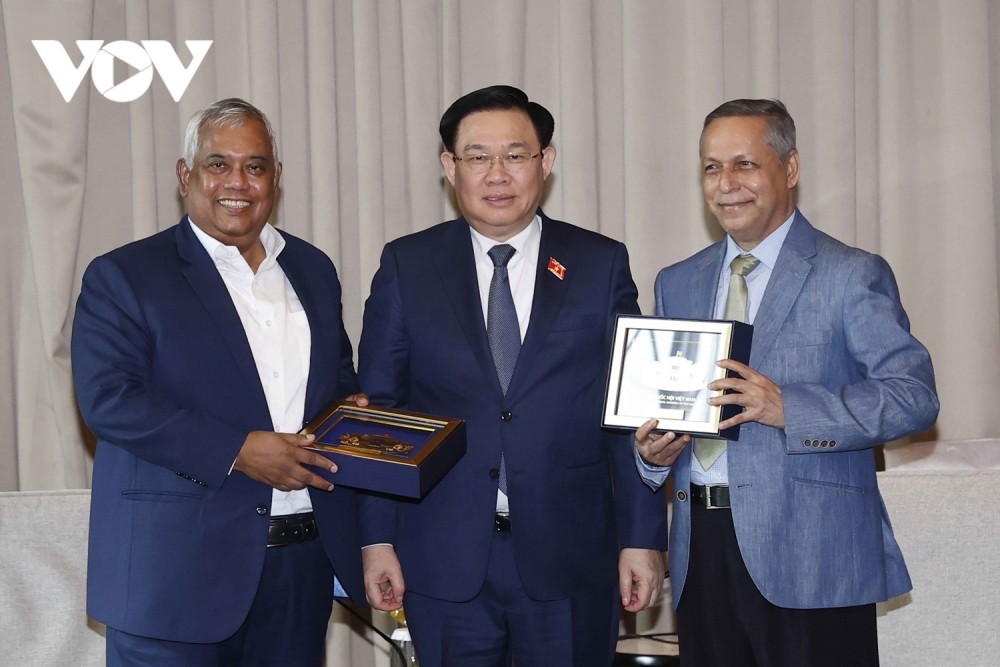 National Assembly Chairman Vuong Dinh Hue received leaders of large corporations in Bangladesh
On the other hand, Bangladesh is an emerging economy that is rapidly growing despite several obstacles. It has a population of about 170 million people, the majority of whom are youthful, dynamic, and creative workers. This demographic profile offers Bangladesh as a viable and attractive market for Vietnamese partners in multiple sectors for cooperation, investment, and economic opportunities.
Expected changes after Vietnam National Assembly Chairman's visit
This visit of the National Assembly Vuong Dinh Hue is expected to energize and add new impetus to the long-standing friendship and varied collaboration between Vietnam and Bangladesh. Several notable accomplishments are expected during this visit, including the official signing of cooperation agreements between the two parliaments and respective advisory and assistance agencies. Particularly, the Parliamentary Friendship Groups between the two countries are announced to be established, allowing greater parliamentary relations.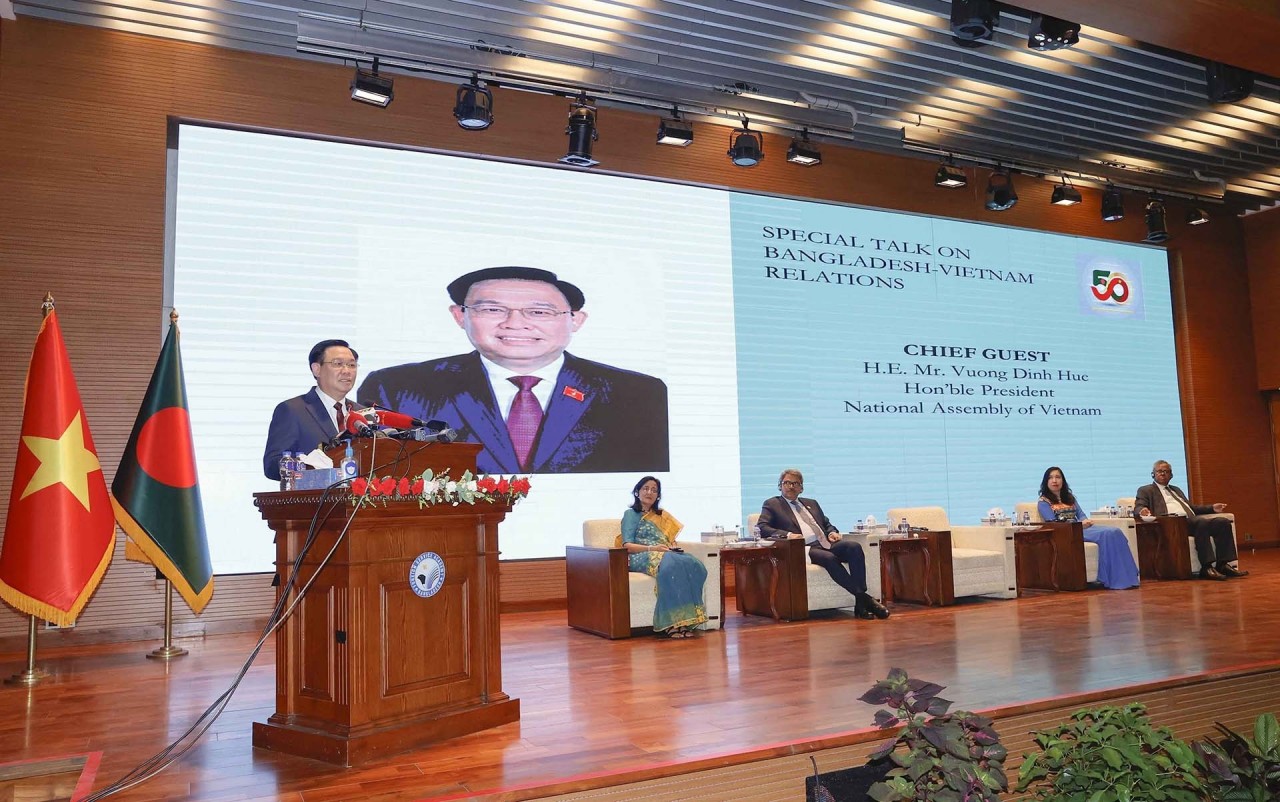 National Assembly Chairman Vuong Dinh Hue delivers a speech on the Vietnam-Bangladesh traditional friendship and cooperation at Bangladesh Foreign Service Academy in Dhaka
Furthermore, the leaders of both parliaments held extensive discussions on bilateral ties, including political and diplomatic issues as well as economic, trade, and investment cooperation. They also discussed global and regional issues of shared concern. Therefore, this visit has the potential to result in significant advances in our two countries' comprehensive relationship.
Vietnamese National Assembly Chairman Vuong Dinh Hue is paying his official visit to Bangladesh at the invitation of Speaker of the Parliament Shirin Sharmin Chaudhury from September 21 to September 23, 2023.
Hue's visit comes at a time when the Vietnam-Bangladesh friendship is flourishing and the two countries are marking the 50th anniversary of the establishment of diplomatic relations (1973-2023).
This is the most important foreign political event between the two countries on the 50th anniversary of their diplomatic relations, as well as the first visit to Bangladesh by the Chairman of the Vietnamese National Assembly and the highest Vietnamese leader to visit Bangladesh since 2018.
While in Bangladesh, the Chairman joined host leaders in marking the bilateral diplomatic ties' 50th anniversary. He also held talks and met with senior leaders of Bangladesh, during which they discussed measures to consolidate and promote friendship and effective, practical cooperation between the two countries through all Parties, parliament, and government channels, as well as people-to-people exchanges. On this occasion, the top legislator participated in several cultural, economic, and diplomatic activities.