Vietnam Business & Weather Briefing (Sep 23): Rice Exports to Surpass Annual Target
Vietnam Business & Weather Briefing (Sep 23): Reference exchange rate up VND 8, Vietnam's rice exports to surpass the annual target, Vietnam ranks 63rd out of 113 economies in new global index of digital entrepreneurship systems
Business Briefing
Gold rate: VND 65.8 million/tael (buying) and VND 66.62 million/tael (selling)
Reference exchange rate: VND 23,324/USD
Export news: Vietnam's rice exports to surpass the annual target
Business news: Vietnam ranks 63rd out of 113 economies in new global index of digital entrepreneurship systems
Banking news: State Bank revises up interest rates by 1% from September 23
Weather Forecast
Rain and cloudy weather remains on September 24
Business Briefing
Gold rate
In contrast to the developments in the global gold market, the domestic gold price in the early morning of September 23 slightly decreases.
SJC gold price was adjusted down by VND 150,000 in both buying and selling directions compared to the previous day. With this adjustment, the price of SJC gold in the Hanoi and Da Nang is currently VND 65.8 million/tael (buying) and VND 66.62 million/tael (selling). In Ho Chi Minh City, SJC gold is still bouth at the same level but sold for less than VND 20,000.
Reference exchange rate
The State Bank of Vietnam set the daily reference exchange rate for the US dollar at VND 23,324/USD on September 23, up VND 8 from the previous day. With the current trading band of +/-3 percent, the ceiling rate applied to commercial banks during the day is VND 24,023/USD, and the floor rate VND 22,624/USD.
On the contrary, the opening-hour rates at many commercial banks dropped. At 8:27 am, BIDV listed the buying rate at VND 23,565/USD and the selling rate at VND 23,845/USD, both down VND 5 from the end of September 22. Meanwhile, Vietcombank kept both rates unchanged at VND 23,535/USD (buying) and VND 23,845/USD (selling). During the week from September 19-23, the reference exchange rate mostly followed an upward trend. It ended the week up VND 29.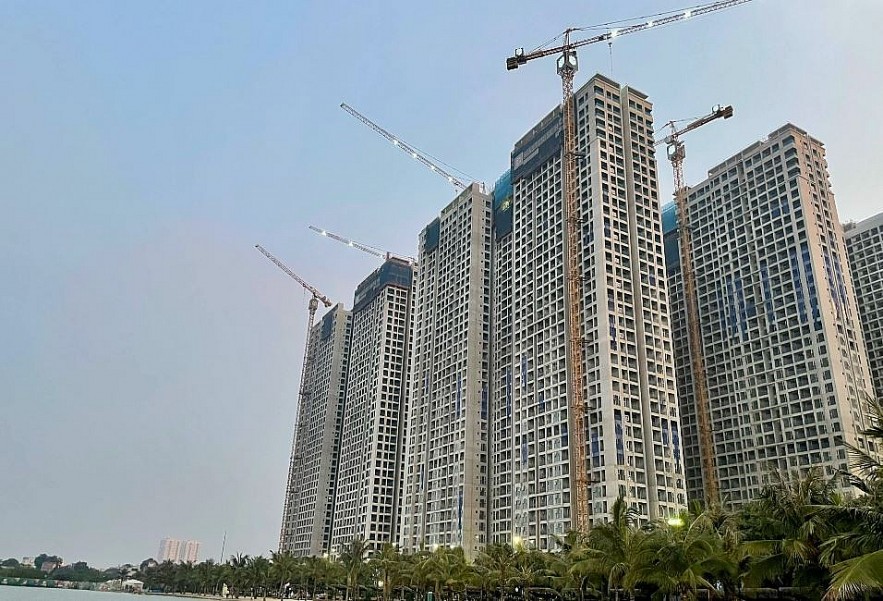 Photo: Zing
Export news: Vietnam's rice exports to surpass the annual target
Vietnam's rice export is likely to surpass the target set for this year, said Chairman of the Vietnam Food Association Nguyen Ngoc Nam. During a conference co-hosted by the Ministry of Agriculture and Rural Development and the People's Committee of the Mekong Delta city of Can Tho on September 22, Nam said Vietnam earned nearly 2.4 billion USD from exporting 4.97 million tonnes of rice in the first eight months of this year, up 20.7% in volume and nearly 9.9% in value from the same period last year.
Vietnam plans to ship 6.3-6.5 million tonnes of rice this year, or 100,000–200,000 tonnes more than 2021. Asia is the biggest buyer of Vietnamese rice, accounting for more than 50%, followed by Africa and America. The Philippines alone bought over USD 1 billion worth of Vietnamese rice, or nearly half of Vietnam's total export, mostly jasmine and hi-quality rice, up more than 47% year on year.
In the past eight months, China bought over 520,000 tonnes of rice from Vietnam, or about 10% of Vietnam's rice exports, down 29% annually. At present, the neighboring country has a huge demand for glutinous rice but supplies in Vietnam are insufficient. Ghana and the Ivory Coast remained stable markets for Vietnam, with more than 18% of the total rice export.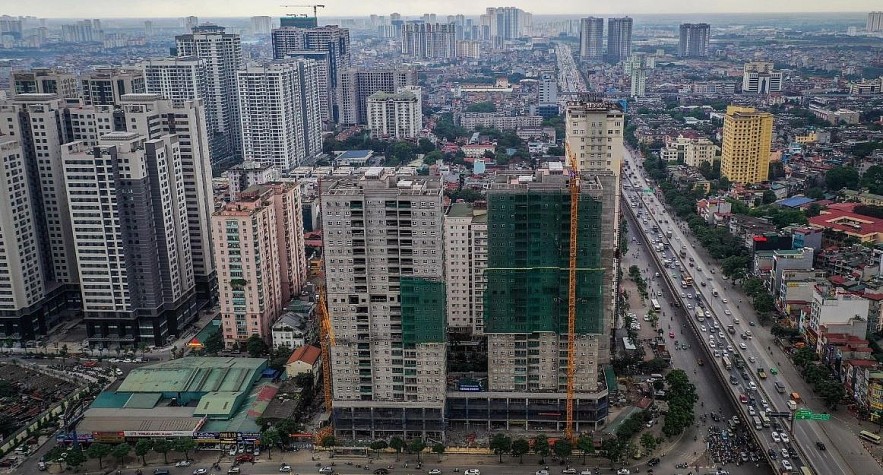 Photo: Zing
Business news: Vietnam ranks 63rd out of 113 economies in new global index of digital entrepreneurship systems
Vietnam is ranked 63rd out of 113 global economies in a global ranking of the digital environment and support systems for entrepreneurs, a new index developed by the Asian Development Bank (ADB). Released earlier this week as part of the Asian Development Outlook (ADO) 2022, the Global Index of Digital Entrepreneurship Systems (GIDES) puts Singapore in first place, followed by the United States and Sweden.
"Digital entrepreneurship helped economies stay afloat during the COVID-19 pandemic, and it can become a major engine of growth and innovation in the post-pandemic world," said ADB Chief Economist Albert Park. "For this to happen, there needs to be a supportive environment enabled by conducive policies and incentives. While the environment for Asia's digital entrepreneurs made substantial strides in the past couple of years, there's still a lot of room for improvement."
The index measures the quality of the environment for digital entrepreneurs by looking at the level of digitalization in eight areas, namely culture, institutions, market conditions, infrastructure, human capital, knowledge, finance, and networking. In addition to investing in digital infrastructure such as broadband networks, governments need to promote political stability, reliable legal systems, open and competitive markets, and strong property rights.
For Asia and the Pacific as a whole, insufficiently supportive culture is among the biggest weak spots when it comes to nurturing digital entrepreneurship. One example is a general lack of public appreciation for the vital role that entrepreneurs play in economic progress. One way to change this is to improve the public perception of entrepreneurship through education.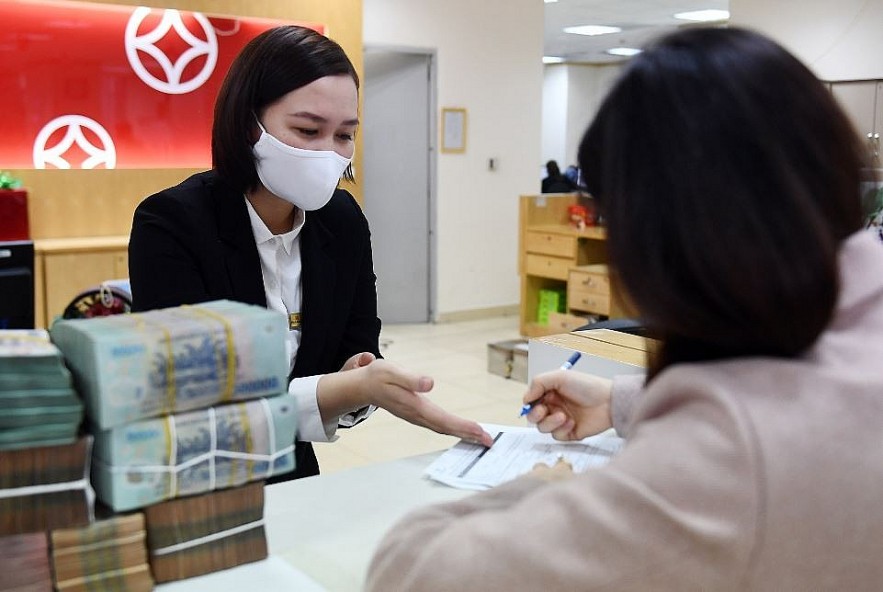 Photo: Zing
Banking news: State Bank revises up interest rates by 1% from September 23
Governor of the State Bank of Vietnam Nguyen Thi Hong has issued decisions on revising several interest rates by 1%, starting from September 23. Under Decision No. 1606/QĐ-NHNN dated September 22, the refinancing interest rate will be set at 5% per year, rediscount at 3.5%, and overnight inter-banking lending rate at 6%.
Under another decision, the interest rate for non-term and one-month deposits in Vietnamese dong is capped at 0.5% annually while that for 1-6 month deposits is 5%. Deposits of 1-6 months at people's credit funds and micro-finance organizations will enjoy an annual interest rate of 5.5%.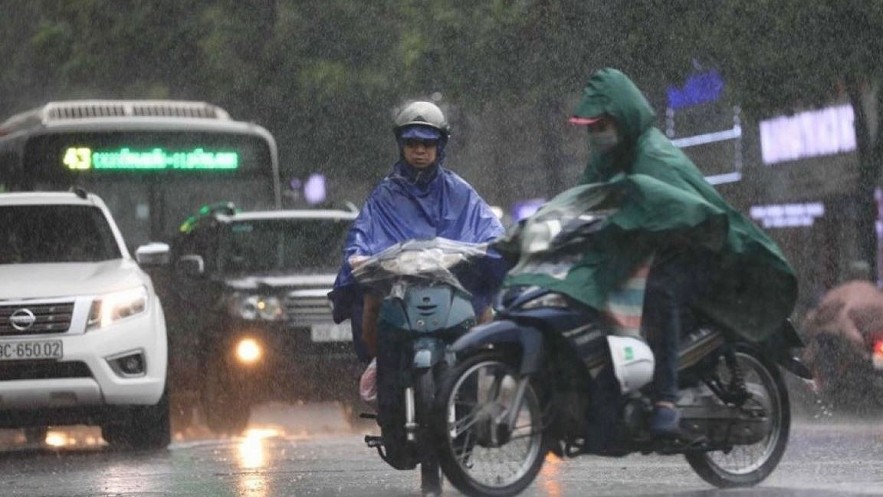 Photo: VOV live
Weather Forecast
September 24: Hanoi will be cloudy, with moderate rain, thunderstorms, and northeast level 2-3. The northwest region will be cloudy with showers, thunderstorms, and light wind.
The Northeast provinces: Cloudy, with scattered showers and thunderstorms. The delta area will have moderate to heavy rain. Highest temperature: 29-32 Celcius degrees.
Central provinces: Heavy rain and light wind. Lowest temperature: 23-26 Celcius degrees. Highest temperature: 29-32 Celcius degrees.
Southern provinces: Cloudy with showers and thunderstorms. Lowest temperature: 23-26 Celcius degrees. Highest temperature: 29-32 Celcius degrees.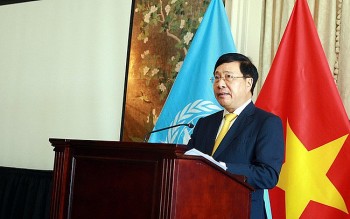 Friendship
Deputy Prime Minister Pham Binh Minh has asserted Vietnam's strong support for and commitment to the UN's role in leading and coordinating multilateral efforts to respond to global challenges.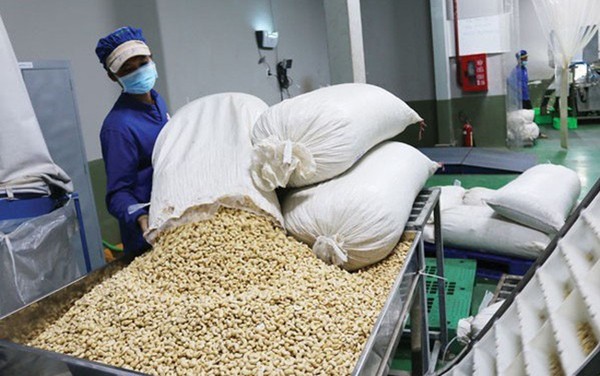 Economy
Since the beginning of the year, exports to Cambodia have reached a fairly high scale and speed, are much higher than imports from this market. In the two-way trade relationship, Vietnam has moved from a trade deficit in the first eight months of 2021 to a trade surplus in the eight months of this year.
September 24, 2022 | 09:11