Vietnam, Canada make efforts to effectively exploit CPTPP post-COVID-19
The Vietnam Embassy in Canada and the Canada-Vietnam Trade Council co-hosted a webinar on December 3 to discuss trade ties under the Comprehensive and Progressive Agreement for Trans-Pacific Partnership (CPTPP), with future relations in the post-novel coronavirus (COVID-19) period also under discussion.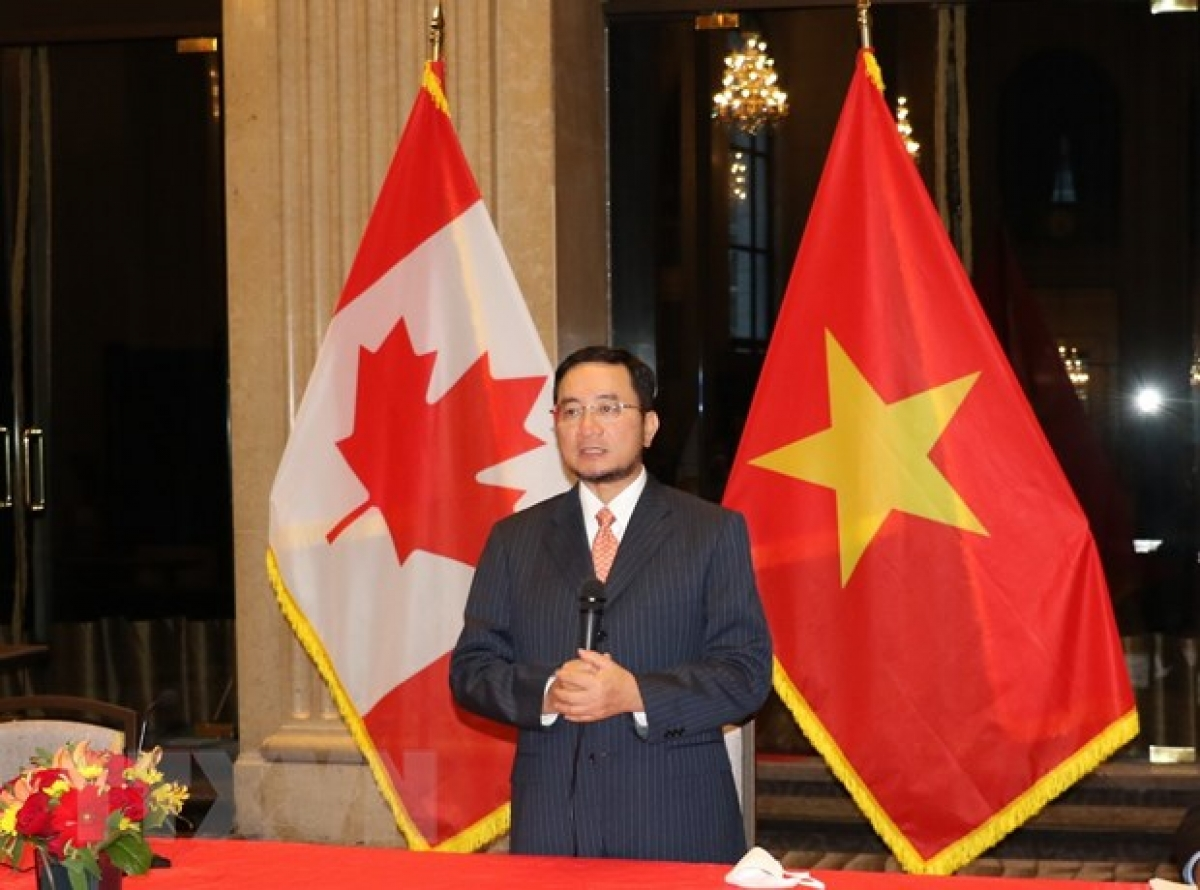 Vietnamese Ambassador to Canada Pham Cao Phong (Photo: VNA)
Upon addressing the seminar which involved the participation of approximately 70 delegates, Vietnamese Ambassador to Canada Pham Cao Phong emphasized that the country's proactive participation in the CPTPP since its launch is a testament to the commitment of the Vietnamese Government. Indeed, it displays a desire to increase the institutional reform scheme in the context of deeper international integration. Participation in various FTAs, including the CPTPP, serves to promote the country's manufacturing capacity, in addition to boosting cross-border trade.
In terms of relations with Canada, Ambassador Phong noted that goods transactions between both sides are more complementary to each other as opposed to competition. For example, the Vietnamese side exports mobile phones, garments and textiles, footwear, seafood, and furniture to the Canadian market, while simultaneously importing agricultural products such as wheat, soybeans, minerals, chemicals, machinery, and mechanical equipment from the northern American nation. As such, an increasing number of Canadian businessmen consider the country to represent a promising destination for supply chain diversification.
Participants used the event to focus their discussions on finding answers to numerous questions, such as how to more effectively exploit the great potential that exists in the CPTPP moving forward due to global supply chains being restructured during the COVID-19 pandemic. Other topics include how businesses from the two countries can increase mutual understanding, along with what to do in order to encourage Canadian businesses to invest and do more business in the nation, reported the VOV.
Cindie-Ève Bourassa, director of the Free Trade Agreement Promotion Division under Global Affairs Canada, shared a common view among participants that the COVID-19 pandemic is creating major supply chain challenges, although the global trading system with agreements like the CPTPP has shown its importance.
Participants in the webinar "Vietnam – Canada Trade in CPTPP: Ways Forward and Recommendations for the Post-COVID Era" (Photo: VNA)
The CPTPP therefore represents a "new generation" agreement that offers a great opportunity for local firms to expand their export-import markets, choose business partners, and invest through a sharp reduction in tariffs in a giant market of 500 million people that features 13% of global GDP and 15% of global trade. With the CPTPP being in effect for nearly two years, the trade deal promotes trade, removes non-tariff barriers, and facilitates greater levels of foreign investment.
Furthermore, Canadian investors are competitive in areas that the nation is desperately in need of, such as oil and gas, infrastructure, and clean energy. Education can also be considered a potential area for the two side to boost co-operation in the context that the country currently spends roughly US$3 billion per year on sending students to study abroad, with increasing numbers of Vietnamese students interested in the Canadian curriculum.
Arvind Vijh of the Canada International Office, said that Canadian enterprises need to research and explore business opportunities that exist in the nation as it is not only a member of the CPTPP, but also an active participant in the Regional Comprehensive Economic Partnership (RCEP) and is a member of ASEAN. Canadian businesses can therefore make the country into a supply base for fast growing markets in Asia amid supply chains moving away from China, he said.
Vietnam can be viewed as an FTA hub in the Asia-Pacific, and Canada has seen a steady increase in the nation's bilateral trade turnover in recent years, especially following the CPTPP coming into effect, said Nhandan.
In 2019, the value of trade exchange between the two countries reached a figure of US$6.1 billion, up 23.4% compared to 2018. This year, bilateral trade is expected to surge by 10% compared to last year with the nation maintaining its position as Canada's largest trading partner in ASEAN since 2015.
Vietnam, Canada augment bilateral defense ties

Vietnam and Canada will boost all-level delegation exchanges, communication on the sidelines of international forums and cooperation in maritime security, officer training, anti-terrorism, and prevention ...
Make in Vietnam
Vietnam introduced potential for trade and investment to Algeria's localities