Vietnam, China Boost Cooperation in Theoretical Research, Journalism
Vietnam and China have agreed to boost bilateral co-operation in theoretical research, communication, journalism, and publications in order to meet development requirements in their respective countries.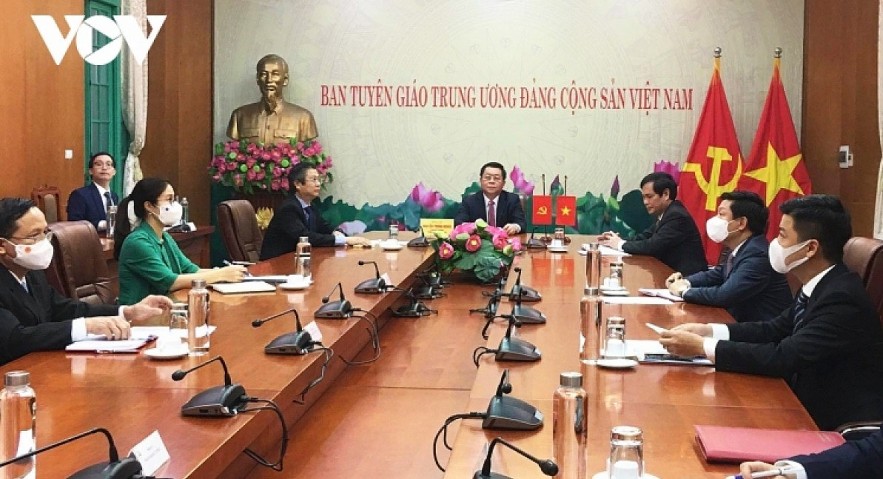 Secretary Nguyen Trong Nghia (middle) and other Vietnamese officials during the phone talks from Hanoi.
This agreement was reached during phone talks on August 30 between Nguyen Trong Nghia, secretary of the Party Central Committee and head of the Party's Information and Communication Commission, and Huang Kunming, politburo member of the Communist Party of the China Centre Committee, secretary of the Party's Secretariat and head of the Party's Propaganda Department.
Nghia stated that both sides should strive to enrich and diversify exchanges between their respective people, especially through younger generations and those who conduct theoretical research. Other areas to improve links are among people working in the media, propaganda, and other publishing areas to firmly consolidate the social foundation for long-term and sustainable development of the two parties and countries.
The Party, State, and Vietnamese people attach great importance on maintaining and developing a strong, long-standing friendship and co-operative relationship with the Party, State, and people of China, Nghia affirmed.
He went on to express hope that the two parties and countries will work closely together in an effort to overcome difficulties and challenges, including the COVID-19 pandemic, so as to bolster cooperation and lift their relations to new heights.
Meanwhile, Huang agreed that the two sides should strengthen exchange and experience sharing in communications and Party building work, as well as promoting co-operation in staff training in the media and publishing areas. He put forward a suggestion that both sides select and translate masterpieces of their art works for publication in each country, along with strengthening cultural exchanges and tourism promotion.
The two leaders consented that the two agencies will jointly organise virtual conferences or seminars aimed at sharing their experiences in issues of mutual interest. They will also maintain regular contact to effectively implement an agreement on their co-operation and exchange mechanisms, thereby making a practical contribution to the development of the traditional friendship and comprehensive strategic co-operation partnership that exists between both sides.
Vietnam, China talk defence cooperation

Defence cooperation between Vietnam and China has been continuously expanded, covering different spheres like delegation and experience exchange, and UN peacekeeping.
VOV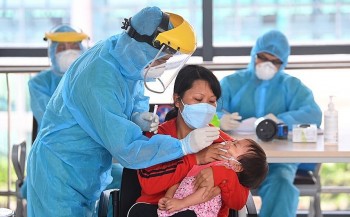 National
Nearly 72 million vaccine doses have been administered nationwide, with 20.7 million people getting their second shot.