Vietnam climbs up 4 places to rank 79th in World Happiness Report 2021
Vietnam has climbed up four places to rank 79th in the World Happiness Report 2021 released on March 19.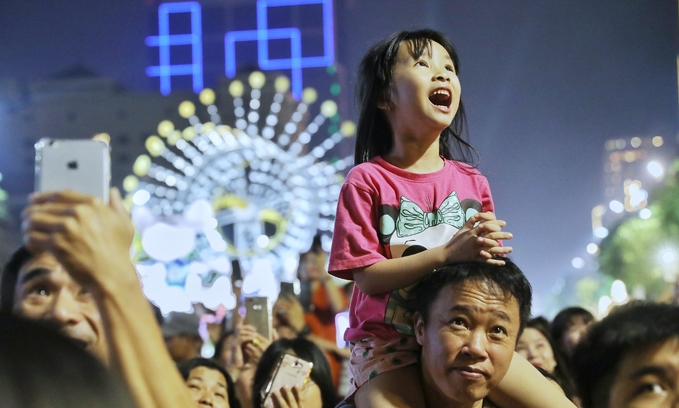 A girl sits on her dad's back to watch fireworks on Lunar New Year's Eve on Nguyen Hue walking street in HCMC, January 24, 2020. Photo: VnExpress.
The country even surpasses China that ranks 84th, and other Southeast Asian nations like Malaysia (81st) and Myanmar (126th) in the report, Vietnam News Agency reported.
Finland once again takes the top spot as the happiest country in the world according to survey data taken from the Gallup World Poll. This is the fourth year in a row Finland has ranked first in the report.
The top five countries in the happiness ranking are dominated by European nations, comprising Finland, Denmark, Sweden, Iceland, and the Netherlands. New Zealand is the only country outside Europe to be included in the top ten, claiming the ninth position.
Lesotho, Botswana, Rwanda, Zimbabwe, and Afghanistan are at the bottom of the list.
The World Happiness Report 2021 focuses on the effects of COVID-19 and how people all over the world have fared.
Jeffrey Sachs, the co-author of the report, said "We need urgently to learn from COVID-19. The pandemic reminds us of our global environmental threats, the urgent need to cooperate, and the difficulties of achieving cooperation in each country and globally. The World Happiness Report 2021 reminds us that we must aim for wellbeing rather than mere wealth, which will be fleeting indeed if we don't do a much better job of addressing the challenges of sustainable development".
In 2020, Vietnam ranked 83rd among 156 economies in the World Happiness Report.

The rankings are based on an average of three years of surveys between 2017 and 2019, meaning there's overlap in the data from previous years, and include six factors such as level of gross domestic product, life expectancy, generosity, social support, freedom, and absence of corruption in government or business.

Vietnam scored an average of 5.353 points in happiness, improving on the 5.175 it got in 2019. Despite the improvement, however, Vietnam lagged well behind some of its Southeast Asian peers like Singapore (31st), the Philippines (52nd), Thailand (54th), and Malaysia (82nd), Vnexpress reported.

In Southeast Asia, Vietnam's position was better than Indonesia (84th), Laos (104th), Cambodia (106th), and Myanmar (133th).

Finland took the top spot again as the happiest country in the world, followed by Denmark and Switzerland.

Vietnam reported impressive GDP growth of 7.02 percent in 2019 while the average life expectancy of Vietnamese in 2018 was 73.5 years, but, generally, people only live in good health till they are 64, according to the Vietnam General Office for Population and Family Planning.
The World Happiness Report is a publication of the Sustainable Development Solutions Network, powered by data from the Gallup World Poll and Lloyd's Register Foundation, which provided access to the World Risk Poll.
| | |
| --- | --- |
| | It turns out there's a direct link between what we eat and how we feel. People with depression, for instance, often make food choices that ... |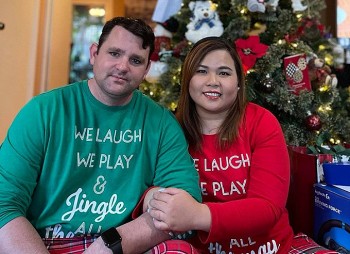 Expats in Vietnam
An American man has removed tattoos on his body so that his Vietnamese girlfriend doesn't feel shy when being with him.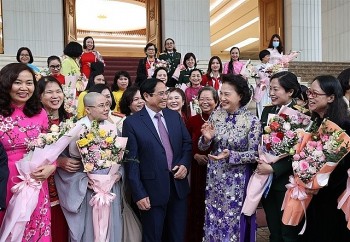 Focus
Prime Minister Pham Minh Chinh has affirmed that Vietnam has created an environment conducive to women's advancement in society.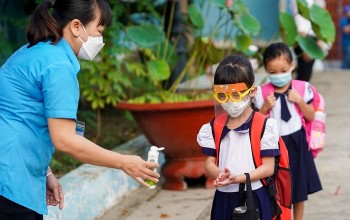 National
As of October 11, the country had inoculated over 64.9 million doses of Covid-19 vaccines, with more than 18.4 million people now being fully vaccinated.