Vietnam congratulates India on winning non-permanent UNSC seat
Vietnamese Minister of National Defense Ngo Xuan Lich extended congratulations to India on its election as a non-permanent member of the United Nations Security Council for tenure 2021-2022.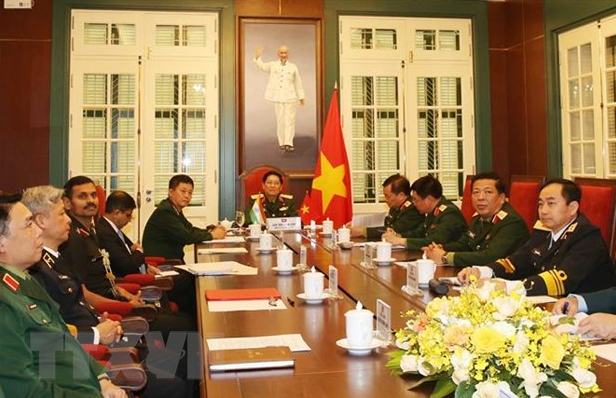 Minister of National Defense Ngo Xuan Lich (center) holds phone talks with Indian counterpart Rajnath Singh on November 27, 2020. (Photo: VGP)
Minister of National Defence General Ngo Xuan Lich and his Indian counterpart Rajnath Singh held bilateral talks via video-conferencing on Friday. During the talks, both Ministers reaffirmed the strong India-Vietnam Defence cooperation which is a key pillar of the Comprehensive Strategic Partnership between the two countries.
They discussed various ongoing projects and the future trajectory of bilateral Defence engagements. The Defence Ministers expressed satisfaction that despite the COVID-19 situation Defence exchanges between both Armed Forces have maintained positive momentum. Both the Ministers discussed collaboration in Defence Industry capability building, training, and cooperation in UN Peacekeeping Operations.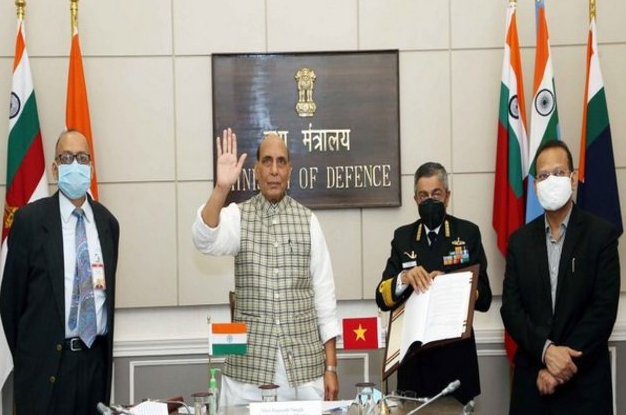 A photo of India Defence Minister Rajnath Singh's office during the phone talks with General Ngo Xuan Lich. (Photo: The Hindu)
Also at the meeting, both sides signed an implementing arrangement for cooperation in the field of Hydrography between the National Hydrographic Office, India, and Vietnam Hydrographic Office in the presence of the two Ministers.
According to India's The Hindu, Mantri appreciated Vietnam's innovative and successful leadership of Defense-related events in ASEAN during its presidency of ASEAN despite the COVID-19 pandemic situation.
For his part, Vietnam's Defence Minister congrats India as it has just won its election as a non-permanent member of the United Nations Security Council for tenure 2021-2022. Along with India, Ireland, Mexico and Norway also won the Security Council elections held on Wednesday, VGP cited.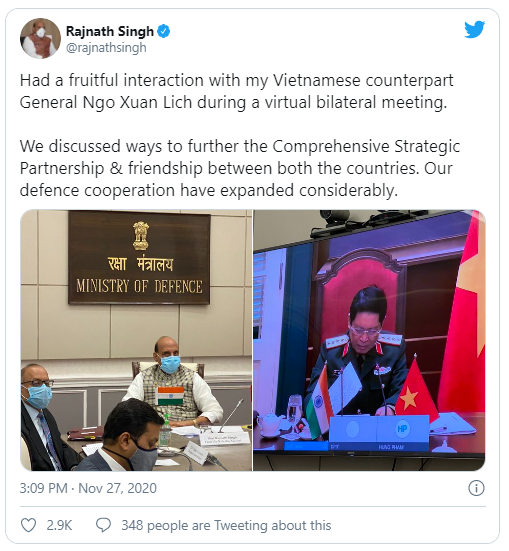 India's Minister Rajnath Singh tweeted about the phone talks. (Photo: News Chrome
Lich expressed thanks for India's support for and coordination with Viet Nam as the Chair of ASEAN in 2020 and UNSC non-permanent member in 2020-2021, particularly within the framework of the ASEAN Defense Ministers' Meeting Plus (ADMM+).
He invited Rajnath Singh to attend the ADMM+ and a ceremony marking the 10th anniversary of the founding of ADMM+ mechanism scheduled to be held digitally in December, and visit Viet Nam once the Covid-19 pandemic is contained.
After the talks, the two ministers witnessed the signing of an agreement on cooperation in hydrography.