EVFTA creating good opportunity for Indian investors
The EU-Vietnam Free Trade Agreement (EVFTA) creates a good opportunity for Indian investors to succeed in Vietnam, said Vietnamese Ambassador to India Nguyen Sanh Chau on the online conference June 12th.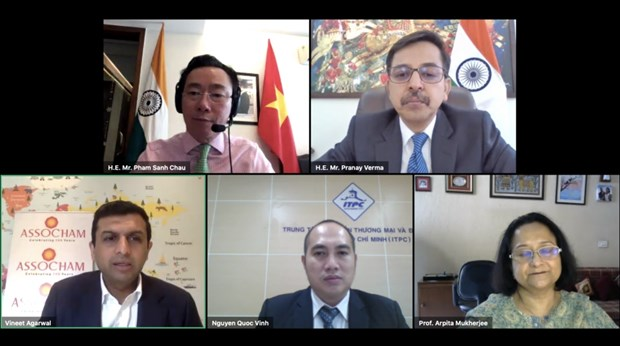 Vietnam -India's representatives at the online conference (Photo: Vietnam Embassy in India)
The conference was organized by the Vietnam Embassy in India's Commercial Affair in collaboration with the Associated Chambers of Commerce and Industry of India (ASSOCHAM) and the Investment and Trade Promotion Centre of Ho Chi Minh City (ITPC) at 3 points of Hanoi - New Delhi - Ho Chi Minh City on June 12.
At the event, Vietnam Ambassador Chau said the deal was officially ratified by the Vietnam National Assembly at its ninth session. He said that the garment-textile industry will be one of the five sectors that have opportunities to increase exports to the EU, while calling on Indian companies to boost investment and establish plants in Vietnam. India is supposed a strong partner in ithe fields of garment and textiles. With a highly developed fiber and textile industry, India can produce almost all kinds of textile materials and accessories and is currently among the top 3 countries supplying textiles and garments in the world. While Vietnam wants to boost production and export, India can be a source of quality fabrics and yarns for Vietnam, helping to bridge the gap and even enhance Vietnam's competitiveness in the international market. This is an open market that businesses in the field of yarn and textile need to exploit.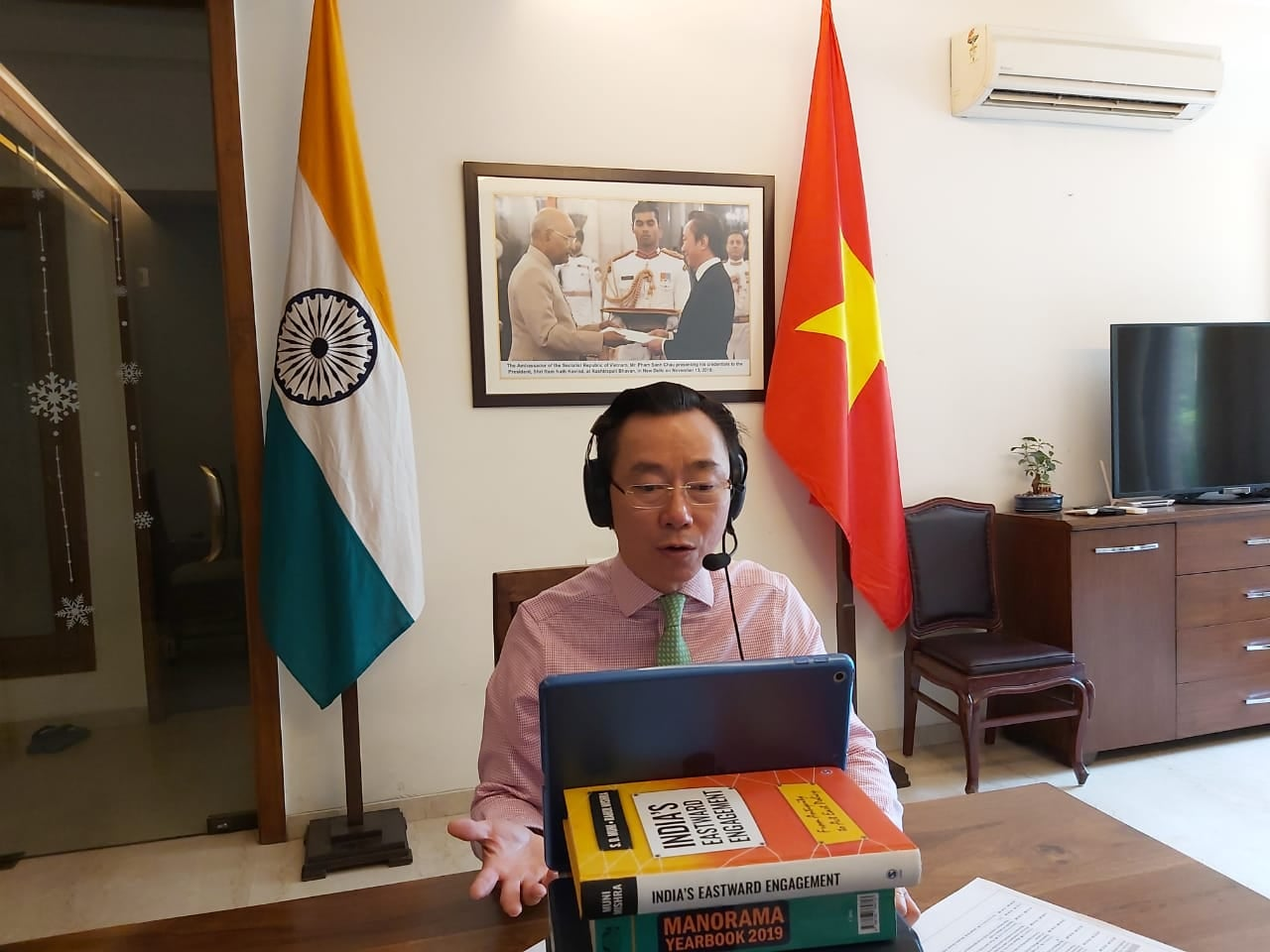 Vietnam Ambassador to India Nguyen Sanh Chau on the online conference. (Photo: Vietnam Embassy in India)
Indian Ambassador to Vietnam Pranay Verma agreed with Vietnam's initiatives, said the two countries' embassies would enhance cooperation and information sharing, and establishment of joint working groups to facilitate the work. Ambassador Verma affirmed that the Vietnamese market looked very potential to Indian businesses considered strong and advantageous in textile, pharmaceutical, steel, agriculture and information technology sectors.
At the event, participants also discussed and exchanged various issues and assessed the COVID-19 pandemic's impacts on the global economies, including Vietnam and India, and ways of weathering the crisis.
Previously in March, Vietnam Minister of Planning and Investment Nguyen Chi Dung paid a business visit to India and worked with India big corporations for investments in Vietnam.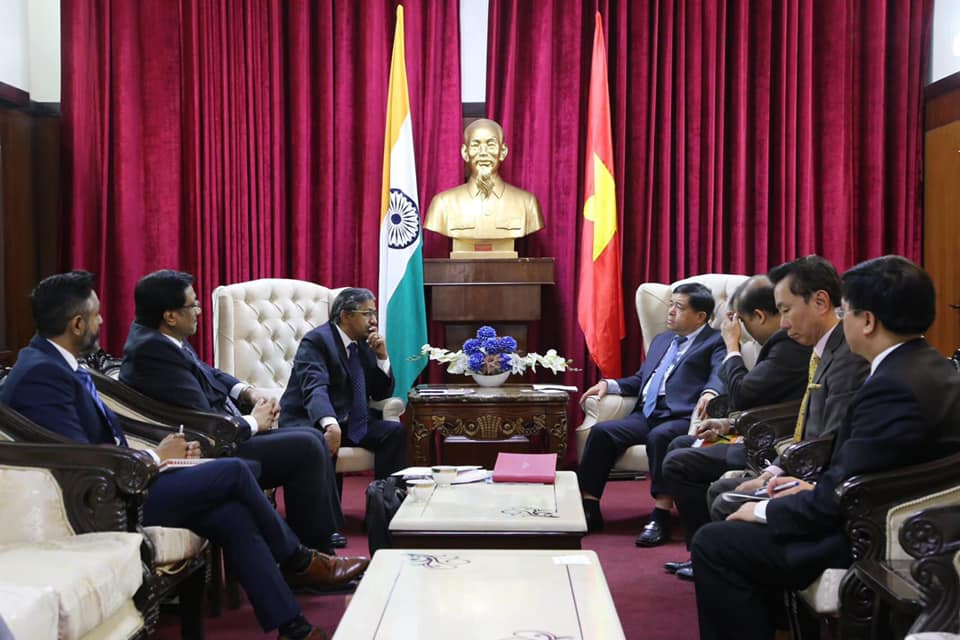 Recently, Vietnam Minister of Planning and Investment Nguyen Chi Dung had private meetings with major Indian corporations including ONGC - Indian National Oil and Gas Group, Essar Group, NTPC, HCL, GMR...during the working program and investment promotion in India in March.
At the meeting with Minister Dung, Indian businesses were very interested in investment opportunities in Vietnam, especially in the energy sector.
Minister Nguyen Chi Dung highly appreciated the desire of the Indian corporations to invest in Vietnam and said that Vietnam was growing fast resulting in the huge demand for electricity. In addition to traditional projects of hydropower, thermal power, Vietnam was now focusing on switching to clean, renewable energy sources such as solar power, wind power, gas power ...
Indian corporations' investment desires are in line with Vietnam's policies and also in line with the world development trend. It is expected that corporations' research and investment in clean energy projects help to meet Vietnam's electricity needs and protect the environment.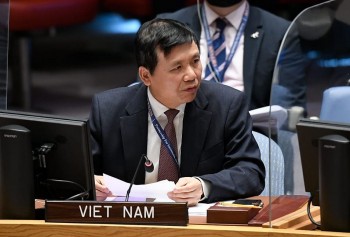 National
Vietnam welcomed the declaration of a unilateral ceasefire by the Central African Republic government at the United Nations Security Council (UNSC) meeting on October 18 on the situation in the Central African Republic.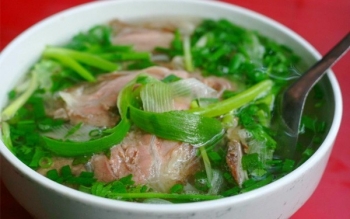 Handbook
A winter chill settles over Hanoi. Sitting in a small corner in the chilling weather, there is nothing better than enjoying a bowl of hot dish to beat the cold and warm up your body.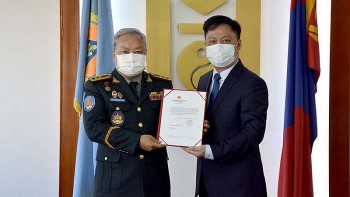 Friendship
The Vietnamese Government has donated 50,000 USD to Mongolia to assist the country in responding to the Covid-19 pandemic.