Vietnam contributes in the role of ASEAN Committee Chair in Czech Republic
During the 18th meeting of the ASEAN Committee in Prague held on August 25, Vietnamese Ambassador to the Czech Republic Thai Xuan Dung has presented the role of the chair of the ASEAN Committee in the Czech Republic until the end of the year from Indonesian Ambassador Kenssy D. Ekaningsih.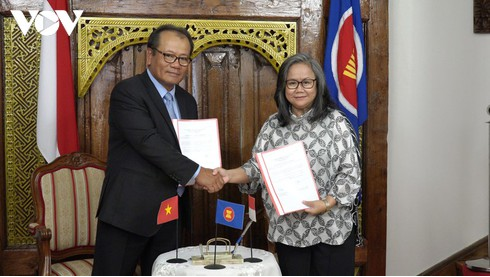 Ambassador Thai Xuan Dung takes over the ASEAN Committee Chair in Prague. Photo: VOV
The meeting saw the Indonesian Ambassador affirm that as the ASEAN Chair for the second half of 2020, Ambassador Dung will be responsible for the Committee's activities during the remainder of the year.
Indeed, the Indonesian diplomat emphasised that all ASEAN embassies based in Prague will collaborate alongside the Vietnamese Embassy in an effort to jointly organise the Committee's activities amid complicated developments relating to the novel coronavirus pandemic.
Discussing with a VOV correspondent in the Czech Republic about some major activities during the country taking on the role of the ASEAN Committee Chair in Prague, Ambassador Dung highlighted inner-bloc cohesion and activities that strive to boost co-operation among the bloc and with the host nation.
Ambassador Dung said, "During the term serving as the ASEAN Chair until the end of 2020, we will do our best to co-ordinate with ASEAN member nations in the Czech Republic on how to promote activities to bring ASEAN members together through a broad array of plans.
This includes ASEAN Family Day, dialogues between ASEAN and partner countries, and exchanges between the ASEAN community and the host country to deepen mutual understanding between Vietnam and the Czech Republic, as well as between ASEAN and the host nation."
The ASEAN Committee in Prague was first established in 2013 and consists of member countries such as Vietnam, Thailand, Indonesia, Malaysia, the Philippines, and Myanmar with the aim of promoting ASEAN as an important partner of the Czech Republic across a range of fields. The Committee is set to organise plenty of joint activities from next September in an effort to strengthen solidarity among the bloc and general co-operation between ASEAN and the Czech Republic.
VOV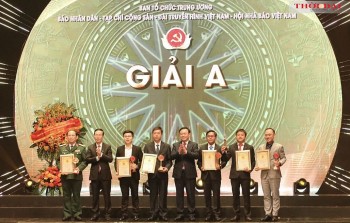 Viet's Home
The 7th National Press Prize on Party Building (named Golden Hammer and Sickle) - 2022 has been bountiful with thousands of entries on a variety of topics, rich in genres, closely following hot topics, outstanding events, key tasks of the political system and the country. Content relating to party building process was clarified and further exploited compared to previous years.