Vietnam Covid-19 Updates (Jan. 28): Daily Count Falls to 15,727 In 63 Localities
As of 6 pm on January 27, Vietnam has detected 2,203,208 Covid-19 cases since the start of the outbreak, ranking 28th out of 224 countries and territories worldwide.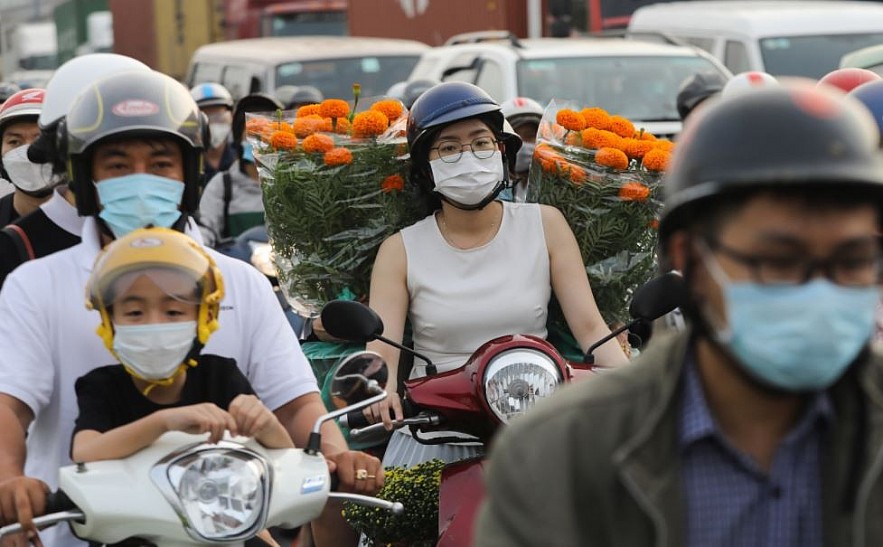 Photo: VNE
Daily number of domestic Covid-19 cases declines
As many as 15,727 people have tested positive for the SARS-CoV-2 virus in all 63 cities and provinces across the country during the past 24 hours, a fall of 227 cases compared to the previous day, according to the Ministry of Health (MoH). Of the total, 10,627 cases were diagnosed in the community, 55 tested positive upon returning from overseas, and the remainder were documented in the lockdown or quarantine areas.
Hanoi capital continued to top localities, registering 2,907 new cases, followed by Da Nang (873), Bac Ninh (794), Thanh Hoa (727), Hai Phong (719), Quang Nam (527), and Nam Dinh (469),
The MoH also reported an additional 21,002 cases recovered from the disease, and 126 more patients died of COVID-19 and underlying illnesses.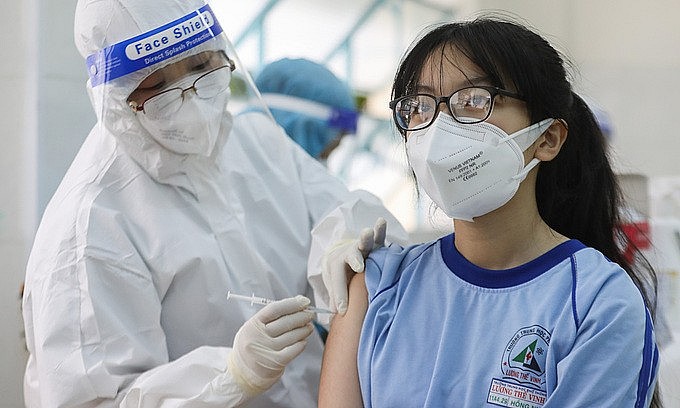 Photo: VNE
Vietnam to begin spring vaccination campaign from January 29
Vietnam will organize a rapid vaccination campaign this spring running from January 29 to February 28, said Prime Minister Pham Minh Chinh at a meeting of the National Steering Committee for Covid-19 Prevention and Control on January 27. He assigned the Ministry of Health to work out a detailed plan for the campaign, taking into account the availability of vaccines and groups of vulnerable people subject to vaccination.
The Minister of Health will be held responsible if there is a shortage of vaccines, while local authorities will take responsibility if the campaign fails to meet the deadline, said the PM. Localities will become safer if they compete in the third-dose campaign, stressed the PM, adding that most severally ill patients and fatalities are unvaccinated people, especially elderly people with underlying medical conditions.
According to Minister of Health Nguyen Thanh Long, by January 26 the rate of people aged 18 and above getting their first, second, and third doses of the vaccine had reached 100%, 95.7%, and 22.3%, respectively. Teenagers in the 12 to 17 age group who have already received their first and second doses have now reached rates of 95.2% and 86%, respectively. In addition, the death rate has decreased from 2.4% to 1.2% of total infections each day.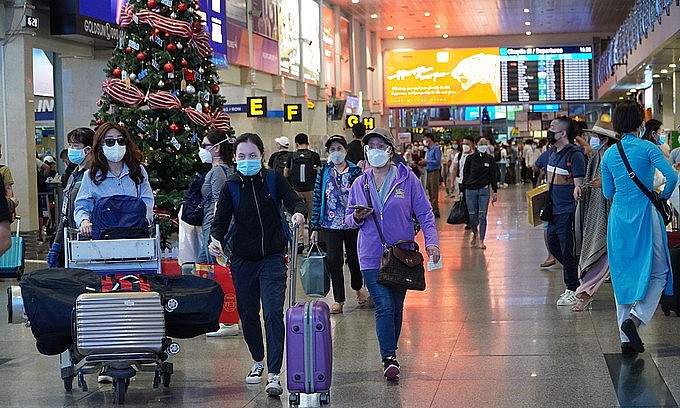 Photo: VNE
Vietnam ready to reopen: PM
Given its high vaccination rate and experience in fighting Covid-19, Vietnam is now "confident" to reopen social and economic activities, PM Pham Minh Chinh said. "We now have the basis to be confident," PM Chinh told a government meeting with authorities in 63 cities and provinces Thursday.
"We absolutely must not become negligent or let our guard down during the upcoming Tet holiday," Chinh said. Vietnamese will enjoy a nine-day break from Jan. 29 to Feb. 6 for this year's Lunar New Year, called Tet in Vietnam. Vietnam has resumed most domestic activities and eased border restrictions.
Regular commercial flights have been resumed between Hanoi, Ho Chi Minh City and Bangkok, Phnom Penh, San Francisco, Seoul, Singapore, Taipei, and Tokyo from Jan. 1 and plans to resume more routes to Europe in the future.
Under current regulations, fully vaccinated people and those who have recovered from Covid-19 arriving in Vietnam only need to self-isolate for three days. Everyone, except children below two, must have tested negative for the novel coronavirus using the PCR method within 72 hours before departure.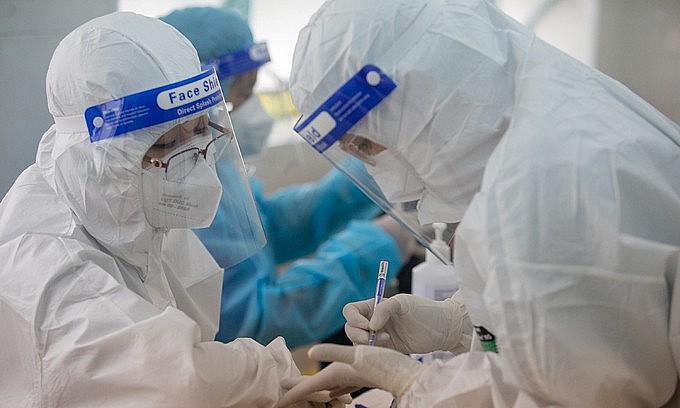 Photo: VNE
HCM City to conduct Covid-19 vaccination throughout Tet
Ho Chi Minh City is set to conduct Covid-19 vaccination throughout the Lunar New Year (Tet) holiday, which will last for nine days starting this weekend, according to its Department of Health. The city has yet to cover all residents with Covid-19 vaccines since there is not any guidance on inoculation for children aged under 12, so it theoretically hasn't achieved herd immunity, Nguyen Thi Huynh Mai, Chief of the municipal Health Department's Office, told a press meeting on January 27.
Though new infections have fallen sharply and deaths have also stood at a single-digit number in recent days and continued to decrease, HCM City is still urging people to comply with the 5K principle and drastically pushing ahead with vaccination, especially the administration of booster doses, so as to enhance herd immunity.
Health authorities will make a list of all people who have yet to be inoculated, those eligible for receiving the second and third doses, as well as unvaccinated Covid-19 patients so as to prepare for the vaccination. During Tet, each district will have one fixed vaccination site and can also organize mobile ones.
In terms of the Omicron cases, Nguyen Hong Tam, Deputy Director of HCM City's Centre for Disease Control, said the city has recorded 92 infections of this variant, including 87 imported cases. The five others in the community were all linked with one imported Omicron case, and the transmission has initially been brought under control.
As of 6 pm on January 27, Vietnam has detected 2,203,208 Covid-19 cases since the start of the outbreak, ranking 28th out of 224 countries and territories worldwide.
Of the infected patients, 1,945,611 have been discharged from the hospital after making a full recovery from the disease, and 37,291 patients have died of the virus. The number of Omicron infections has risen to 166 cases in 14 localities, including 92 cases confirmed in Ho Chi Minh City, 27 in Quang Nam, and 14 in Hanoi.
Nearly 180 million vaccine doses have been administered nationwide, with nearly 74 million people getting their second shot and more than 26 million people receiving their additional shot/booster jab.