Vietnam COVID-19 Updates (March 27): No new cases to report in the morning
According to the Ministry of Health, from 6 pm March 26 to 6 am March 27, Vietnam records no new cases of COVID-19.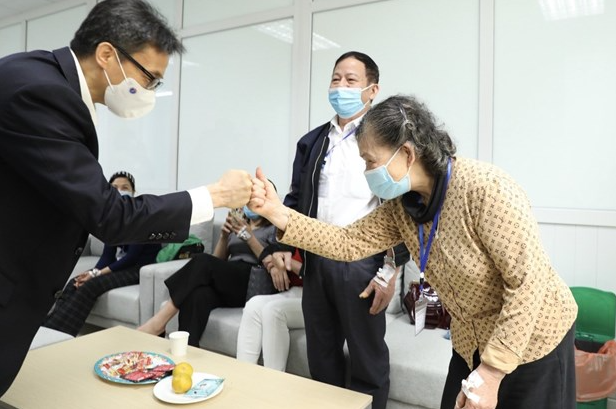 Photo: VNA
No new cases to report in the morning
Vietnam recorded five new COVID-19 cases from 6 am to 6 pm on March 26, including two illegal entrants in southern Binh Duong province and the northern port city of Hai Phong and three imported, the Ministry of Health said.
One of the two illegal entrants was a 44-year-old Chinese man who illegally entered Vietnam through the area around the Moc Bai International Gate in southwestern Tay Ninh province on March 23 and then came to reside in southern Binh Duong province. His sample tested positive for coronavirus SARS-CoV-2 on March 25 and he is now being treated at the Binh Duong General Hospital. The other was a 26-year-old Vietnamese woman returning home illegally on a fishing vessel through Phu Quoc island in the Mekong Delta province of Kien Giang on March 22.
No new cases were recorded this morning, March 27, according to the Ministry of Health.
Photo: VNA
Vietnam to soon produce COVID-19 vaccine
The time for research and production of Nano Covax, Vietnam's first candidate vaccine to reach the human trial stage, has been shortened as much as possible, but safety has been ensured, said a health official. Prof, Dr. Do Quyet, Director of the Hanoi-based Vietnam Military Medical University made the remarks on March 26 when the second shots of the Nano Covax COVID-19 vaccine were given to volunteers during the second trial phase of this home-grown vaccine.
At the current progress, scientists would be able to submit the preliminary test results to the National Council for Ethics in Biomedical Research in late June or early July for the approval of the third phase of the trial on a larger scale, he continued. The third phase will involve some 10,000 people with half of them given shots of AstraZeneca vaccine and the remainder receiving Nano Covax, he said, adding that it will help compare the side effect and effectiveness of the two types of vaccine.
On the occasion, Deputy Prime Minister Vu Duc Dam, head of the National Steering Committee for COVID-19 Prevention and Control, expressed his trust in those engaging in Nano Covax research and trials. While urging agencies and forces to press ahead with the research and production of domestic vaccines in line with procedures and standards, the Deputy PM stressed that even though the time would be shortened but no steps would be missed and scientific conditions must be ensured."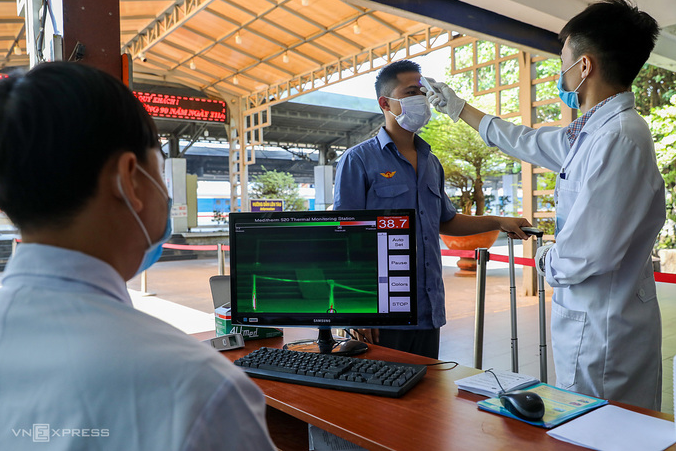 Photo: VN Express
HCMC put people from Hai Phong, Binh Duong in quarantine
On the evening of March 26, HCMC's Center for Disease Control announced that people from localities with Covid-19 patients in Hai Phong and Binh Duong, when arriving in Ho Chi Minh City, must be isolated at home for 14 days. These are the two localities that recorded Covid-19 cases on March 26.
Currently, Ho Chi Minh City applies concentrated isolation for those coming from two localities in Kinh Mon town, Hai Duong province, including Noi Hop village (Le Ninh commune) and Thuong Chieu residential area (Tan Dan ward). These two places are being blocked and quarantined according to Directive 16. People who live in these places when coming to Ho Chi Minh City must comply with 14 days quarantine period and will be tested four times.
The city continued to centrally isolate cases of close contact with Covid-19 patients. All will be quarantined 14 days from the date of exposure and tested four times.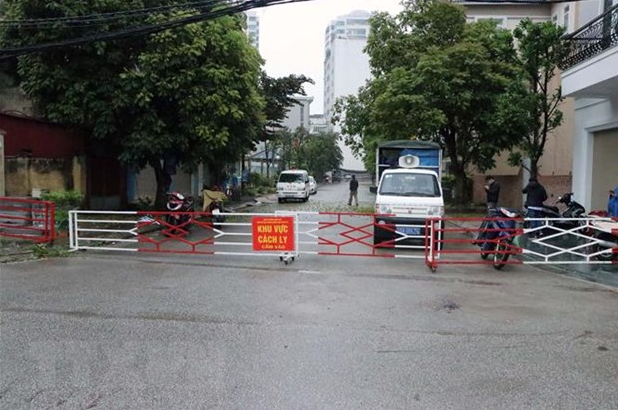 Photo: VNA
Hai Phong focused on reviewing and quarantining 24 F1 cases
According to the COVID-19 Prevention and Control Group in Hai Phong City, on the morning of March 26, the City took samples to re-test the case of Mrs. D.T.T.P. (born in 1995, permanent residence in Dai Hop commune, Kien Thuy district, Hai Phong), who tested positive for SARS-CoV-2.
The health sector has reviewed and identified 24 cases in direct contact with Mrs. D.T.T.P. Those people were sent to centralized medical isolation. All of them received negative results while tested. The F2 involved in the case are required to keep home isolation and health monitoring.
The city has blocked and disinfected 6 relevant places, including 3 sites in the Kien Thuy district and 2 sites in the Le Chan district, 1 site in the Ngo Quyen district. Also on March 26, the education sector in Hai Phong city asked students from Kindergarten, Primary School, to Secondary School in 3 communes, Dai Hop, Tu Son, Doan Xa temporarily left school to trace cases exposed to the disease and take measures to prevent and control the pandemic.
Vietnam has to date detected a total of 2,586 COVID-19 infections, including 1,603 domestically-transmitted cases.
According to the Ministry of Health's Medical Service Administration, 2,265 patients have been successfully cured while the death toll remains at 35. Among active patients undergoing treatment at medical establishments nationwide, 54 tested negative to the virus once, 21 twice and 45 others thrice.
As many as 36,480 people who had close contact with COVID-19 patients or entered Vietnam from pandemic-hit regions are currently quarantined, including 485 in hospitals, 18,343 in state-designated establishments, and 17,652 others at their residences.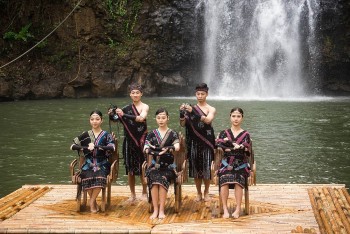 Travel
Many passengers applaud the creativity of the flight instruction video that Vietnam Airlines has recently introduced on their flights. This video not only creatively conveys the message of flight safety but also helps to spread globally the unique, indigenous cultural values ​​of the country and people of Vietnam.