Vietnam COVID-19 Updates (March 26): Two illegal entrants diagnosed with Covid-19
Two Vietnamese women returning home illegally through the southern coast were confirmed Covid-19 patients Friday morning.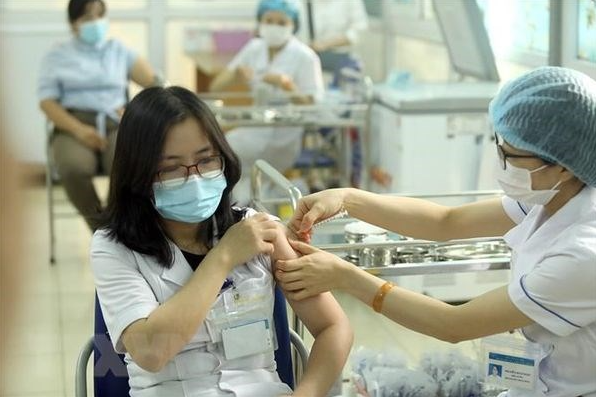 Photo: VNA
Two illegal entrants diagnosed with Covid-19
Two Vietnamese women returning home illegally through the southern coast were confirmed Covid-19 patients Friday morning. Both of them, 25, got back to Vietnam from Cambodia on a fishing vessel that arrived in Phu Quoc Island on Monday.
The same day, one of them traveled by boat from the island to the mainland before taking a bus to HCMC, and the other flew to Hanoi via Vietjet flight VJ458 before traveling to the nearby Hai Phong City in a private car. Under current pandemic prevention measures, anyone entering Vietnam via official border gates would be quarantined. The one who came to HCMC had a health check at FV Hospital and was confirmed positive with the new coronavirus on Thursday while the other took a test at Vinmec Hai Phong Hospital on Wednesday and was also confirmed positive the next day.
Meanwhile, on March 25 afternoon, three new cases of COVID-19 were detected, with two locally-transmitted and one imported cases, according to the Health Ministry. Two local infections were reported in concentrated quarantine facilities in the northern province of Hai Duong, a hotspot in the latest COVID-19 wave since January 27 this year. The imported case was a Vietnamese citizen returning from the US.
Thus, over the past 24 hours, 5 new COVID-19 cases were logged in Vietnam.
Photo: VN Express
Vietnamese people in the Czech set an example in following anti-COVID-19 rules
Vietnamese people living in the Czech Republic have taken anti-COVID-19 measures very seriously, Chairman Milos Kusy of the Czech-Vietnam Friendship Association told Aktualne.cz in an interview on March 24. Vietnamese perceive non-compliance with the measures as very irresponsible, so they adhere to anti-pandemic rules better than many Czechs, he said.
Kusy noted he sees what lies behind Vietnamese discipline is years of experience in dealing with epidemics in their home country and in Asia. "They are an example for us in discipline and adherence to hygiene rules," he said. Kusy was also impressed by how Vietnam has fought the COVID-19 with only 35 deaths reported since the outset of the pandemic despite the fact that it has a population of more than 90 million. Strict preventive measures have been in place in the country since the beginning of this year, he noted.
"Since last February, anyone who wants to enter Vietnam has to go through a fortnight's quarantine in a state-designated camp or hotels," Kusy described. He also attributed the low number of infected cases in Vietnam to effective contact tracing. Data from Vietnam's Health Ministry shows that Vietnam has gone through seven days without new COVID-19 cases. The national count remains at 2,576, of which 1,601 are locally-infected cases.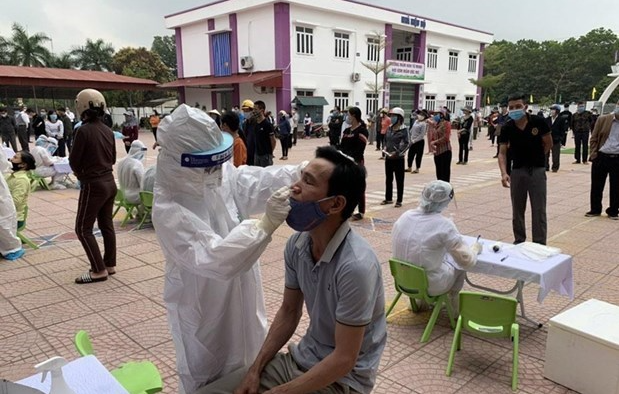 Photo: VNA
Volunteers get 2nd shot of Nano Covax vaccine in the second trial phase
The Military Medical University under the Ministry of National Defence on March 25 began giving the second shots of the Nano Covax COVID-19 vaccine in the second trial phase to 26 volunteers who receive the first jabs between February 26 and March 10. Nano Covax developed by the Nanogen Pharmaceutical Biotechnology Company is Vietnam's first candidate vaccine to reach the human trial stage.
According to Associate Prof. Dr. Chu Van Men, Director of the Military Medical University's Centre for Clinical Trials and Bioequivalence, after receiving the first shots, volunteers exhibited symptoms such as pain at the injection point, a slight fever, muscle aches, joint pain, and fatigue, but did not require medical intervention. The health of the 560 volunteers remains stable, he said, adding that Nano Covax is safe and the volunteers are ready for their second shots.
The second trial is being organized simultaneously at the Military Medical University and the Pasteur Institute in Ho Chi Minh City, with volunteers including those with mild background ailments such as hypertension, diabetes, and cardiovascular issues. As planned, the Military Medical University will submit the preliminary test results to the Ministry of Health and the National Council for Ethics in Biomedical Research in May for review and evaluation, before conducting the third phase of trials.
By far, Vietnam has recorded 2,581 Covid-19 cases and 1,603 of them are community transmissions. Meanwhile, 2,265 patients have given the all-clear, and the death toll remains at 35. Among patients still under treatment, 54 have tested negative for SARS-CoV-2 once, 21 twice and 45 thrice.
A total of 36,480 people are being quarantined nationwide, with 485 at hospitals, 18,343 at concentrated facilities, and 17,652 at their accommodations.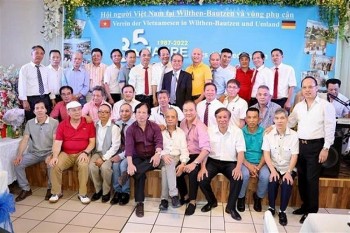 Economy
The Overseas Vietnamese Association in Wilthen - Bautzen and surrounding areas in Germany held a get-together on the occasion of the 35th anniversary of Vietnam - Germany labour cooperation.