Vietnam, Egypt eye USD 1 billion in bilateral trade turnover
Vietnam are Egypt are striving to meet the set target of bringing bilateral trade turnover to USD1 billion soon.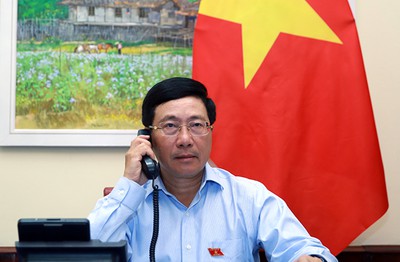 Deputy PM Pham Binh Minh had phone talks on Vietnam-Egypt relations with Egyptian FM Sameh Shourky (Photo: VGP)
Deputy Prime Minister and Foreign Minister Pham Binh Minh on June 8 had phone talks with Egyptian Foreign Minister Sameh Shourky, discussing measures to promote bilateral relations in the context of COVID-19, as well as issues of mutual concern.
Deputy PM Pham Binh Minh lauded Egypt's role in Africa and the African Union (AU), shared difficultiesEgypt has encountered due to the COVID-19 pandemic, and affirmed Vietnam is ready to share its experience in dealing with the pandemic with the African nation.
Both sides expressed satisfaction at the positive developments of the friendly relationship between Vietnam and Egypt in recent times, especially through high-level visits by Egyptian President El Sisi to Hanoi in September 2017 and the late Vietnamese President Tran Dai Quang to Cairo in August 2018. They noted that bilateral trade relations have developed well, reaching nearly USD 500 million in 2019.
Deputy PM Pham Binh Minh and Egyptian FM Sameh Shourky agreed that the two sides should continue to effectively implement the signed cooperation agreements and enhance exchanges to find breakthrough solutions to bilateral cooperation, especially after the COVID-19 pandemic is under control.
They proposed giving priority to increasing high-level delegation exchanges, increasing trade and investment promotion, strengthening education and tourism cooperation, striving to meet the set target of bringing bilateral trade turnover to USD1 billion soon.
The two sides exchanged views on a number of international and regional issues of common concern. They pledged to continue close cooperation on international forums, especially at the United Nations, contributing to peace, stability and development in the region and the world at large.
Vietnam reports another COVID-19 case, taking to 332 the total number of coronavirus cases in the country, the Ministry of Health reported in its June 8 afternoon update.
Meanwhile, Egypt on June 7 confirmed 1,497 new coronavirus cases, bringing the country's number of confirmed total cases so far to 32,612.
The total number of COVID-19 deaths has now reached 1,198 nationwide, after announcing 32 deaths.