COVID-19 outbreak: Egypt confirms first case as death toll in China surges past 1,500
Egypt's health ministry on Friday (Feb 14) announced the first confirmed case of the novel coronavirus in Africa. Meanwhile, the death toll from China surged past 1,500 on Saturday after 139 more people died in Hubei province, the epicentre of the outbreak.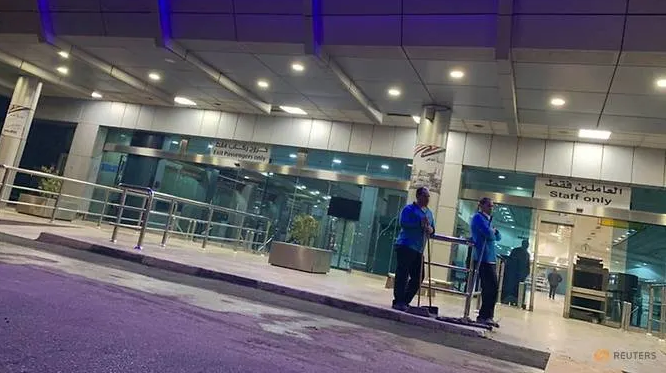 Cleaning staff wearing protective masks stand outside the Cairo International Airport (CAI) in Heliopolis east of Cairo, Egypt February 5, 2020. REUTERS/Amr Abdallah Dalsh
The sufferer was not Egyptian, the ministry said in a statement, without specifying the nationality.
"The ministry has taken preventative measures and is monitoring the patient ... who is stable," said health ministry spokesman Khaled Megahed.
Egyptian authorities had notified the World Health Organization (WHO) and the patient been placed in quarantined isolation in hospital.
At least 1,523 people have now died from the outbreak that first emerged in Hubei's capital, Wuhan, in December and snowballed into a nationwide epidemic a month later.
More than 66,000 people have now been infected, with most deaths occurring in Hubei.
Deep trade links with China and often overstretched healthcare systems have raised concerns about the capacity of African countries to respond to an outbreak.
Earlier this month, Egypt suspended all flights on its national carrier to China. They will remain grounded until the end of the month.
Three hundred and one Egyptians were evacuated from Wuhan, epicentre of the virus in China, and have remained in quarantine for 14 days.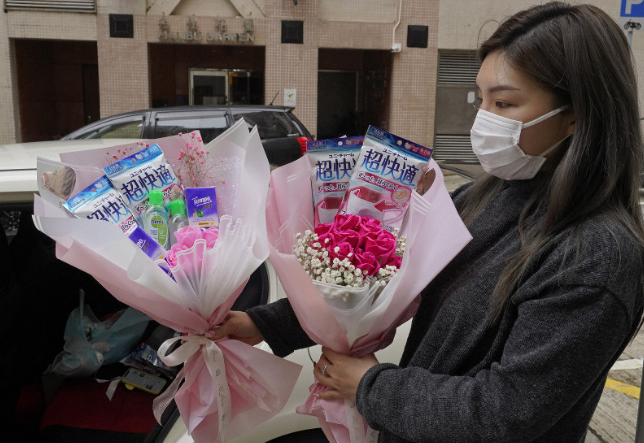 Flower shop owner Iris Leung wears her protective face mask as she delivers flowers with masks to customers on Valentine's Day in Hong Kong, on Feb. 14, 2020. (AP Photo/Vincent Yu)
The number of deaths in Hubei rose by 139 as of Friday, 107 of those in Wuhan. A total of 1,123 people in Wuhan have now died from the coronavirus.
China is struggling to get the world's second-largest economy going after the Lunar New Year holiday, which was extended by 10 days to help contain the virus.
The scale of the epidemic swelled this week after authorities in Hubei changed their criteria for counting cases, adding thousands of new patients to their tally.
Cases "clinically diagnosed" through lung imaging are now counted in addition to those that have shown up positive in laboratory tests.
The revision added nearly 15,000 patients to Hubei's tally on Thursday, with the World Health Organization noting that cases going back weeks were retroactively counted. There were more than 4,800 cases reported in Hubei on Friday.
Authorities said 1,716 medical workers have been infected during the outbreak, with six dying from the illness.
Most of the infections among health workers were in Hubei's capital, Wuhan, where many have lacked proper masks and gear to protect themselves in hospitals dealing with a deluge of patients.
The grim figures come a week after grief and public anger erupted over the death of a whistleblowing doctor who had been reprimanded and silenced by police in Wuhan after raising the alarm about the virus in December.
The official Beijing Daily newspaper said people failing to obey government orders to quarantine themselves on return from the holidays would be punished. But it was not immediately clear how that would be enforced, or whether the restrictions would apply to non-residents or foreigners arriving from abroad.
"From now on, all those who have returned to Beijing should stay at home or submit to group observation for 14 days after arriving," Beijing's virus prevention working group said in a notice cited by the Beijing Daily.
"Those who refuse to accept home or centralised observation and other prevention and control measures will be held accountable under the law," it said.
The latest figures reported by each government's health authority as of Saturday in Beijing:

-- Mainland China: 1,523 deaths among 66,492 cases, mostly in the central province of Hubei.

-- Hong Kong (China): 56 cases, 1 death

-- Macao (China): 10

-- Taiwan (China): 18

-- Japan: 259, including 218 from a cruise ship docked in Yokohama, 1 death

-- Singapore: 67

-- Thailand: 33

-- South Korea: 28

-- Malaysia: 19

-- Vietnam: 16

-- Germany: 16

-- United States: 15. Separately, one US citizen died in China

-- Australia: 14

-- France: 11

-- United Kingdom: 9

-- United Arab Emirates: 8

-- Canada: 8

-- Philippines: 3 cases, including 1 death

-- India: 3

-- Italy: 3

-- Russia: 2

-- Spain: 2

-- Belgium: 1

-- Nepal: 1

-- Sri Lanka: 1

-- Sweden: 1

-- Cambodia: 1

-- Finland: 1

-- Egypt: 1