Vietnam Forecast to be Fastest Growing Market for Centi-Millionaires
The fastest growing market for centi-millionaires, who boast $100 million or more in investable assets, over the next decade is forecast to be Vietnam, according to The Centi-Millionaire Report.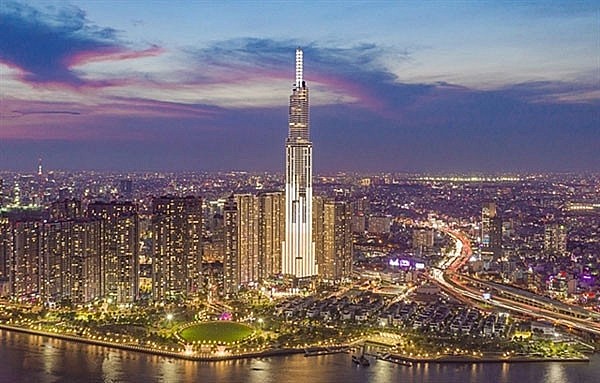 A view of HCM City. Vietnam is expected to see strong growth of centi-millionaires in the real estate, technology, and financial services sectors. Photo: dangcongsan.vn
The Centi-Millionaire Report was released recently by leading international residents and citizenship investment advisory firm Henley & Partners, Viet Nam News said.
The report says with an astonishing 95% growth rate predicted, this emerging Asian manufacturing hub is expected to see a strong growth of centi-millionaires in the real estate, technology, and financial services sectors.
India is next in line with an anticipated 80% growth rate in individuals worth more than $100 million USD by 2032.
Mauritius has recently emerged as a hot spot for migrating centi-millionaires, with the growth of 75% predicted for this safe, business-friendly African island nation.
New Zealand and Australia are also forecast to enjoy exceptional growth with 72% and 60%, respectively.
The US is home to an astonishing 38% (9,730) of global centi-millionaires, despite constituting only 4% of the world's total human population. The big emerging markets of China and India follow in second and third place, with populations of 2,021 and 1,132 centi-millionaires, respectively. They rank significantly higher than the main European markets by this measure, with the UK in fourth place (with 968 centi-millionaires) followed very closely by Germany in fifth place (with 966).
As Dr. Juerg Steffen, CEO of Henley & Partners, points out, the $100 million plus band represents the best definition in today's world of what it means to be 'super-wealthy'.
"The centi-millionaire is someone so affluent that they don't need to think about how much they spend," he said.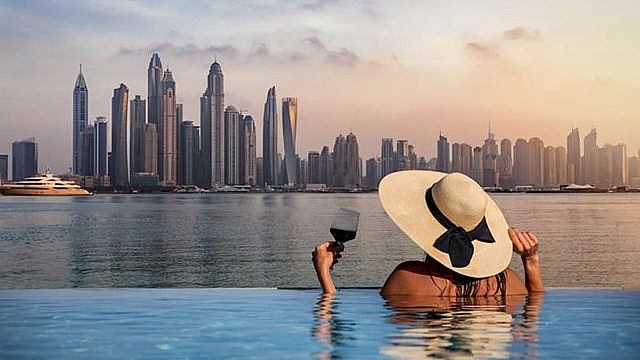 There appears to be no set path to attaining centi-millionaire status. Photo: Doanh nhan
"In fact, the level of wealth they have achieved means they are unlikely to ever worry about money again. Not long ago, in the late 1990s, $30 million USD was considered the fortune needed to meet this definition. However, asset prices have risen significantly since then, making %100 million USD the new benchmark."
According to the report, there appears to be no set path to attaining centi-millionaire status; some inherited their wealth while others worked their way up to the %100 million mark.
Meanwhile, seven Vietnamese names are among the 2,668 of dollar billionaires worldwide as per Forbes' latest update to its annual rich list, VOV said.
The seven are Chairman of Vingroup Pham Nhat Vuong, CEO of VietJet Air Nguyen Thi Phuong Thao, Chairman of Hoa Phat Group Tran Dinh Long, Chairman of Techcombank Ho Hung Anh, Chairman of Nova Group Bui Thanh Nhon, Chairman of Thaco Tran Ba Duong and Chairman of Masan Group Nguyen Dang Quang.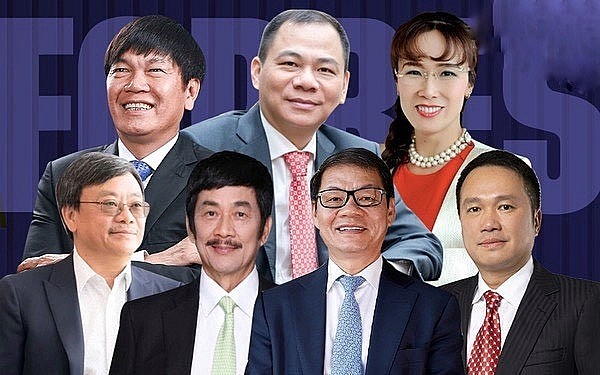 Seven Vietnamese billionaires in Forbes' 2022 list of the planet's richest people. Photo: cafebiz
Tesla CEO Elon Musk is currently the richest person on the planet, with 219 billion USD, followed by Amazon boss Jeff Bezos, LVMH Chairman and CEO Bernard Arnault, and Microsoft co-founder Bill Gates.
Forbes used stock prices and exchange rates on March 11 to calculate the net worth of individuals.
This year's 2,668 billionaires are 87 fewer than a year ago because of war, the pandemic, and sluggish markets, according to Forbes./.