Vietnam, Germany Cooperate to Fight against Future Pandemics
An environmental microbiology laboratory, which is capable of detecting pandemic viruses through testing wastewater samples, will be set up at Vietnamese - German University with the support of the World University Service of Germany.
Experimental equipment to detect future strains of the SARS-CoV-2 virus is being transferred free of charge by national flag carrier Vietnam Airlines to Ho Chi Minh City, with these items being handed over to the Vietnam - Germany University (VGU), VOV reported Tuesday.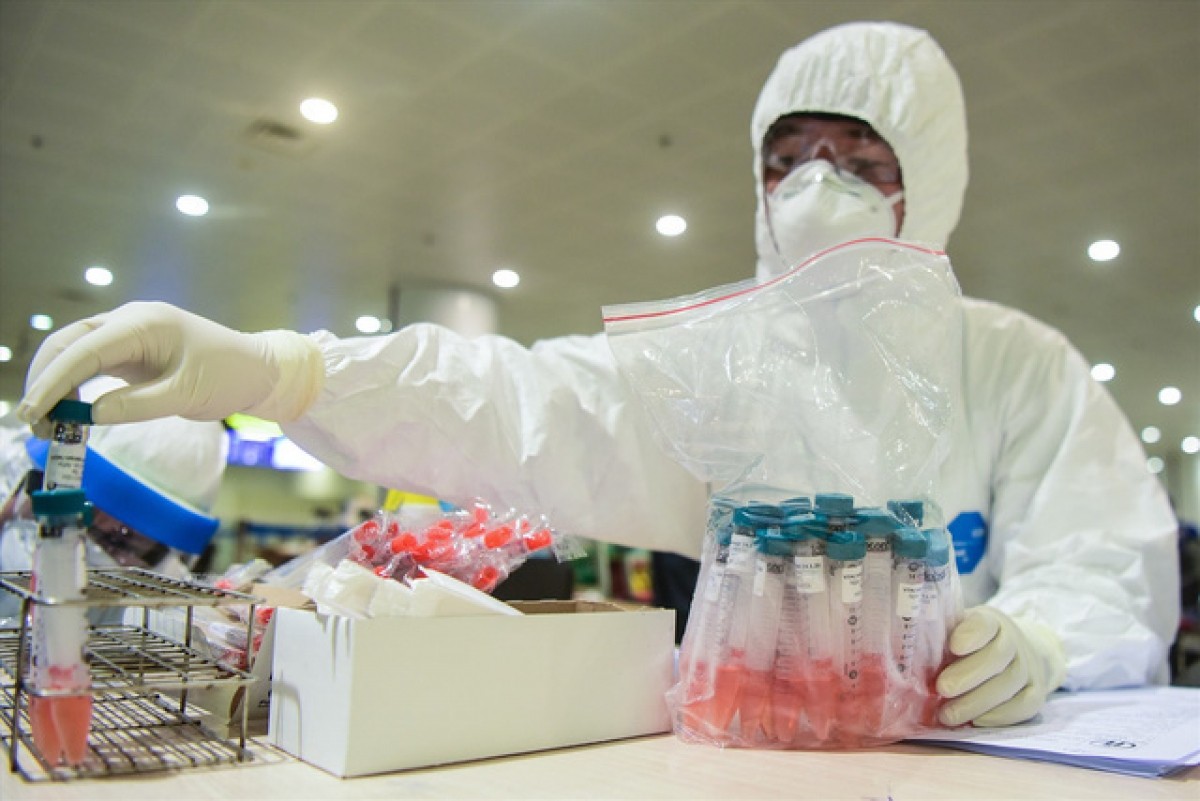 Illustrative image. Source: VOV
The purpose of this donation is to establish an environmental microbiology laboratory, including the function of testing wastewater samples as a means of looking for pandemic viruses.
Over the past two years, the world has been severely impacted by the Covid-19 pandemic and in a short time, a vaccine has been developed along with many early forms of detection measures which have been studied.
This laboratory at TU Darmstadt is also one of the leading laboratories for the detection of SARS-CoV-2 according to genome sequencing and acts as a reference laboratory of the EU.
Through the support and connection of the World University Service (WUS) of Germany, currently the technology and experimental equipment are being transferred free of charge by Vietnam Airlines to Ho Chi Minh City. .
The lab at VGU is worth approximately EUR 500,000 (USD 532,800) and is funded by the Ministry of Economy of the State of Hessen and the German Federal Ministry for Economic Cooperation and Development and will be the first pandemic early detection laboratory in the region. There are high hopes that it will effectively contribute to the early detection of future pandemics.
Wastewater analysis has the advantage of being ahead of official pandemic data and independent of the number of PCR tests performed, as while fewer people are testing, they still have individual daily activities and discharge which goes into the general system.
Meanwhile, the SARS-CoV-2 virus, like other viruses, often ends up in wastewater, meaning that people with Covid-19 also excrete the virus through domestic sewage or waste.
According to numerous research results, the virus can be detected in wastewater up to 14 days earlier through evaluating tests.
This will greatly contribute in the fight against pandemics, for example it will mean that researchers can localise an epidemic hotspot on a certain street.
This programme will be conducted by Prof. Lackner and Prof. Dr. Martin Wagner of TU Darmstadt University in partnership with the VGU as part of efforts to support the implementation process.
GS. Wagner is also responsible for implementing the master's programme "Water Technology, Reuse and Water Management" that VGU has been carrying out since 2020 in co-operation with TU Darmstadt.
Collaboration may include using research areas when doing water and wastewater treatment in places with poor infrastructure. In addition, research is conducted in close cooperation with TU Darmstadt's faculty as a means of finding solutions to help people access safe water.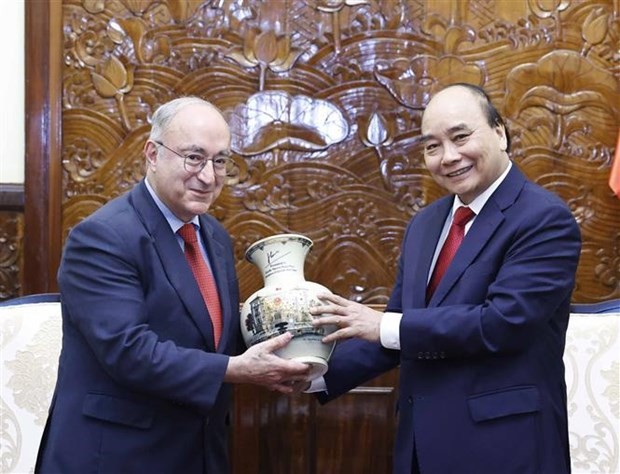 President Nguyen Xuan Phuc (R) presents a souvenir to Kambiz Ghawami, President of World University Service (WUS) of Germany in 2022. Photo: VNA
Dr. Kambiz Ghawami, president of WUS, said that these types of co-operation can be viewed as good examples showing the friendly and close-knit relationship between the state of Hesse and Vietnam. This will make an important contribution to the research and teaching co-operation in line with sustainable development goals (SDGs).
On this occasion, Dr. Gawami also thanked Vietnam Airlines, a partner for many years who has supported the transportation of equipment to improve research conditions as well as the supply of clean water in the nation.
WUS has conducted various specific cooperation activities with many universities and education establishments in Vietnam, including Vietnamese-German University.
The organisation has held many activities for scientists and officials of Vietnam and Germany to share experience, thus contributing to the development of science and technology and other sectors of Vietnam.
The VGU is the first public university in Vietnam formed under an agreement between the two governments.
Covering an area of 50.5 hectares, the VGU's campus has total investment of nearly USD 200 million sourced from the World Bank's preferential loans and the Vietnamese Government's corresponding capital, according to VNA.
It is designed with a university-urban ecosystem, including lecture halls, five academic buildings and 21 international standard laboratories, a sports centre, a technical centre, canteens, and a dormitory area.
It is expected to train 6,000 students by 2030 in accordance with international and German university standards. By applying the "triangle of knowledge" which is education - research - innovation, the university aims to fully integrate into the global scientific community.
The university also serves as a bridge of friendship and educational cooperation between Germany, its State of Hessen and Vietnam.
The two countries signed a tripartite intergovernmental agreement on the development of the VGU in 2020, which is expected to turn the university into a leading research university in ASEAN, focusing on sustainable development, 4.0 technology and environmental technology.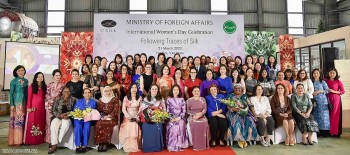 Friendship
Female ambassadors, representatives from diplomatic corps and international organizations, along with spouses of diplomats in Vietnam gathered together to find about more about silk weaving and silk products in Vietnam.