Vietnam-Germany: Strategic Partnership Towards The Future
German Chancellor Angela Merkel said she felt an unimaginable dynamism in Vietnam during her 2011 trip to visit to Vietnam. That dynamism, together with Germany's support and the solid political relations between the two countries, help bilateral economic ties effectively develop.
October 11, 2021 marks 10 years of establishing Vietnam - Germany's strategic partnership. The Hanoi Declaration to establish the Vietnam - Germany strategic partnership, signed on October 11, 2011, on German Chancellor Angela Merkel's visit to Vietnam, is an important milestone in shaping the strongly growing relations between the two countries.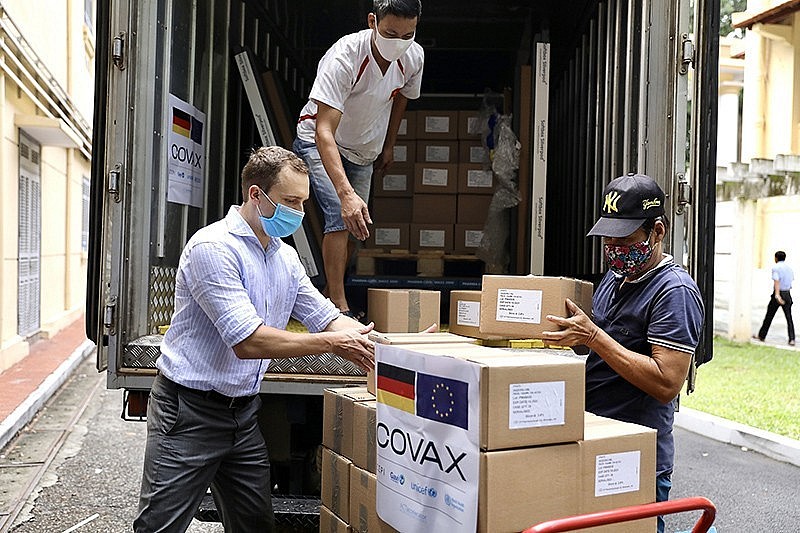 Germany has gifted Vietnam vaccines and equipment to fight the pandemic (Photo: Baoquocte)
Together seize new opportunities
After establishing their strategic partnership, bilateral trade has been vibrantly promoted. Germany is Vietnam's biggest trading partner in Europe. Vietnam surpassed Malaysia and Singapore to become Germany's largest trading partner in Southeast Asia in 2020. Trade turnover between the two countries has doubled since 2010, reaching more than US$10 billion, with an average increase of over 10% per year.
The German market accounts for 19% of Vietnam's exports to the EU, equivalent to the UK and France combined, and is an important transshipment gateway for Vietnamese goods to enter other markets in Europe. Meanwhile, Vietnam is a bridge for German goods to access the ASEAN market.
The German Government has long supported the EU to soon offer Vietnam the 'market economy status,' to launch and promote the negotiations of EU-Vietnam Free Trade Agreement (EVFTA) and EU-Vietnam Free Trade Agreement (EVFTA). investment (EVIPA) to enhance economic exchange, trade, and investment between the two countries.
In terms of investment, Germany is the 18th biggest investor in Vietnam. Germany ranks third among EU members in investment into Vietnam. The country has 391 valid projects with a total registered capital of more than US$2.22 billion in the fields of mechanics, machine manufacturing, logistics, chemistry, and renewable energy.
Germany has become an important destination for Vietnamese investors. Vietnam currently has 41 investment projects in Germany, worth more than US$218 million in fields of finance, banking, informatics, restaurant, hotel.
The two countries have established and promoted many cooperation mechanisms, creating a motto to deepen bilateral relations, including key projects such as the Vietnamese-German University, metro line no.2, Deutsches Haus Ho Chi Minh City (German house in Ho Chi Minh City)
In the past two years, as the whole world struggled with the pandemic, the EVFTA has become a solid springboard for economic, trade, and investment cooperation between Vietnam and Germany and other EU countries. Thanks to the agreement, during the pandemic, bilateral trade still grows. Vietnam's exports to Germany increased to US$11.4 billion (7,9%) in 2020. EVFTA is a new milestone in the strategic relations between Vietnam - Germany and Vietnam - EU.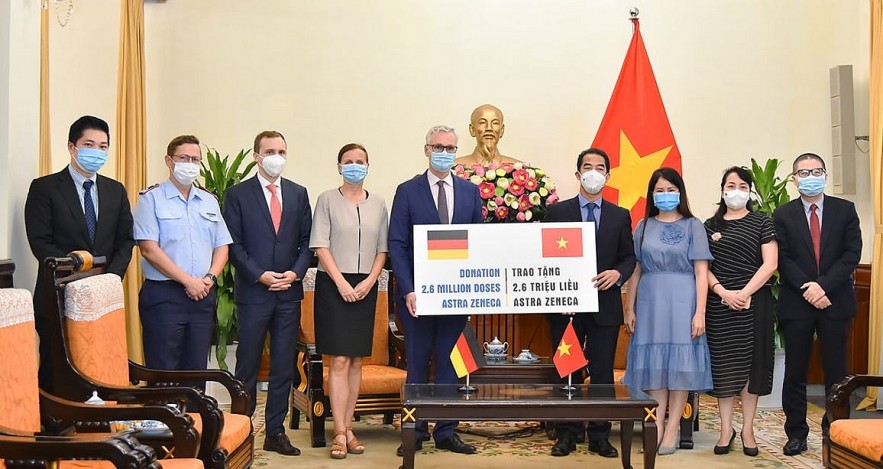 Vietnamese foreign ministry received Covid-19 vaccines from Germany. (Photo: Baoquocte)
Global partner
Development cooperation is an important element in the Vietnam-Germany relations. In the past three decades, with more than US$ 2 billion of ODA, Germany has accompanied Vietnam's development through major cooperation programs such as economic reform, development of green growth strategies, vocational training, law.
Deputy Prime Minister Pham Binh Minh said: "The experiences on development models, exploitation of renewable energy, environmental protection, the vocational training system are valuable lessons that support Vietnam to perfect its policy mechanisms, socio-economic development, nature conservation, and human resource training. Thereby, they support Vietnam to fulfill the Millennium Development Goals ahead of deadline and is moving towards the Sustainable Development Goals".
More than 170,000 Vietnamese people, who have worked and studied in Germany since the 1950s, have made positive contributions to the German socio-economy. They have formed an indispensable bridge for the diverse and unique development of bilateral relations.
German Ambassador to Vietnam Guido Hildner said at the Vietnam-Germany Economic and Trade Forum 2020 that Germany would focus on vocational training and economic and trade cooperation through EVFTA in the coming time. The country pledges to support Vietnam to strengthen its comprehensive cooperation with the EU and accelerate the completion of EVIPA ratification.
The pandemic poses a great challenge affecting many fields. The German business community has stood by Vietnam's side in difficult times. Despite obstacles, German businesses have reacted flexibly to the new situation and worked with high commitment.
Moreover, in Germany's new development strategy and its "Green Recovery", Vietnam is classified as a global partner. Government talks on development cooperation in late July concluded that climate and energy were among the focuses and opportunities for bilateral cooperation in the coming time.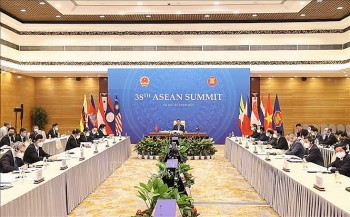 National
Vietnamese participation in upcoming ASEAN Summits also clearly displays the nation's desire to unite with the bloc to overcome difficulties, maintain solidarity, the community building process, and promote regional linkages