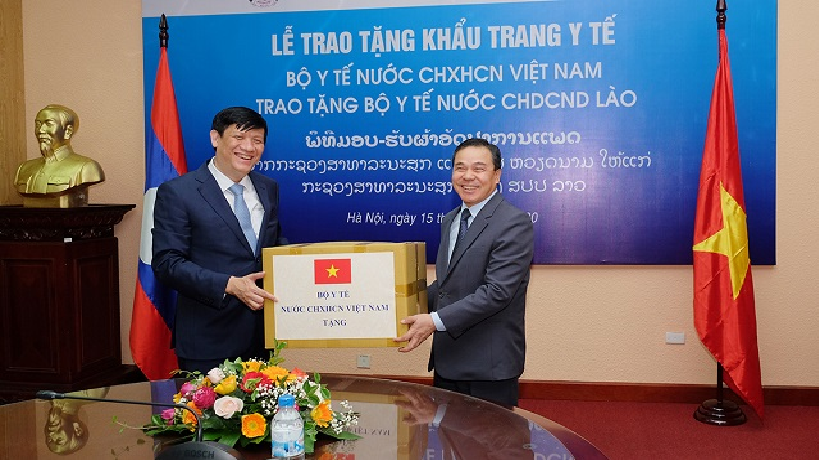 Acting Minister of Health Nguyen Thanh Long (left) made a symbolic handover of the made-in-Vietnam masks on July 15. (Photo: Vietnamese Ministry of Health)
The Vietnamese Ministry of Health has presented 200,000 face masks to its Lao counterpart to assist the neighbouring country's ongoing fight against the COVID-19 pandemic.
Acting Minister of Health Nguyen Thanh Long made a symbolic handover of the made-in-Vietnam masks at a ceremony on July 15.
In his remarks, Long highlighted the special relationship between Vietnam and Laos, saying the two governments have closely coordinated in the pandemic combat.
Vietnam highly values the efforts made by the Lao government and people in preventing and containing the coronavirus, he said, adding that the two sides are considering when to resume activities in all aspects.
The minister suggested establishing a regular information channel between the two sides, with the assistance of technologies and equipment, to cope with the pandemic and other diseases, and the two countries tighten their coordination in the time ahead.
For his part, Lao Ambassador to Vietnam Sengphet Houngboungnuang congratulated Vietnam on its success in preventing COVID-19 community infections over the past 90 days, which has helped to raise the country's as well as its medical sector's prestige in the international arena.
July 16 also marked the 91st consecutive day the country has been free of community infections of the SARS-CoV-2. During the day, three COVID-19 patients were given the all-clear, raising the number of recoveries to 356, with no deaths so far.
Among the remaining patients, two have tested negative for SARS-CoV-2 once and five negative at least twice. Over 10,120 people who had close contact with COVID-19 patients or came from pandemic-hit areas are being quarantined.
The Ambassador described the face masks as a valuable gift manifesting the traditional relationship and sentiments of the Vietnamese government and people, especially the Vietnamese health ministry, towards their Lao counterparts during the COVID-19 fight.
Apart from Laos, Vietnam has also donated masks to many other countries like Thailand, Singapore, the Philippines, Malaysia, Indonesia, India, Brunei, Australia, Russia, and Cuba, among others. /
At least 584,600 people globally have died from COVID-19 and more than 13.6 million have been infected by the novel coronavirus The World Health Organization referred to it as a pandemic on March 11, 2020.
The COVID-19 outbreak has now reached 220 countries and territories, 192 of those have reported fatalities.
Rosy Huong