Hanoi donates 2 tons of face masks to New York city
A shipment of two tons of antibacterial cloth masks and medical masks was sent to New York City from Hanoi Thursday.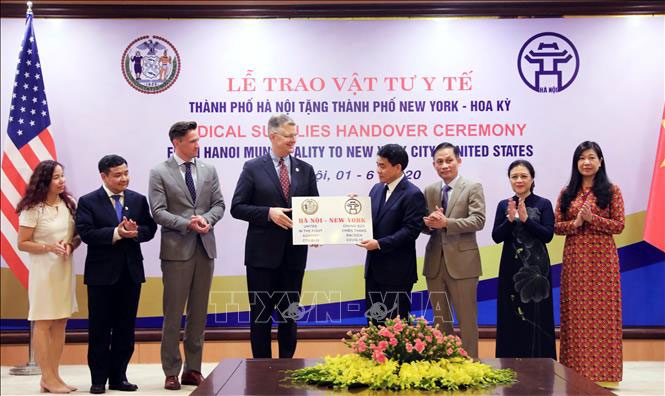 Chairman of Hanoi People's Committee Nguyen Duc Chung donates face masks to New York city (Photo: TTXVN)
As reported by Hanoi Moi, the Vietnamese Embassy in the United States and the Vietnamese Permanent Mission to the US had completed the customs clearance and handed 2 tons of face masks to New York City.
Penny Abeywardena, Member of the New York City Council who's in charge of foreign affairs had sent sincere thanks from New York city's authorities and residents to Hanoi authorities and residents.
She said the donation is highly practical support while the city is struggling with the COVID-19 pandemic.
Ambassador Dang Dinh Quy, Chief Representative of the Permanent Mission to Vietnam in the US, expressed his wish that the donation would somehow help the New Yorkers overcome the straining pandemic. Quy also expects more cooperation between the two countries in the future, especially among enterprises to boost the economy, society, and improve the consequences of the COVID-19 crisis.
The donated batch of face masks is produced in Vietnam, stamped with the CE mark of the EU.
To date, New York City has recorded more than 220,000 cases, which accounts for 50 percent of all cases in the New York state. 22,000 people had succumbed to the disease. Its one-day increase has dropped to only 300, a lot lower than the number recorded in mid-April, which stays at 8,000 new cases per day. New York City is in the period of reopening phase 3. Social distancing measures and mandatory face masks wearing in public areas are still out in place.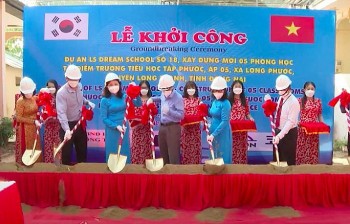 Friendship
The Union of Friendship Organizations of Dong Nai Province and COPION (Co-operation & Participation In Overseas NGOs) kicked off another LS Dream School project in the southern province.