Vietnam guarantees equality and non-discrimination based on religion or belief
The Foreign Ministry's spokeswoman Le Thi Thu Hang has affirmed that Vietnam always respects people's right to belief and religious freedom, which is protected by the law.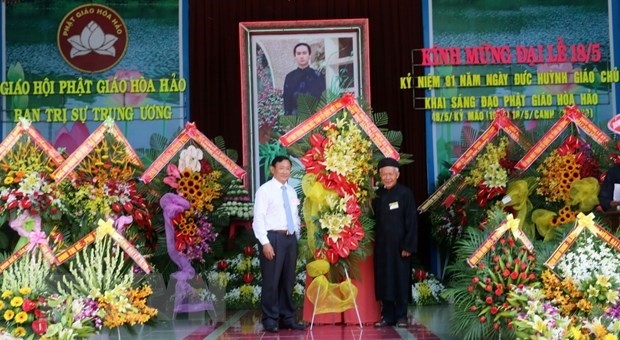 The Hoa Hao Buddhist Sangha's Central Executive Committee held a ceremony in the Mekong Delta province of An Giang in July 2020 to mark the sect's 81st founding anniversary, attended by Buddhists from 18 cities and provinces nationwide. Photo: VNA
During the ministry's regular press conference in Hanoi on May 13, Hang once again stressed the fact that Vietnam always respects and consistently implements a policy of ensuring citizens' right to freedom of religion and belief and to follow or not follow a religion, guarantees equality and non-discrimination based on religion or belief, and protects operations of religious organisations in line with the law.
Vietnam acknowledges the US Secretary of State's International Religious Freedom Report 2020, which mentions the country's efforts in ensuring and promoting religion and belief. However, she said, the report contains non-objective opinions based on incorrect information on the situation in Vietnam, adding that the nation's efforts and achievements in ensuring citizens' right to freedom of religion and belief have been widely welcomed by the international community.
It always stands ready to engage in straightforward and open discussions with the US in a constructive spirit on issues where the two sides still have differences, to increase mutual understanding and contribute to the development of the bilateral comprehensive partnership, the spokeswoman said.
An estimated 95 percent of the Vietnamese population engage in belief and religious activities, including more than 25 million followers of different religions (27%). Catholics alone number more than 7 million and Protestants, over one million.
The 2013 Constitution recognised the right as one of the fundamental human rights while the Law on Belief and Religion, adopted by the National Assembly on November 18, 2016 and coming into force on January 1, 2018, detailed this right of all people, including foreigners legally residing in Vietnam.
Many major international religious events have been held in the country, such as the 500th anniversary of the Protestant Reformation, the UN Day of Vesak in May 2019, and Capitulum Generale 2019.
The 2021 International Religious Freedom Report of the US Commission on International Religious Freedom also made several partial and biased assessments based on inaccurate information on the religious situation in Vietnam, deputy spokesperson of the Foreign Ministry Doan Khac Viet said on April 29.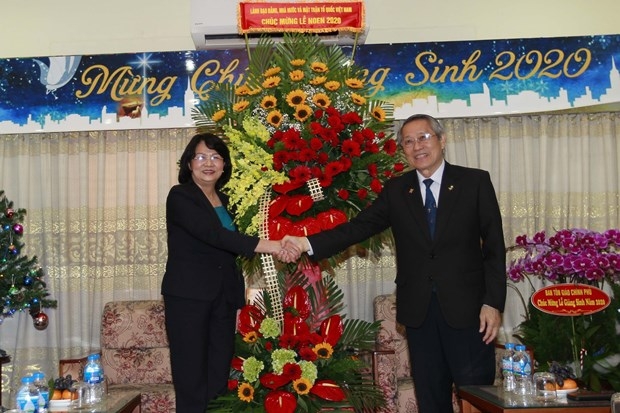 The then Vice President Dang Thi Ngoc Thinh (L) and President of the Evangelical Church of Vietnam (South), Pastor Thai Phuoc Truong, at the meeting in December 2020. Photo: VNA
Asked to comment on the recent escalating conflict in the Gaza Strip, Hang said Vietnam has kept a close watch and is deeply concerned about escalating violence in Israel and the Palestinian territories over recent days that have killed and injured civilians.
Vietnam called on all parties concerned to exercise restraint, end the escalation of tensions, and deal with the conflict via peaceful measures, thus ensuring the safety and legitimate interests of people.
Regarding the East Jerusalem issue, she affirmed Vietnam's consistent stance that every solution needs to observe international law, especially relevant UN resolutions./.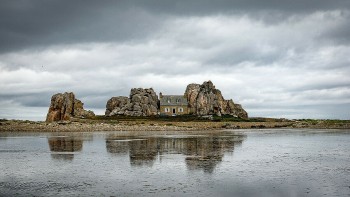 Travel
In a quiet little village of Plougrescant, France, tourists can visit this quirky and extraodrinary Castel Meur, also known as "The House Between The Rocks", which has become an attraction for many years.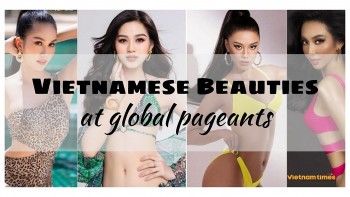 Handbook
Do Thi Ha, Pham Ngoc Phuong Anh, Nguyen Thuc Thuy Tien and Nguyen Huynh Kim Duyen set to vie for global beauty pageants.
World
In the outskirt of Poland, there is a pretty rural village that is called "The painted village" for its amazing and unique tradition of painting their homes inside and out with colorful floral patterns, making this place the most photogenic spot.