Vietnam Herbal Tea and Its Magic
Herbal tea has a high antioxidant capacity and has a significant impact on liver function and overall health, according to the studies.
In Vietnam, herbal tea is a very popular beverage. Because there are so many various herbs growing here, Vietnamese people frequently use them in their cooking and drinks. Small herb strips will be nicely lacing your plate if you are enjoying Vietnamese cuisine. Herbs are known for their health advantages as well as their attractive appearance.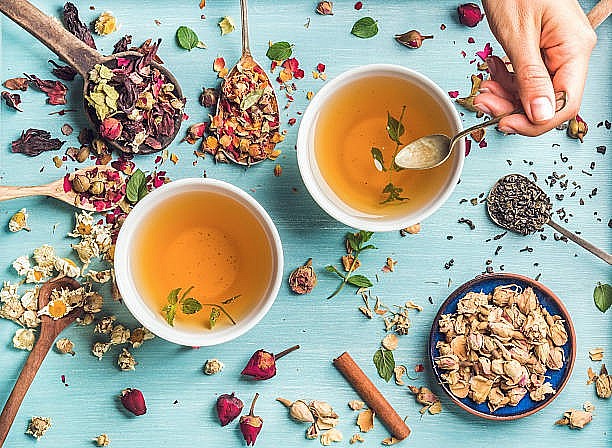 Herbal Tea. Photo: iStock
Tea's health benefits
Tea is high in antioxidants. Tea's antioxidants protect your body from the ravages of aging and the impacts of pollution, similar to the Rust-Oleum paint that preserves your outdoor furniture from rusting.
Coffeenormally has two to three times the caffeine of tea. The caffeine content in an eight-ounce cup of coffee is roughly 135 mg, while tea contains only 30 to 40 mg per cup. Switch to tea if coffee gives you the jitters, causes stomach or headaches, or disrupts your sleep.
Heart attacks and strokes are caused by unwanted blood clots generated by cholesterol and blood platelets. Tea may help keep your arteries clear and free of clogs, similar to how a drain keeps your bathroom pipes clear. People who drank at least two to three cups of black tea daily had a 70% lower risk of fatal heart attack than non-tea users, that's from a 5.6-year study from the Netherlands.
Tea is good for your bones. It's not simply the milk in tea that helps to strengthen bones. Even after correcting for age, body mass index, and other factors, one study found that persons who drank tea for 10 years or more had the strongest bones.
Tea includes fluoride and tannins, which may help to keep plaque at bay. So, for healthier teeth and gums, including unsweetened tea drinking in your daily dental practice of brushing and flossing.
Tea helps to strengthen your immune system. Tea may assist your body's immune system in fighting infection. Researchers observed greater immune system activation in the blood of 21 participants who drank either five cups of tea or coffee every day for four weeks.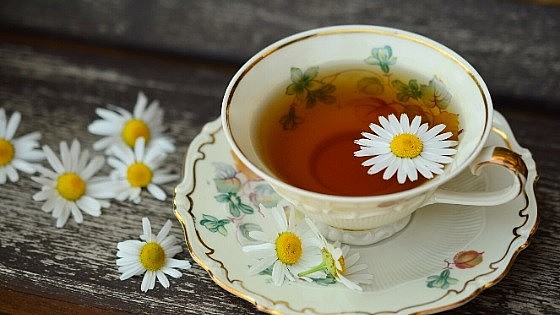 Photo: Iora Primary Care
Once again, thank polyphenols, the antioxidants contained in tea, for their cancer-fighting properties. While the overall data is unclear, there are enough studies that suggest the possible beneficial advantages of tea to make adding tea to your daily beverage list worthwhile.
Tea and other caffeinated beverages used to be on the list of beverages that didn't help us meet our daily fluid requirements. Caffeine is a diuretic, thus it makes us pee more, so it was assumed that caffeinated beverages couldn't help us meet our overall fluid needs. A recent study has revealed, however, that the caffeine content in tea and other caffeinated beverages do not affect our fluid requirements. The only time caffeine becomes a fluid issue is if you consume more than five or six cups of a caffeinated beverage in a single sitting.
Tea has no calories unless you add sugar or milk to it. Even consuming 250 fewer calories per day can result in a weekly weight loss of one pound. Tea is a great choice if you're seeking a filling, calorie-free beverage.
Many people lament their inability to lose weight due to a poor metabolic rate. Green tea has been demonstrated to enhance metabolic rate, allowing you to burn an additional 70 to 80 calories per day by simply consuming five cups of green tea each day. Green tea can help you lose eight pounds over the course of a year. Taking a daily 15-minute stroll will, of course, burn calories.
Dr. Thanh Herbal Tea - The product that proves it all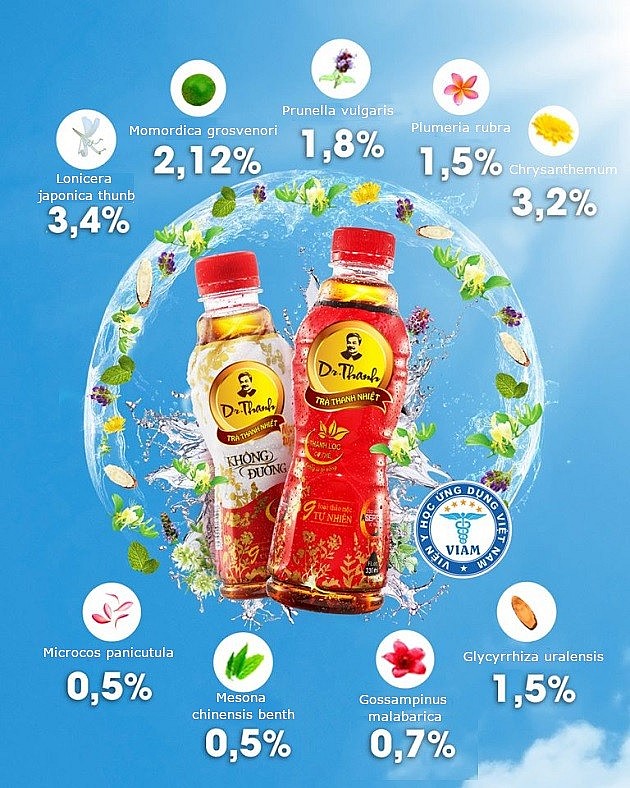 Dr. Thanh Herbal Tea is made up of nine distinct herbs. Photo: Thanh Tra
Dr. Thanh Herbal Tea is made up of nine different herbs, and testing has shown that it has significant health advantages.
Nine valuable herbs are included in the brand, which is prized in folklore for their capacity to cool and purify the body. Dr. Thanh Herbal tea has become extremely popular among consumers due to its alleged health benefits as a result of these advantages.
Dr. Thanh Herbal Tea is one of the Tan Hiep Phat Group's ongoing achievements, alongside Number One and Zero Degree Green Tea. After only 45 days of study and manufacturing employing modern technology, Dr. Thanh was released.
"Dr. Thanh exhibits high safety when testing on animals by giving them the highest possible dose of product in liquid form, and when experimenting on volunteers by letting them consume the end products every day," according to research led by Nguyen Van Minh at Vietnam Military Medical Academy. According to the study, the tea has a high antioxidant capacity and has a significant impact on liver function and overall health.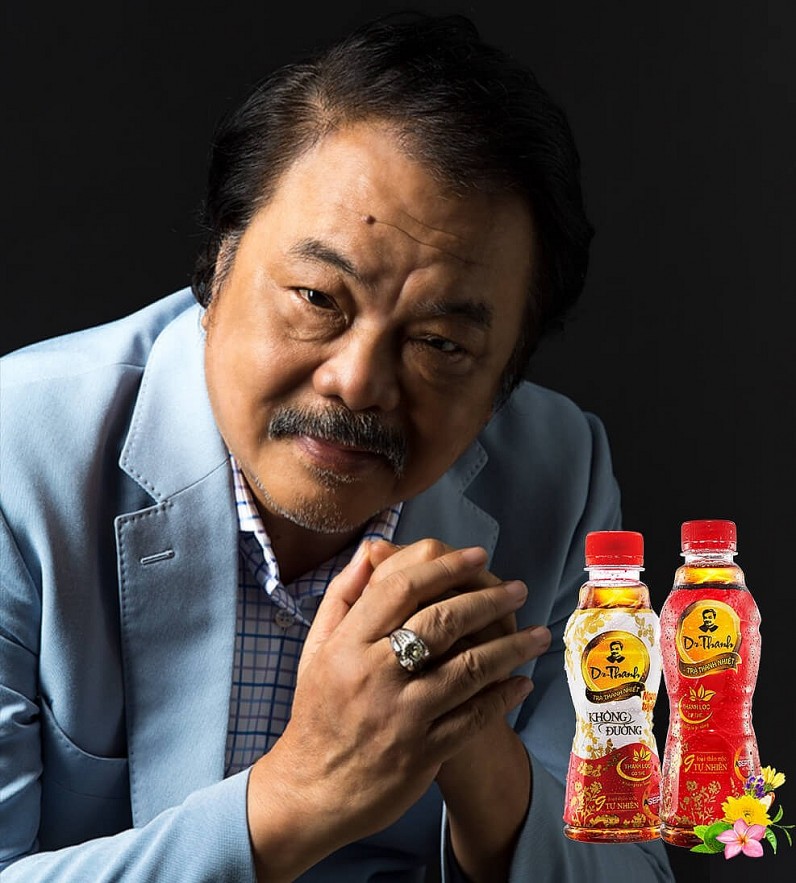 Thanh Quy Tran, former CEO of Tan Hiep Phat and Dr Thanh Tea. Photo: Tan Hiep Phat
Tan Hiep Phat's tea is a source of pride not just for the company, but also for the entire beverage sector, as it is a unique Vietnamese brand that caters to a wide spectrum of clients.
The Tan Hiep Phat Group has established itself as a market leader in Vietnam's health beverage business as a result of client demand.
The tea, like other Tan Hiep Phat products, is preservative-free and has been a tremendous hit with customers since its inception.
Tan Hiep Phat has also been recognized as one of the Vietnamese companies that best fulfills its client commitment. Because beverage products can be maintained on the market for up to a year, Tan Hiep Phat inspects and supervises agents' goods preservation and transportation on a regular basis. Any cargo or product that shows indications of damage will be returned and replaced.
How To Make Great Herbal Tea

Herbal tea is considered a natural beverage to improve health because it contains many antioxidants and nutrients.