Vietnam Increasingly Attractive to New International Tourist Markets
The signed bilateral visa exemption agreement between Vietnam and Kazakhstan has created favorable conditions for Kazakh people to visit famous tourist destinations in Vietnam and vice versa.
Deputy Minister of Foreign Affairs of Vietnam Ha Kim Ngoc highlighted the bilateral tourism potential at the 33rd anniversary the Declaration of State Sovereignty of Kazakhstan (October 25, 1990 - October 25, 2023) on October 23 in Hanoi.
Among the high-ranked guests of the event were Deputy Foreign Minister Ha Kim Ngoc; Nguyen Anh Tuan, Member of the Party Central Committee, Secretary of Provincial Party Committee and Head of Delegation of National Assembly Deputies of the Bac Ninh province; other officials from the Party, State and Government, National Assembly; and other representatives of ministries, branches and agencies of Vietnam, the ambassadors, chargés d'affaires and senior diplomats of Asian, Arab, African, European and Latin American countries.
Expanding tourism cooperation
On August 21, Vietnam and Kazakhstan signed a bilateral visa waiver agreement for citizens holding ordinary passports. Accordingly, Kazakhstani citizens and Vietnamese citizens holding passports that are valid for at least six months will be exempt from visa requirements to enter, exit, transit and temporary stay in Viet Nam and Kazakhstan for a maximum of 30 days from the date of entry.
After the agreement was signed, many Kazakh famtrip groups came to Vietnam to visit and survey the actual tourism potential. The central province of Khanh Hoa, in September 2023, continuously welcomed famtrip groups from Kazakhstan to visit and survey the actual tourism potential of Nha Trang - Khanh Hoa.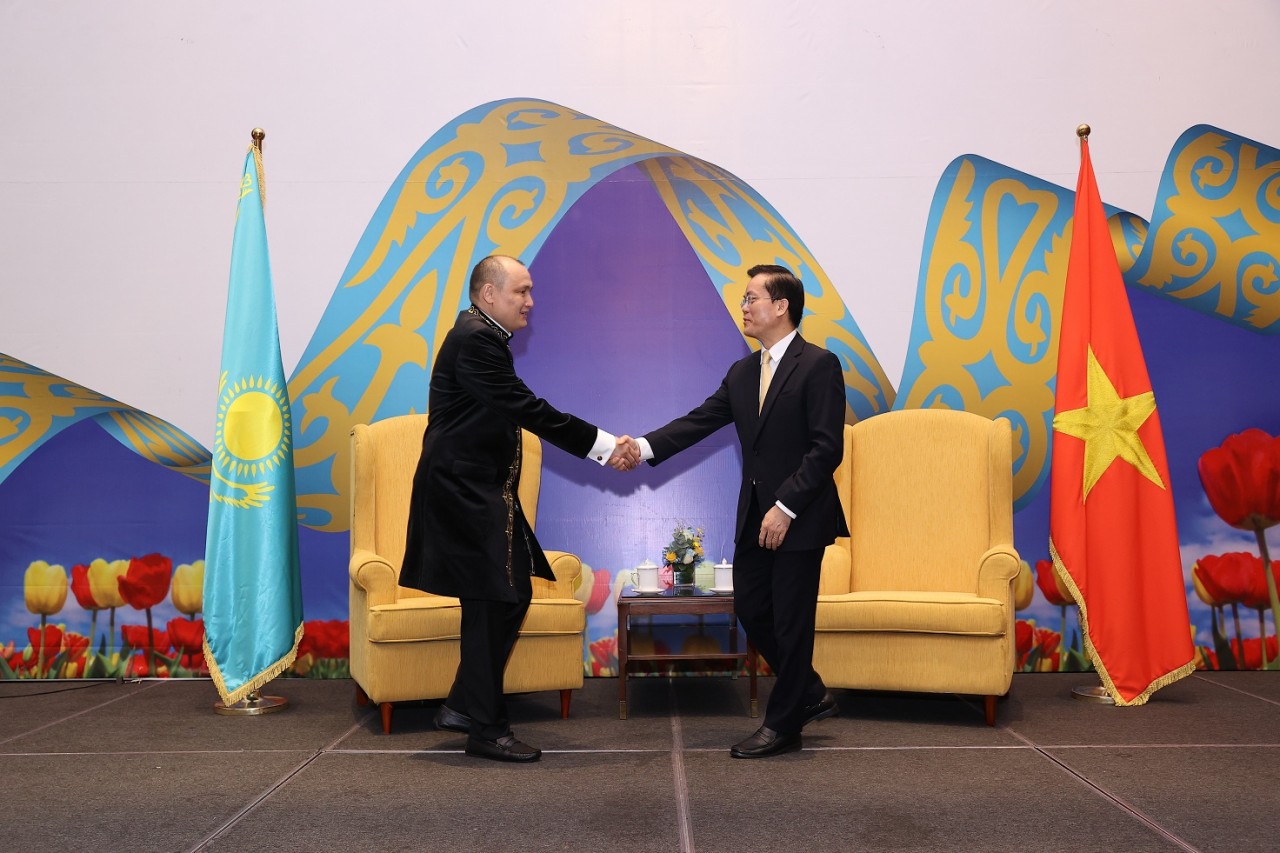 Deputy Minister Ha Kim Ngoc (right) and Ambassador Kanat Tumysh at the celebration. Source: Kazakh embassy in Vietnam
Kazakhstan Ambassador to Vietnam Kanat Tumysh stressed that airlines of the two countries have operated 6 flights/week from Astana and Almaty to Nha Trang and Phu Quoc, contributing to creating favorable conditions to promote tourism and cultural exchange between the two countries.
Aiming for US $1.5 billion in bilateral trade
At the celebration, Deputy Minister Ha Kim Ngoc and Ambassador Kanat Tumysh highlighted progress in bilateral ties. In 2022, bilateral trade increases by 23% compared to 2021. In the first 8 months of 2023, bilateral trade increases 2.7 times compared to the same period in 2022.
Ambassador Kanat Tumysh emphasized that during his visit to Vietnam in August 2023, Kazakh President Kassym-Jomart Tokayev and Vietnamese leaders had extensive discussions on measures to promote bilateral cooperation in various fields. trade, economics, investment, energy, transportation and logistics, agriculture, industry, culture and people-to-people exchanges.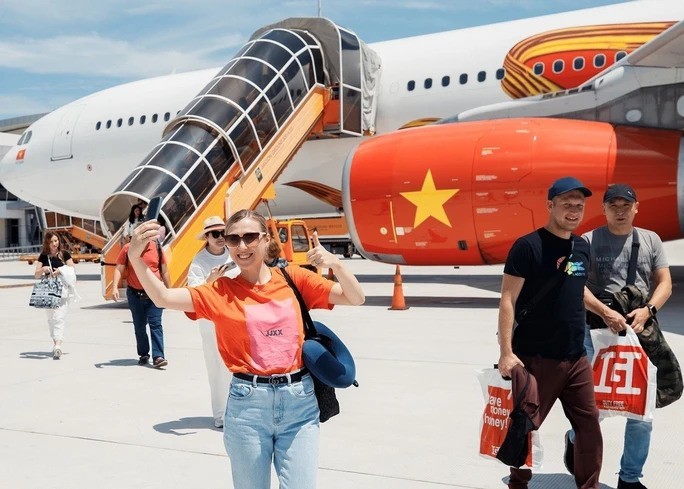 Passengers from azakhstan to Nha Trang. Source: nld.com.vn
During the visit, the two countries signed many cooperation documents, such as the Joint Action Plan to promote economic and trade cooperation between the Governments of Vietnam and Kazakhstan period 2023-2025; memorandum of cooperation in the fields of tourism, investment, postal, oil and gas, transportation, and television.
Ambassador Kanat Tumysh and Deputy Minister Ha Kim Ngoc believe that the signed documents will create strong driving forces for expanding cooperation between the two countries in the future, contributing to realizing the goal of achieving gold. Trade turnover of US $1.5 billion by 2030.