Vietnam-India Traditional Relations Boast Many Similarities and Mutual Support
Party General Secretary and visting Speaker of the Indian Lok Sabha (the lower house) Om Birla discussed wide-ranging cooperation between Vietnam and India
Party General Secretary Nguyen Phu Trong (R) receives Speaker of the Indian lower house Om Birla in Hanoi on April 20. Photo: Indian embassy in Vietnam
Visting Speaker of the Indian Lok Sabha (the lower house) Om Birla made a courtesy call on Party General Secretary Nguyen Phu Trong on April 20, VNA reported.
Speaker Birla congratulated Vietnam on its successes gained under the Party General Secretary's leadership, expressing his respect for the host's enormous contributions to the strong development of bilateral parliamentary ties.
He affirmed that India considers Vietnam a pillar in its Act East policy and Indo-Pacific Strategy, noting as the two countries share interests and vision on regional and international issues and also boast long-time connectivity in history and culture, they hold much potential for continuing to strongly develop their relations.
The visiting Speaker underlined the countries' coordination in international affairs and asked for stronger cooperation in defence - security, trade, energy, tourism, and cultural and people-to-people exchanges.
Welcoming Speaker Birla and the Indian delegation, General Secretary Trong viewed their trip to Vietnam this time as highly important, particularly when the two sides are marking the 50th anniversary of their diplomatic ties this year, which will help cement their comprehensive strategic partnership.
He shared his guests' view on the traditional relations that boast many similarities and mutual support, appreciating India's aid for Vietnam in Covid-19 response.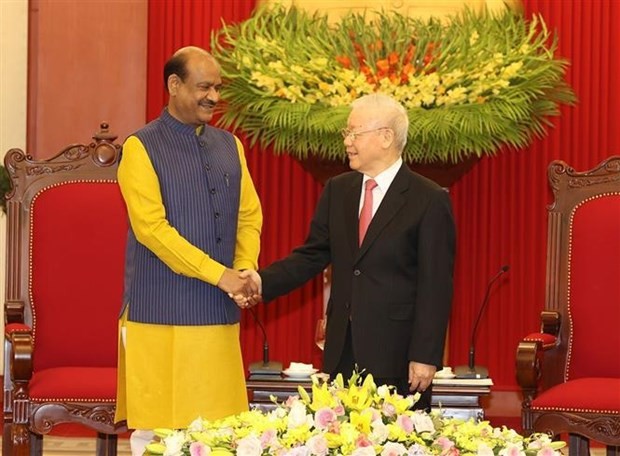 Party General Secretary Nguyen Phu Trong (R) receives Speaker of the Indian lower house Om Birla in Hanoi on April 20. Photo: VNA
Agreeing with the Speaker's proposals for cooperation reinforcement, the Party leader asked both countries to keep working together and sharing experience so as to further enhance the comprehensive strategic partnership.
They should continue discussing, consulting, and coordinating with each other at international parliamentary forums, sharing viewpoints on regional and international issues, and contributing to peace, stability, cooperation, and development in the region and the world, he recommended.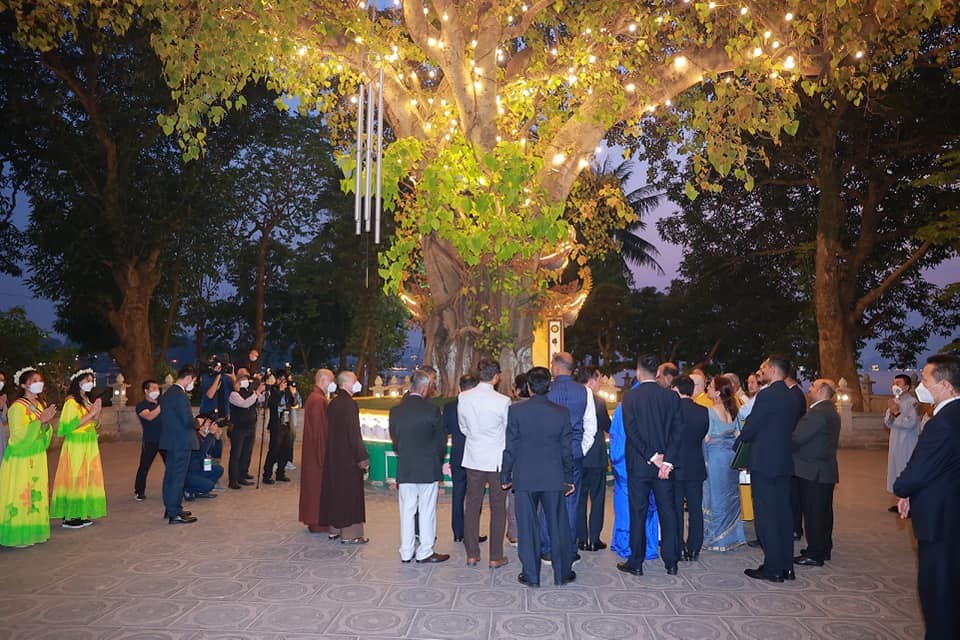 The Indian delegation visits the famous Tran Quoc Pagoda in Hanoi. Photo: Indian embassy in Vietnam
The Indian Speaker and the Indian Parliamentary delegation also visited the famous Tran Quoc Pagoda in Hanoi.
They paid tribute to the Bodhi tree, whose sapling was gifted to President Ho Chi Minh by India's first President Dr. Rajendra Prasad during his visit to Vietnam in 1959.
The Speaker was received by Most Venerable Thich Thanh Nhieu, standing vice-chairman of the Executive Council of the Vietnam Buddhist Sangha and its other senior leaders.
In the early hours of April 20, Speaker Birla led the Indian Parliamentary delegation to pay tribute to President Ho Chi Minh at Ho Chi Minh Mausoleum in Hanoi.
In the modern time, the foundation of Vietnam-India friendship was set up by the two preeminent leaders - President Ho Chi Minh and Prime Minister Jawaharlal Nehru - when Prime Minister Jawaharlal Nehru paid a visit to Vietnam on October 17, 1954, right after Hanoi capital had been liberated, and President Ho Chi Minh made a friendship visit to India in February 1958.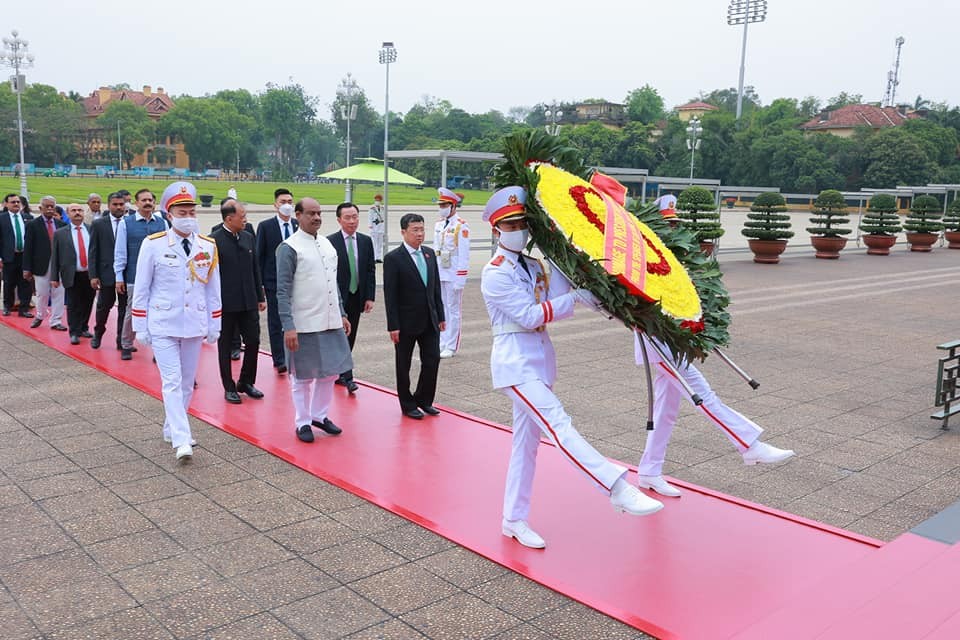 Speaker Om Birla leads the Indian delegation to lay a wreath at President Ho Chi Minh's Mausoleum. Photo: Indian embassy in Vietnam
Speaker Birla on April 20 visited Ha Long Bay, northern Quang Ninh province, and met Secretary of the provincial Party Committee Nguyen Xuan Ky.
Welcoming the Indian delegation, Ky provided a brief on the province's socio-economic development and expressed his hope that the visit would strengthen India's sound relations with Vietnam, including Quang Ninh, especially in tourism.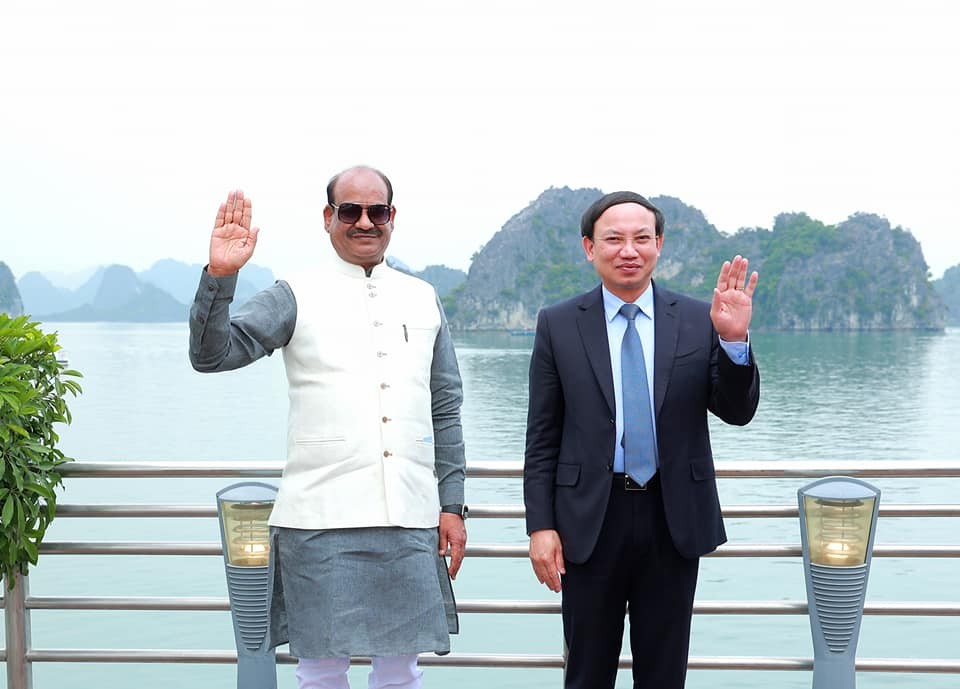 Speaker of the Indian Lok Sabha Om Birla and Secretary of the Quang Ninh Party Committee Nguyen Xuan Ky pose for a photo in Ha Long Bay on April 20. Photo: Indian embassy in Vietnam
Ky expected that Quang Ninh will continue to be the venue for the International Day of Yoga held by the Indian Embassy in Vietnam, helping attract tourists, including those from India, to the province.
Birla appreciated the warm welcome of local leaders, noting the beauty of Ha Long Bay had left a strong impression on him.
Wishing Quang Ninh more success on its development path, he voiced his belief that through his official visit, India and Vietnam, including the province, would step up people-to-people and cultural exchanges, as well as cooperate in areas such as information technology, aviation and tourism.
Birla is in Hanoi for an official visit to Vietnam at the invitation of Vietnamese National Assembly Chairman Vuong Dinh Hue.
This is his first visit to Vietnam after he took office in June 2019.
After arriving in Hanoi on April 19, Speaker Birla held talks with National Assembly Chairman Vuong Dinh Hue, paid a courtesy visit to State President Nguyen Xuan Phuc and met with Prime Minister Pham Minh Chinh.
Speaker of the Indian Lok Sabha Visits Vietnam

Despite the adverse impacts from Covid-19, Vietnam and India have maintained and reinforced important cooperation mechanisms, while working together to implement the Action Plan for ...