Vietnam International Digital Week Kicks Off
To revolutionize ASEAN, digital transformation and digital cooperation are the best solutions. Vietnam wishes to sign digital partnership with ASEAN countries and other countries.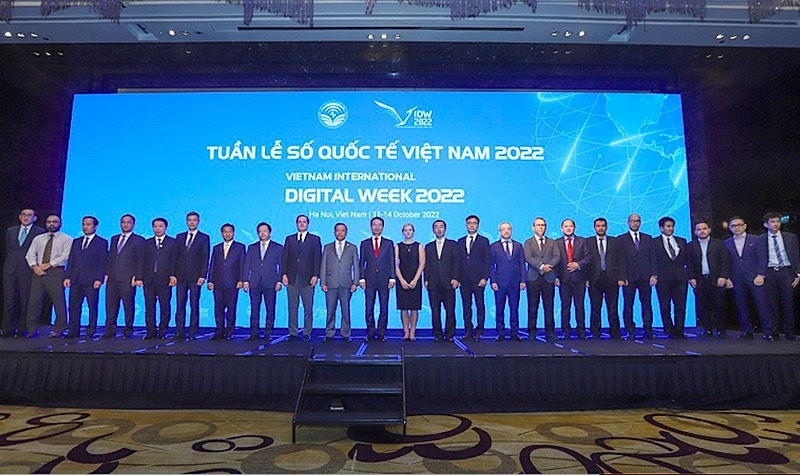 "Vietnam International Digital Week-VIDW2022" opened in Hanoi on October 11. Photo: vneconomy
"Vietnam International Digital Week-VIDW2022" opened in Hanoi on October 11. Vietnam International Digital Week takes place in 4 days, from October 11-14, 2022.
Vietnam International Digital Week was organized by the Ministry of Information and Communications.
The week has the participation of delegations from ASEAN countries (Laos, Thailand, Cambodia, Myanmar, Brunei, Indonesia, Singapore, Philippines and Malaysia), representatives of international organizations (TU, GSMA, Unicef, Unesco, ILO and World Bank), diplomatic missions, global digital enterprises (Nokia, Huawei, Samsung, LG, Cisco, Qualcomm, KDDI, Softbank, Red Hat, Kaspersky).
Three keywords about a 'digital country'
Minister of Information and Communications Nguyen Manh Hung said that a new living space and living environment will require new principles, new laws, and a new culture. Therefore, it is necessary to exchange and learn from each other.
The theme chosen for the first International Digital Week was "Global Partnership for the suitable digital future."
This initiative was first held in Vietnam and will continue to become an annual event of ASEAN countries.
This event aims to exchange information on digital transformation, digital institutions, digital technology, digital applications, digital human resources, digital safety and digital cooperation. According to Hung, the digital cooperation among ASEAN countries is to create a digital ASEAN.
Deputy Minister of Information and Communications Nguyen Huy Dung, said that the most important keywords about a digital country include: digital government, digital economy and digital society.
According to him, the digital government needs to play a pioneering role in the country's digital transformation process, promoting the digital economy and digital society.
Digital government aims to transform the way people are served. The digital economy will contribute to bringing Vietnam to a country with high average income by 2030 and high income level in 2045. The digital society has favorable social security policies to help create an civilized and safe society.
In 2022, Vietnam adopted a national strategy on developing digital economy and digital society. This is a new approach that creates growth thanks to digital technology, in which digital data is the main input.
Digital development is identified as the mainstream for Vietnam to achieve the goals of making Vietnam a developed country, making people happier.
"5G is a big push for humanity to move to a digital environment. Mobile and broadband are still the main topics of telecommunications. Digital technology needs digital infrastructure, that is 5G, cloud computing.
ASEAN countries, since 2019, have held their annual 5G conference. ASEAN is committed to keeping pace with the world in new technologies. The new is always an opportunity for latecomers to move forward."
Minister of Information and Communications Nguyen Manh Hung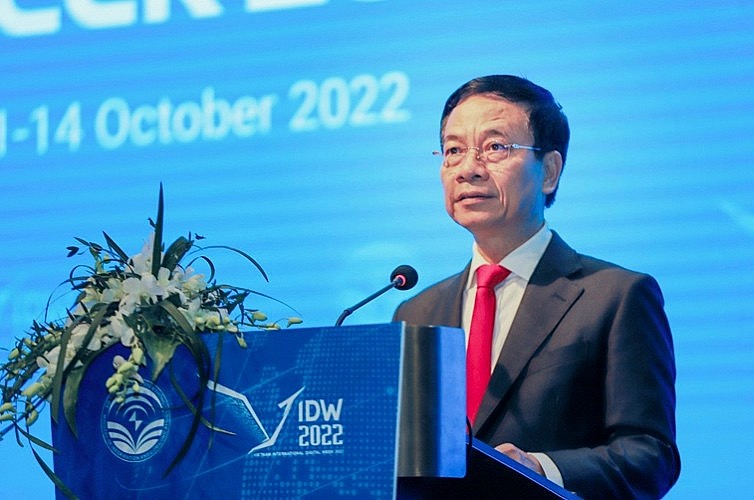 Minister of Information and Communications Nguyen Manh Hung. Photo: vneconomy
Vietnam considers digital skills an important factor to explore the digital world. Vietnam proposes to develop a common framework for digital skills to support workforce mobility between countries.
Another area that Vietnam wants to cooperate with other countries is cybersecurity. It is necessary to establish a mechanism to share information about threats between countries to prevent and reduce damage, creating a safer cyberspace.
Deputy Minister Nguyen Huy Dung said Vietnam is also seeking cooperation to measure the contribution of the digital economy to GDP and to compare the size of the digital economy of countries.
Currently, Vietnam has piloted a measure of the contribution of the digital economy in the economy. Dung also suggested that countries cooperate and share experiences, especially in developing legal frameworks, laws on electronic transactions, taxes, and cross-border transactions to support the digital transformation process.
Digital transformation experience
Sharing about RoK's digital transformation experience, Lee Byong Moog, representative of the Korean Ministry of Science and ICT, said that from 1980 to now, RoK's digital technology development journey has been divided into five stages. The RoK is promoting the construction of hyper-connected networks, researching 6G with 1GB speed.
"RoK's investment in ICT currently accounts for 12.9 GDP. ICT exports accounted for 34% and R&D (Research and Development) expenditures accounted for 58%. These are figures that show the level of interest and investment in RoK's digital technology and communication industries," said Lee Byong Moog.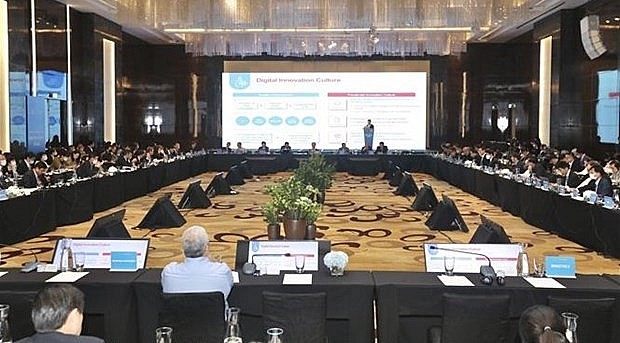 Vietnam International Digital Week kicks off. Photo: VNA
Jesus Lavina, representative of the European Union (EU) delegation to Vietnam, said that the EU has priority policies on green and digital transformation.
Digital technology has shown its important role in the Covid-19 pandemic. Many new jobs have also been created thanks to the development of digital technology.