Vietnam is the US's State Oregon's Eighth Largest Export Market
As Vietnam is Oregon's eighth largest export market with a turnover of more than USD 1 billion in 2021, its Governor expressed her desire to increase bilateral trade ties, especially in the semiconductor industry.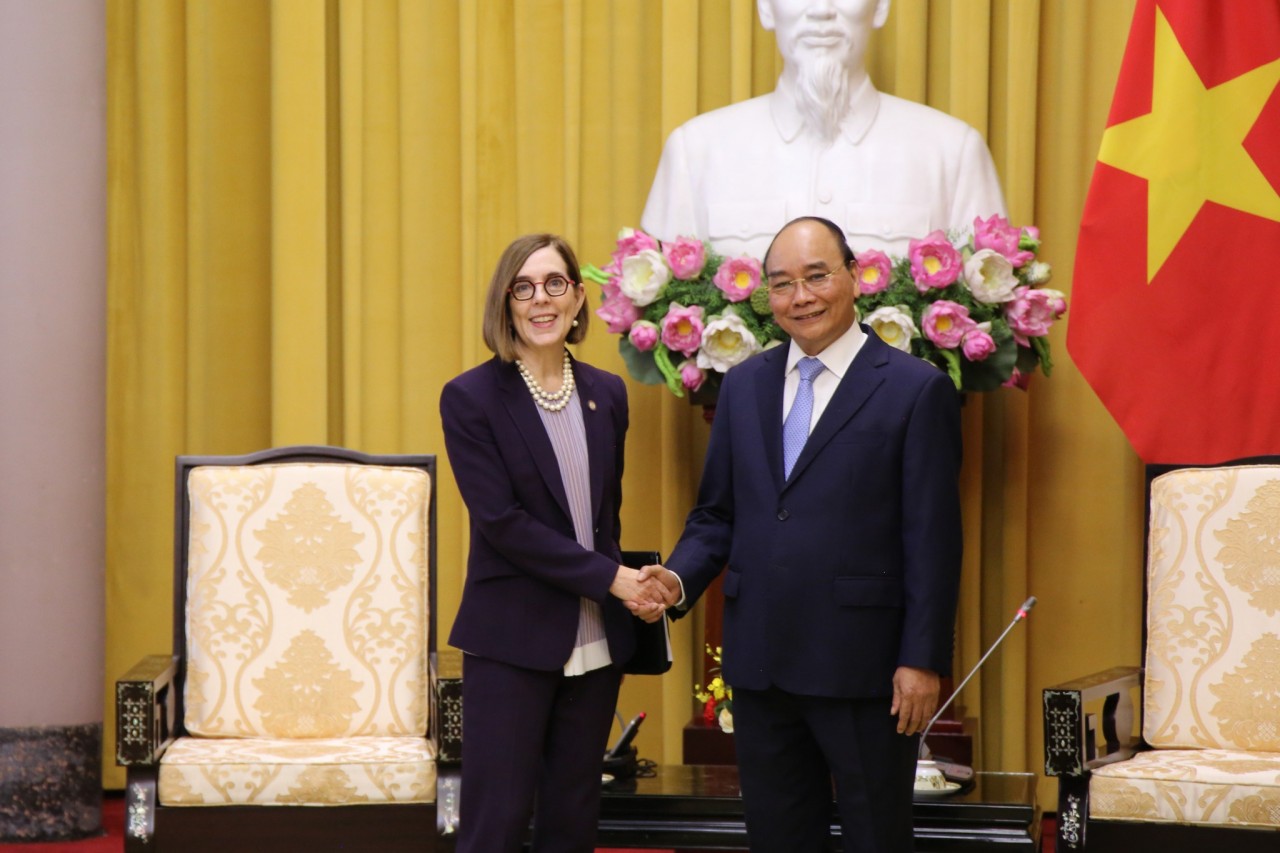 State President Nguyen Xuan Phuc (R) welcomes Oregon governor Kate Brown on a visit to Vietnam in Hanoi on November 15. Photo: VNA
Vietnam considers the US one of its most important partners, and it wishes to develop a comprehensive partnership with the US, State President Nguyen Xuan Phuc told Oregon governor Kate Brown in Hanoi on November 14, VOV reported.
Phuc said bilateral relations have grown in a substantial, effective, and stable manner, with two-way trade reaching nearly USD 120 billion last year.
He also affirmed Vietnam attaches great importance to cooperation with the State of Oregon which is the leading economic, industrial and scientific-technological, and clean technology center in the US and is home to many Vietnamese nationals.
He thanked the Oregon administration and the Governor personally for promoting relations with Vietnamese partners in many fields, noting the two sides have well implemented the Letter of Intent on Cooperation between the Ministry of Foreign Affairs of Vietnam and the state of Oregon, while Oregon institutions and corporations such as Portland University, Intel and Nike have built mutually beneficial cooperation relationships with their Vietnamese partners.
Vietnam is ready to create favorable conditions for Oregon businesses to invest in the country, said the President who also suggested that Oregon businesses train high-quality human resources to help Vietnam to engage more deeply in the global value chain.
With regard to climate change response, he also suggested that Oregon share experiences and provide technical and financial support, and enhance cooperation in the fields of sustainable development, green technology production, high-tech agriculture, and environmental protection.
He underscored the importance of education cooperation between Vietnam and the US, including Oregon, saying both sides should continue to expand cooperation in this field.
The president also asked Oregon to provide continued support for Vietnamese expatriates in the local community so that they would serve to connect the two economies.
For her part, Kate Brown who is visiting Vietnam affirmed Oregon will continue to spur cooperation with Vietnam which she said is a potential and fast-growing economy in the region.
As Vietnam is Oregon's eighth largest export market with a turnover of more than USD 1 billion in 2021, the Governor expressed her desire to increase bilateral trade ties, especially in the semiconductor industry.
She hailed education cooperation between Portland University and Vietnamese partners and said such a cooperation and exchange model should be replicated in the coming time.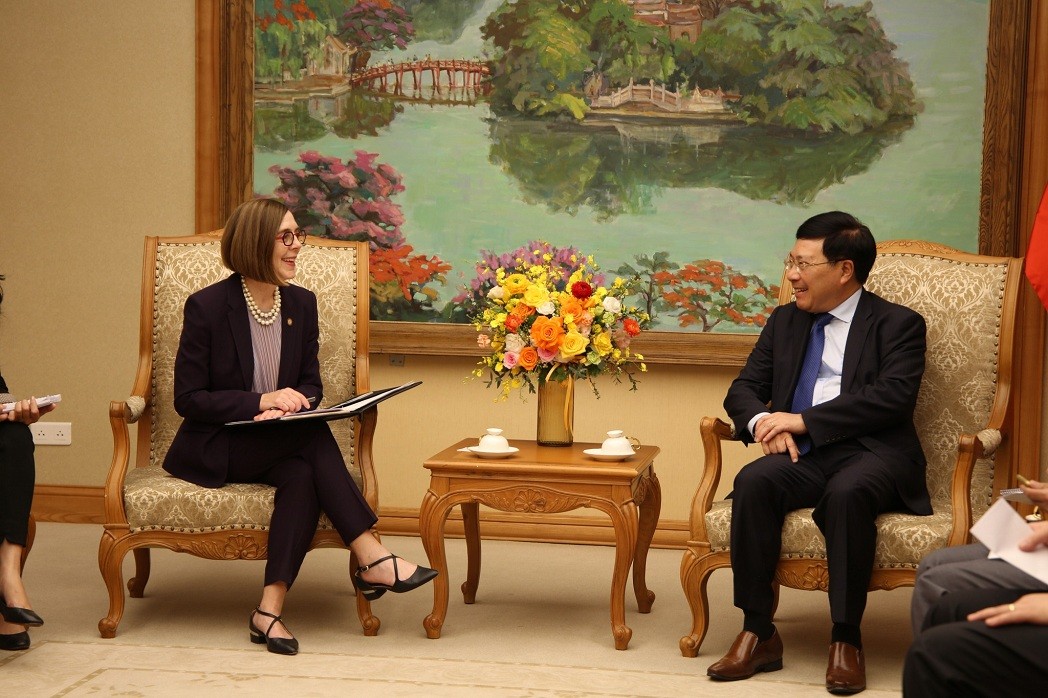 Permanent Deputy Prime Minister Pham Binh Minh (R) welcomes Oregon Governor Katherine Brown.
Permanent Deputy Prime Minister Pham Binh Minh also received the visiting Oregon Governor in Hanoi, according to VNA.
Minh said that the relationship between Vietnam and Oregon has developed well on the basis of the letter of intent on cooperation signed by the Vietnamese Ministry of Foreign Affairs and the US state in 2015.
Noting that there remains ample room for bilateral cooperation, he proposed Governor Brown continue facilitating the export of Vietnamese agricultural products.
Brown expressed her delight to visit Vietnam in the context that the two countries are celebrating the 10th anniversary of the establishment of their comprehensive partnership, saying she believes that her visit will open up more opportunities for collaboration between her state and Vietnam.
As President Joe Biden's administration is promoting the development of the semiconductor sector – an advantage of Oregon, the state hopes both sides will bring into full play cooperation potential in this field.
She appreciated the role of the Vietnamese community in Oregon and expressed her joy at the recent election of five people of Vietnamese origin to important positions in the Oregon House of Representatives.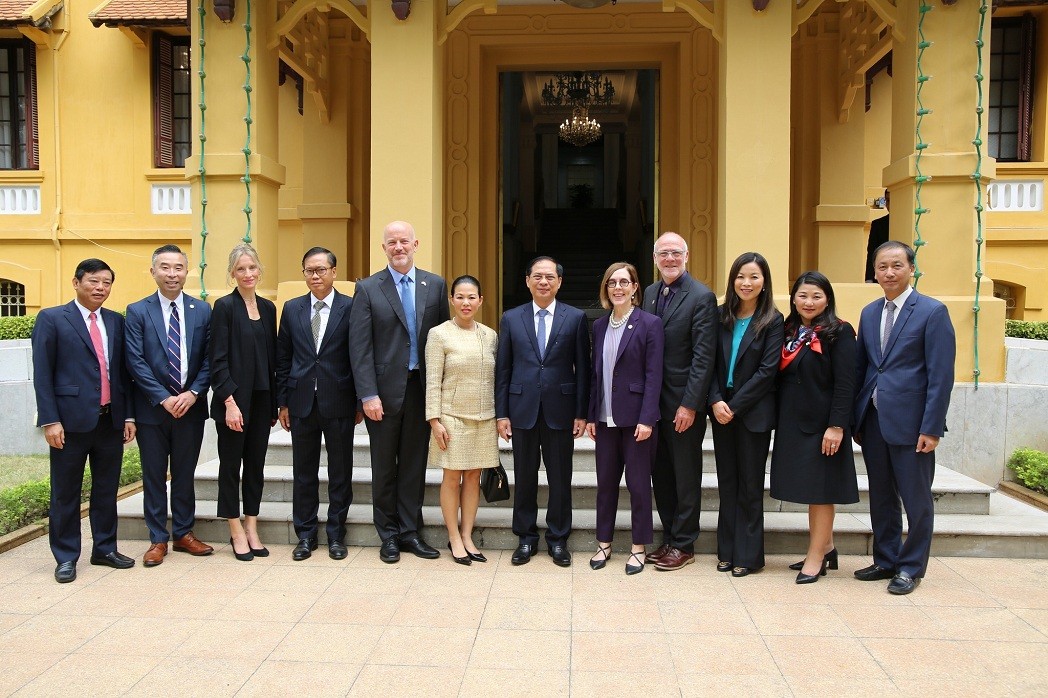 Minister of Foreign Affairs Bui Thanh Son receives Oregon's delegation.
The same day, the Oregon Governor was received by Minister of Foreign Affairs Bui Thanh Son.
The two agreed to continue implementing measures to broaden the new cooperation space to match the potential of bilateral relations.
Minister Son asked the US side to continue facilitating the Vietnamese community there to further develop and make more contributions to the development of the relations between Vietnam and the state.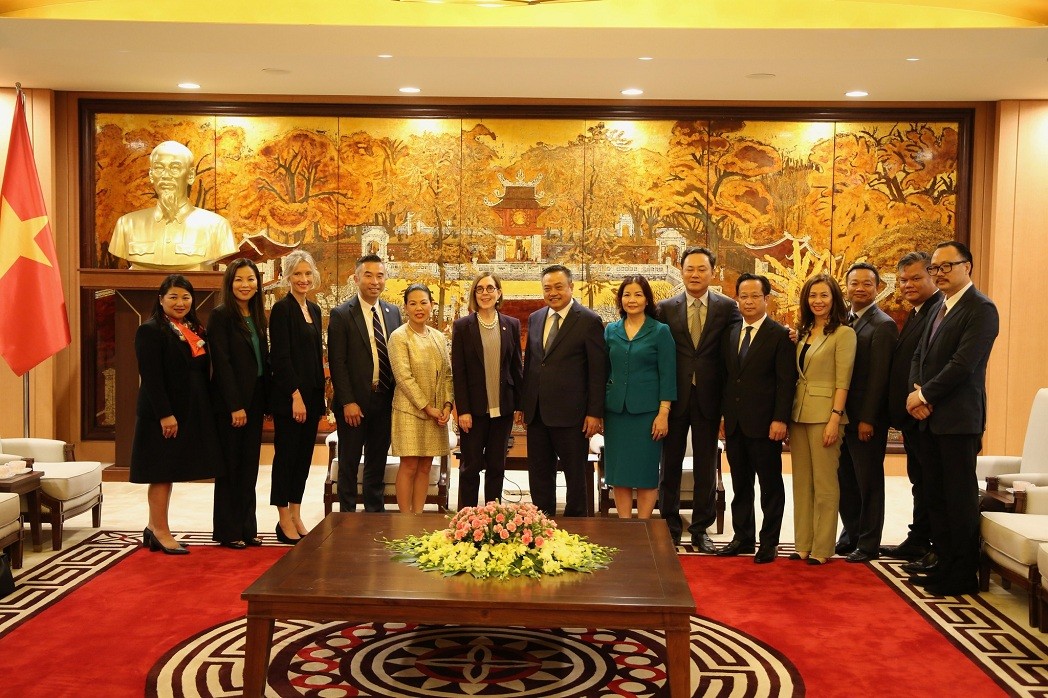 Chairman of the Hanoi People's Committee Tran Sy Thanh receives Oregon's delegates.
Also according to Chairman of the Hanoi People's Committee Tran Sy Thanh, the potential for cooperation between Oregon and Hanoi is huge. Thanh hoped that Governor Kate Brown's visit would be a valuable opportunity to enhance cooperation opportunities between the US and Vietnam, as well as Hanoi in particular.
Agreeing with the opinion of the Chairman of the Hanoi People's Committee, Kate Brown said that Hanoi's young population is a great opportunity to develop the fields of economy, education, and culture. She wishes to strengthen cooperation with Vietnam and Hanoi to realize opportunities.
Currently, state partners such as Portland State University, Intel Corporation, Nike have built a practical cooperative relationship between Vietnam and the US of mutual benefit.
In addition, the Oregon National Guard and the Vietnam National Committee for Search and Rescue (VINASARCOM) have just celebrated 10 years of cooperation in incident and disaster response and search and rescue. The Governor of Oregon proposed that the two sides further strengthen cooperation on this issue in the coming time.
Expressing her pleasure over the past time Portland University has cooperated well with Vietnam, the Governor wishes to promote extensive educational cooperation and two-way student exchange so that more Vietnamese students can study at Portland State University and Oregon's students come to Vietnam to study and exchange.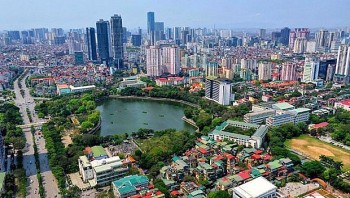 National
Vietnam News Today (Jan. 29): Quang Ninh: Cross-border trading with China resumed after Tet; Hanoi in the world's top three culinary destinations: Tripadvisor; Intertwined opportunities, challenges for Vietnam's economy in 2023; Supermarkets, traditonal markets gradually resume normal operations amid abundant supply.