Vietnam, Japan Work Together in Training Young footballers
Vietnamese and Japanese FC sign deal to train young football players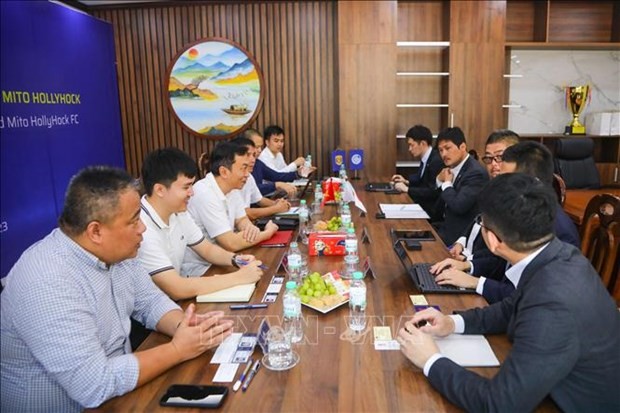 Representatives of Song Lam Nghe An Football Club and Japan's Mito HollyHock Football Club meet on May 31 in the central province of Nghe An. Photo: VNA
Song Lam Nghe An Football Club will receive experts and coaches from Japan's Mito HollyHock Club to improve the quality of training for its players, Truong Manh Linh, General Director and CEO of Song Lam Nghe An said, VNA reported.
Representatives of the two clubs had a meeting in the central province of Nghe An on May 31 to exchange experiences and seek cooperation directions in training young players, towards a comprehensive cooperation agreement in the future.
Linh said that the two clubs will send players to learn from each other.
More importantly, Song Lam Nghe An wants to improve management quality and follow the model of Mito HollyHock with sustainable development, Linh said.
Tran Quoc Tuan, president of the Vietnam Football Federation (VFF), said that Song Lam Nghe An with a long history of development is well known for nurturing outstanding players for Vietnamese football.
Tuan said cooperation, especially international partnership, is the key that will help Vietnamese football develop further.
He noted that the two clubs have certain similarities, so their cooperation is very promising.
A representative of Mito HollyHock said that they learned about the tradition and culture of Song Lam Nghe An and found similarities between the two clubs.
The biggest common point is that they are local football teams and have a close relationship with the local administrations, which helps them to understand and partially support in operating and training young players.
In a related news, the VFF held a ceremony on June 1 to announce its new technical director Koshida Takeshi.
The director, born in 1960, had played 19 matches for the Japanese national team in the period of 1980-1985. In the club shirt, Takeshi used to play for Nissan Motors Club (1983-1989) and Kanazawa Club (1990-1996).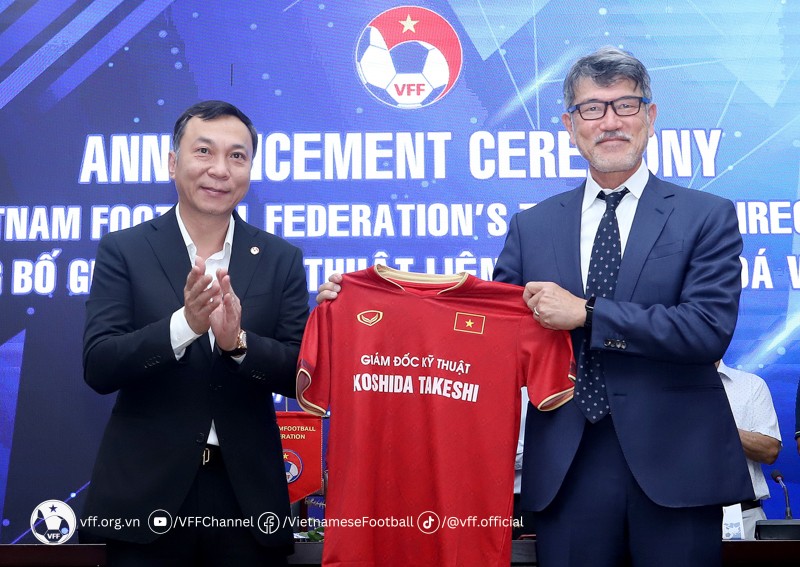 VFF President Tran Quoc Tuan and VFF's new technical director Koshida Takeshi. Photo: VFF
The Japan Football Federation (JFA) evaluated Takeshi as one of the best experts with more than 30 years of experience in leading the youth teams of U22 and U18 of Japan.
He holds a Pro degree from the Asian Football Confederation (AFC) and has rich experience in training young players and has mainly been in charge of management throughout his career.
Speaking at the ceremony, VFF General Secretary Duong Nghiep Khoi said he believed Takeshi will effectively help develop Vietnam's youth football and improve training for young coaches at training centres and clubs in Vietnam.
Takeshi will also help clubs step by step strengthen their coaching staff to meet the AFC's criteria, he said.
Takeshi said that his mission is to successfully train Vietnamese coaches while helping them still conform to Vietnamese national characters and football.
The new technical director said in the short term, he will help those coaches get C and A diplomas from the AFC and FIFA, and in the long-term goal, they can pass on their knowledge to other coaches in Vietnam.
Regarding the plan to work with the coach of the Vietnamese national youth team, Takeshi said there is a Japanese coach, Akira Ijiri, who is leading the U20 women's team.
"Together with him [Akira Ijiri], we will cooperate more deeply with the Vietnamese youth team coaches," he said. Takeshi added that he had met and discussed Vietnamese football with head coach of the national team Philippe Troussier.