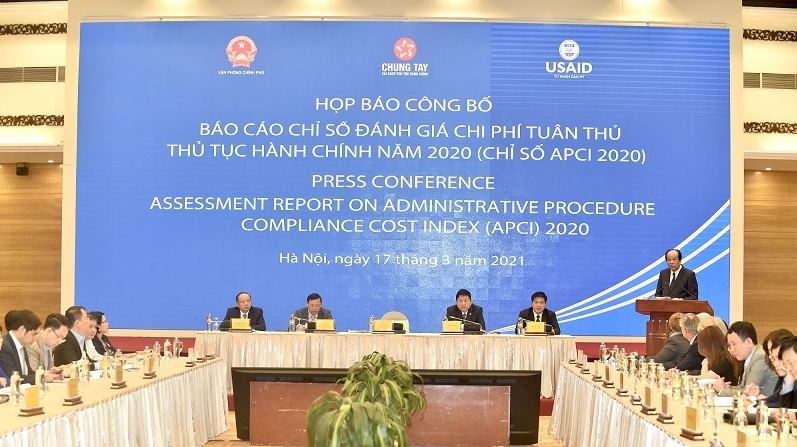 The press conference was held to announce an assessment report on administrative procedure compliance cost index (APCI 2020) on the morning of March 17. (Photo: VGP)
During a press conference which was held to announce an assessment report on administrative procedure compliance cost index (APCI 2020) on the morning of March 17, Minister and Chairman of the Government Office Mai Tien Dung stated that Vietnam's Ease of Doing Business Index had jumped from 90th to 70th on 2020.
The country's Global Competitiveness Index 4.0 (GCI 4.0) also jumps10 places to get to 77th out of 140 nations and territories. These positive indicators reflect the government's achievement through good institutions and policies to foster economic development.
"APCI 2020 bears a significant message, which is to systematically acknowledge the reform process's success and points out its drawbacks. Base on that foundation, upcoming directives relating to investment and business environment improvement, and enterprise development shall be decided," said Dung.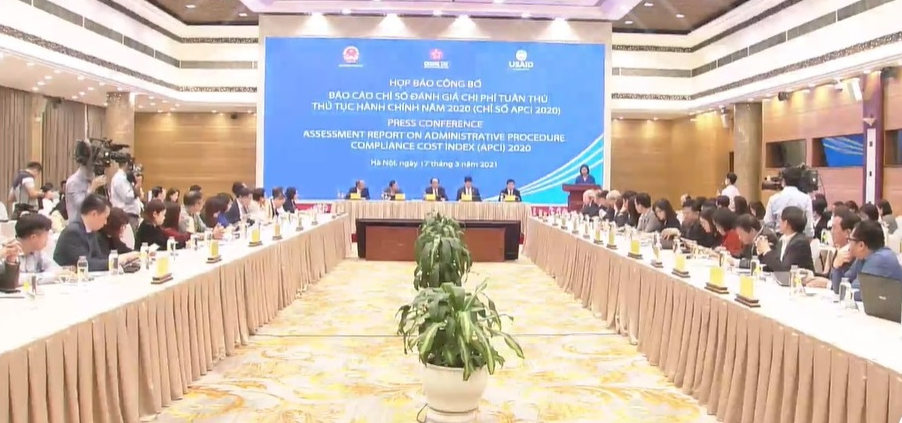 Overview of the conference. (Photo: VGP)
He added that besides lessons learned from APCI 2018, 2019, APCI 2020 continued to show that there was still large room for administrative reform and compliance cost control. The index contributed valuable experience to promote reform, continue to reduce administrative cost, both officially and unofficially, aiming to create a healthy, transparent business environment and integrity and reliable public service system, bringing opportunities for businesses to enter global and regional value chain, said the Minister.
Electronic administrative procedure implementation and settlement is now no longer a priority to consider but a Government and ministries' top-list urgent task. This is a highly welcomed trend by the business community as it offers chances to participate in the 4th Industrial Revolution and the digital transformation process, while minimizes negative, harassment and risk often appears in traditional methods such as natural disasters or pandemics.
Minister Mai Tien Dung speaking at the conference (Photo: VGP)
In order to fully and truly evaluate the reform's values, lessons learned from APCI 2020 are all located in the context that Vietnam has to promote economic development, attract foreign investment inflows that tend to shift, and face major challenges due to COVID-19 impact.
Through the use of appropriate methodology and serious practices of the study team, the APCI 2020 is believed to help the Government, ministries, sectors, localities, and relevant agencies form an effective reference information channel to make appropriate decisions. These can serve to promote the goal of simplifying administrative procedures whilst improving the business investment environment as a means of facilitating the operations of firms moving forward.
Built on a standard cost model and surveys at businesses in Vietnam's 63 cities and provinces, since 2018, when it was released for the first time, the APCI annual report has been considered an important tool that objectively reflects the level of administrative reform, improvements to the business environment, and enforcement of policies and laws through analyzing costs enterprises must pay to conduct administrative procedures in line with the law.
Valerie Mai