Vietnam, New Zealand formally elevate ties to strategic partnership
Prime Minister Nguyen Xuan Phuc and New Zealander counterpart Jacinda Ardern agreed to formally elevate the two countries' comprehensive partnership to strategic partnership during their virtual summit on July 22, reports VOV.

Vietnamese Prime Minister Nguyen Xuan Phuc and his New Zealand counterpart Jacinda Ardern during the virvual summit on July 22. Source: VGP
"The strategic partnership is aimed at further strengthening the overarching framework for engagement and cooperation between Vietnam and New Zealand, for the benefits of our people, contributing to peace, stability and prosperity in each country, the region and the world," reads the joint statement issued following the talks.
To guide this strengthening relationship, the statement says New Zealand and Vietnam are committed to deepening bilateral political cooperation through frequent high-level exchanges between political parties, parliamentary and governmental delegations.
During their talks, PM Phuc and PM Jacinda Ardern described trade and investment cooperation as a key component of the bilateral strategic partnership. Therefore, they vowed to open markets and reduce barriers to bilateral trade, especially for agricultural, seafood, and timber products through enhancing market access, trade facilitation, information exchange, and collaboration between the two countries' customs, and agriculture, food safety, and animal health agencies.
To boost two-way investment and inclusive growth, the two PMs agreed to promote cooperation in developing micro, small and medium-sized enterprises (MSMEs), indigenous and ethnic businesses.
They pledged to further enhance bilateral agriculture cooperation, including through joint research, collaboration and action on climate change in agriculture and forestry, agri-tech, technical assistance on plant health laboratory accreditation, plant breeding, food safety management and electronic certification, trade in legal timber products, and commercialization of agriculture products.
The two PMs reaffirmed their countries' commitment to deepening regional economic integration by resisting all forms of protectionism and promoting trade liberalization across the Asia-Pacific region. They voiced their unwavering support for the rules-based, free, open, transparent, and inclusive multilateral trading system, including reform of the World Trade Organization.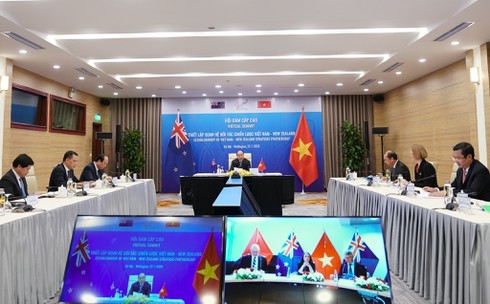 Both PMs express concerns over recent developments in the East Sea and call on relevant parties to fully observe international law, including UNCLOS. Photo: VOV
Regarding East Sea issue, the two PMs reaffirmed the importance of maintaining peace, stability, security, safety, freedom of navigation and overflight, pursuing the peaceful resolution of disputes and respecting legal and diplomatic processes, in accordance with international law, particularly the 1982 United Nations Convention on the Law of the Sea (UNCLOS).
PM Phuc and PM Jacinda Ardern express "continued concerns" over developments in the East Sea, including disruptive activities, and underscore the importance of non-militarisation and self-restraint in the conduct of activities and avoidance of actions that may further complicate the situation or escalate disputes and affect peace and stability.
The pair underscored the importance of UNCLOS dispute settlement mechanisms and called upon the parties to respect the decisions rendered by these mechanisms, reiterating the importance of the full and effective implementation of the Declaration on the Conduct of Parties in the East Sea (DOC) in its entirety as well as the swift conclusion of an effective and substantive Code of Conduct for the East Sea (COC) that is consistent with international law, particularly UNCLOS, without prejudice to the interests of third parties or the rights of states under international law.
The two PMs emphasised that UNCLOS provides the solid legal framework within which all activities in the oceans and seas must be carried out.
Following talks, the two PMs witnessed the signing of a number of cooperation documents in the areas of agriculture, education, finance, and vocational training between Vietnam and New Zealand.
Vietnamese PM Nguyen Xuan Phuc welcomes his New Zealand counterpart Jacinda Ardern to Da Nang for the 2017 APEC summit. File photo: VNA
2020 marks the 45th anniversary of the establishment of diplomatic ties between Vietnam and New Zealand.
By the end of 2018, New Zealand had 28 valid projects in Vietnam with a total registered capital of approximately USD 101.94 million, ranking 41 out of 120 countries and territories investing in Vietnam. Meanwhile, Vietnam had 6 joint venture projects in New Zealand capitalized at USD 25.62 million, focusing on processing and manufacturing industries, hotel and catering services, agriculture, forestry and fisheries.
New Zealand is also an official development assistance (ODA) donor for Vietnam, with the amount of ODA funding increasing annually, from just USD 2.3 million in 2003-2004 to about USD 7.4 million in 2012-2013, and USD 18.6 million in 2015-2018. Its ODA has been funneled through bilateral and multilateral channels, focusing on such areas as human resource development, education and training, sustainable agriculture and rural development./.