Vietnam News Today (Aug. 19): Vietnam Among Best Global Destinations for Foodies
Vietnam News Today (Aug. 19): Vietnam, Kazakhstan foster multi-faceted cooperation; Vietnam among best global destinations for foodies; Vietnam's mainland may be hit by 3-5 storms from now to early 2023; Vietnam welcomes fresh wave of FDI.
Vietnam News Today (Aug. 19) notable headlines
Vietnam, Kazakhstan foster multi-faceted cooperation
Vietnam among best global destinations for foodies
Vietnam's mainland may be hit by 3-5 storms from now to early 2023
Vietnam welcomes fresh wave of FDI
Vietnam needs extra US$368 billion to achieve net zero emissions
Over 150 RoK businesses seek investment trends in Vietnam
Export growth in second half forecast to fall below expectations
Czech writer wins prize at National External Information Service Awards
Dien Bien set to host Vietnam-Laos cultural exchange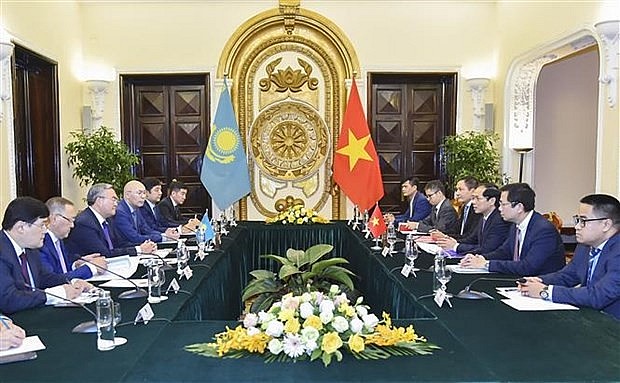 At the talks between Vietnamese Minister of Foreign Affairs Bui Thanh Son, and Deputy Prime Minister and Minister of Foreign Affairs of Kazakhstan Mukhtar Tileuberdi. Photo: VNA
Vietnam, Kazakhstan foster multi-faceted cooperation
Vietnamese Minister of Foreign Affairs Bui Thanh Son, and Deputy Prime Minister and Minister of Foreign Affairs of Kazakhstan Mukhtar Tileuberdi compared notes on measures to foster cooperation between the two countries during their talks in Hanoi on August 18.
Son viewed Tileuberdi's Vietnam visit, which was made from August 17-18 on the occasion of the 30th founding anniversary of diplomatic ties, as momentum to strongly beef up traditional friendship and multi-faceted cooperation between the two countries.
He welcomed the Kazakh delegation, which included representatives of Kazakh state management agencies in finance and investment who came to explore cooperation and business opportunities in the Southeast Asian nation.
The minister suggested Kazakhstan support Vietnamese investors to operate in the market.
For his part, Tileuberdi affirmed that Vietnam is a priority partner of Kazakhstan in the region, and that attaching importance to boosting the relationship is an important part of Kazakhstan's foreign policy towards Asia-Pacific, cited VNA.
He held that ample room still remains for Vietnam-Kazakhstan economic and trade collaboration, especially in agriculture, tourism, clean energy and high tech, lauding the plan to open a direct route between the two countries to enhance their tourism and transportation cooperation in the time ahead.
Both sides expressed their delight at the expanded bilateral cooperation in all Party, parliament and State channels and people-to-people exchanges over the past three decades.
They stressed the need to step up the exchange of delegation at all levels.
Host and guest agreed to better optimize opportunities generated by the Vietnam-Eurasian Economic Union (EAEU) Free Trade Agreement to which Kazakhstan is also a signatory.
The two sides will also soon organize the meeting of the Vietnam-Kazakhstan Inter-governmental Committee for Economic-Commercial and Scientific-Technological Cooperation.
They will consider establishing joint ventures in areas such as garment-textiles and food processing, and create optimal conditions for their goods to penetrate their respective markets.
Both emphasised the significance of maintaining peace and stability in the Bien Dong Sea and concurred to intensify coordination at regional and international organizations and forums, especially the United Nations and the Conference on Interaction and Confidence-Building Measures in Asia, of which Kazakhstan holds the Chairmanship for 2020-2022.
Vietnam among best global destinations for foodies
Skyscanner, a travel site based in Scotland, has named Vietnam among the world's six best destinations for food lovers, alongside Mexico, India, Thailand, Nepal, and Singapore.
If you've ever tucked into a steaming bowl of pho, you'll understand why foodie travelers fall in love with Vietnamese cuisine, according to Skyscanner.
The food is renowned for being simply irresistible, such as fluffy bánh mì stuffed rolls and soft, fresh summer rolls filled with shrimp and mint leaves. In addition, travelers can purchase a perfect bowl of pho for less than £1 with a local beer.
After visitors have raided the street food stalls of Hanoi, they can then take an hour-long domestic flight to the lesser-known food capital of Hoi An, a destination where Chinese, French, and Japanese influences combine to create a unique take on Vietnamese cuisine, the site noted.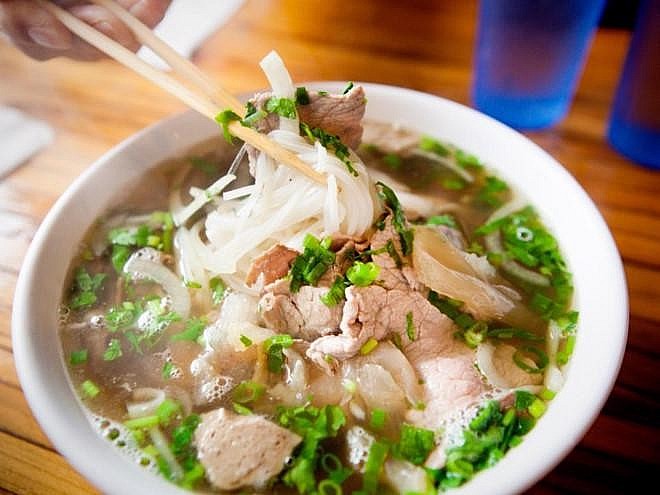 Photo: kinhtedothi
Alongside Vietnam, five other countries were also called into the list as great places "without worrying about blowing your budget".
Mexico topped the list as one of the best countries in the world for its delicious street food. Almost 60% of the Mexican population eats street food at least once per week, spending on average less than £2 each time.
Furthermore, foodies traveling on a budget will be pleased to know that the finest Indian food is generally the best value.
Other cuisines to make the list include Thailand, which has many famous dishes including pad thai, green curry, and massaman curry, as well as Nepal where guests can get addicted to momos - dumplings filled with minced meat, encased in supple dough and steamed and sold for less than £1. This is along with Singapore where a meal of street food typically costs around £3.
Vietnam's mainland may be hit by 3-5 storms from now to early 2023
There will be 8-10 storms and tropical depressions in the Bien Dong Sea from now to February 2023, of which from three to five storms are likely to directly affect Vietnam's mainland, according to the National Center for Hydro-Meteorological Forecasting.
From October-November, the central and southern regions are forecast to experience higher-than-average rainfall. The southern region may also suffer unseasonal rains in the first months of 2023.
The whole nation is warned to maintain their watch against dangerous weather phenomena such as thunderstorms, whirlwinds, and hails, according to VNA.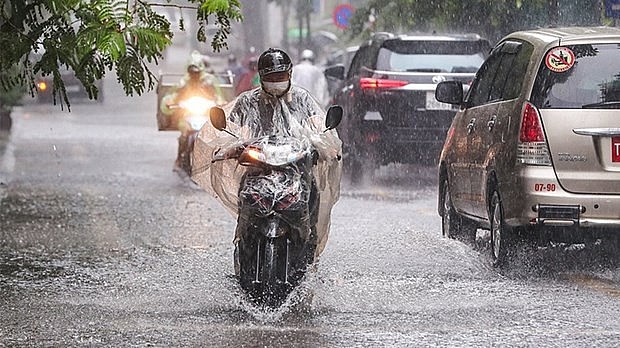 In a heavy rain. Photo: VNA
This year, the northern region is predicted to be hit by early cold waves, with the temperature in the first months of winter likely to be lower than the average of many previous years.
From September-December, two or three heavy floods may hit the central and Central Highlands regions.
People are adviced to keep a close watch on weather forecasts and warnings of the National Center for Hydro-Meteorological Forecasting, and seriously follow local authorities' disaster response measures.
Vietnam welcomes fresh wave of FDI
Vietnam has recently welcomed a new wave of foreign direct investment (FDI) inflows as global companies move to diversify their production chain in the post-Covid-19 period, according to industry insiders.
Despite newly-registered investment suffering a decline, the disbursement of FDI in the country hit US$11.57 billion in the first seven months of the year, up 10.2% on-year.
Foreign-invested businesses have been constantly increasing their investment in the Vietnamese market and expanding projects, thereby highlighting their great confidence in the national economy and the country's business climate.
Most notably, Samsung Electro-mechanics Vietnam has raised their investment twice, with US$920 million and US$267 million in Thai Nguyen province, while Samsung HCMC Electronics CE Complex Co., Ltd. also moved to increase its capital to over US$841 million.
Furthermore, Samsung has also lifted its capital for three plants manufacturing electronics, network equipment, and multimedia audio products in the localities of Bac Ninh, Nghe An, and Hai Phong, with additional investment of close to US$306 million, US$260 million, and US$127 million, respectively.
Moreover, the northern province of Quang Ninh granted new investment licenses to two projects worth over US$55.5 million on producing solar panels and building factories, warehouses, and offices, VOV reported.
Photo: VOV
The northern port city of Hai Phong also presented investment licences to six projects with a total investment of VND4.597 billion, as well as five other projects exceeding US$231 million.
Nguyen Anh Tuan, deputy director of the Foreign Investment Department under the Ministry of Planning and Investment, pointed out that the country has seen a wealth of opportunities to receive a fresh wave of FDI moving into the post-pandemic period, with a specific focus on key manufacturing industries such as food processing, electronic equipment and components, e-commerce and logistics, and automobiles.
Vietnam is anticipated to have the chance to keep up with the trend of shifting global production chains in order to attract foreign capital and develop some new fields in the Vietnamese market, including medical equipment, biology, pharmaceutical chemistry, biochemistry, pharmaceuticals, and information technology products, Tuan added.
Nguyen Van Toan, vice chairman of the Vietnam Association of Foreign Invested Enterprises (VAFIE), revealed that the local infrastructure system, especially road traffic, seaports, and the capacity of supplying human resources, has been significantly improved.
In line with this, the Government has created a favorable and open business environment which is similar to international practices, thereby facilitating foreign investors' activities throughout the country.
Deputy Minister of Planning and Investment Tran Quoc Phuong emphasized that industrial parks and economic zones represent key regions which have attracted a large source of domestic and foreign investment, thereby becoming leading destinations for several major corporations such as Samsung, Canon, LG, Sumitomo, and Foxconn.
At present, industrial parks and economic zones have attracted more than 10,000 domestic projects and nearly 11,000 valid FDI projects with a total registered investment capital of roughly US$340 billion, of which, total FDI capital hit approximately US$230 billion.
Japan's Onaga Company has recently received an investment certificate for an aeronautical and automotive component manufacturing plant located in the Hanoi Southern Support Industrial Park (HANSSIP).
Onaga Masaru, chairman of Onaga Company, highlighted the Vietnamese market's potential, which annually imports components for cars, motorcycles, and machinery of all types worth US$100 billion, as well as local authorities' incentive policies for investors.
Narukama Hiromitsu, general director of Mitsui&Co. Vietnam Ltd., a member of the Board of Directors of the Japan Business Association in Vietnam, revealed that Japanese firms have expanded their business to Vietnam, adding that they still face numerous challenges related to investment licenses and issues on labor tax and energy infrastructure.
He therefore proposed the establishment of a "one-stop shop" mechanism for FDI projects to simplify the existing cumbersome licensing procedures, noting that the nation needs to deploy the digitalization of public administrative services to further improve the local investment environment and enhance its international competitiveness in the future.
Vietnam needs extra US$368 billion to achieve net zero emissions
As the energy industry has a crucial role in achieving net zero emissions by 2050, it requires a structural transition toward green growth. Therefore, Vietnam needs assistance from developed countries regarding both financial and technical issues.
To detail the national green growth strategy, the Prime Minister on July 22 approved the national action plan on green growth for 2021-2030 with four important goals. The goals are to reduce greenhouse gas emissions per GDP, to green economic sectors, to green lifestyles and promote sustainable consumption, and to green the transition on the principles of equality, inclusion, and resilience.
Speaking at the conference on the impact of COP26 on the energy transition towards green growth launched on August 17, Nguyen Thi Bich Ngoc, deputy minister of the Ministry of Planning and Investment, said that resources are the biggest problem in realising the goals of the energy transition and moving towards the net zero emissions target by 2050.
According to the World Bank's calculation, to achieve net zero emissions, Vietnam needs an additional US$368 billion during 2022-2040, approximately 6.8% of GDP each year.
Of which, the building resilience process alone will account for about two-thirds of this amount because a significant amount of capital needs to be mobilised to protect assets and infrastructure as well as vulnerable populations.The cost of the decarbonisation roadmap is mainly derived from the energy sector, including the expense of investing in renewable energy and managing the transition away from coal, which could cost about US$64 billion during the 2022-2040 period.
"Thanks to the fast growth of renewable energy and fuel swap of thermal power plants, the CO2 emissions of the power development plan revision after COP26 have decreased sharply," said Hoang Tien Dung, director of the Electricity and Renewable Energy Department under the Ministry of Industry and Trade (MoIT).
CO2 emissions will peak in 2031 - 2035 at 231 million tonnes, then decline gradually. By 2045, CO2 emissions fall to about 175 million tonnes, which means about 208 million tonnes of CO2 reduction compared to pre-COP26 alternatives. By 2050, it is estimated that CO2 emissions from the power generation sector will be about 40 million tonnes per year, helping Vietnam meet its commitment at COP26 of net zero emissions by 2050.
Attending the event, Dang Hoang An, deputy minister of MoIT, said that the energy transition is not only the internal issue of the energy sector, but the transition of the whole economy from an energy-intensive model to one that is energy-efficient.
Electricity and energy demand will continue to grow along with the industrialisation and modernisation of the country's economy in the future, calculations from the MoIT showed. It is a challenge to meet the growth rate, cited WVR.
Therefore, the most important mission now is to build a suitable, feasible, and sustainable development strategy.
"I would like to stress the importance and urgency of cooperation in research and development of energy science and technology on a global scale, especially technology for large-scale power generation from new primary sources such as hydrogen, ammonia, advanced energy storage technology, and CO2 absorption and storage technology," An said, adding that it is necessary to raise awareness of the urgency of economical and efficient use of energy in all sectors of the economy.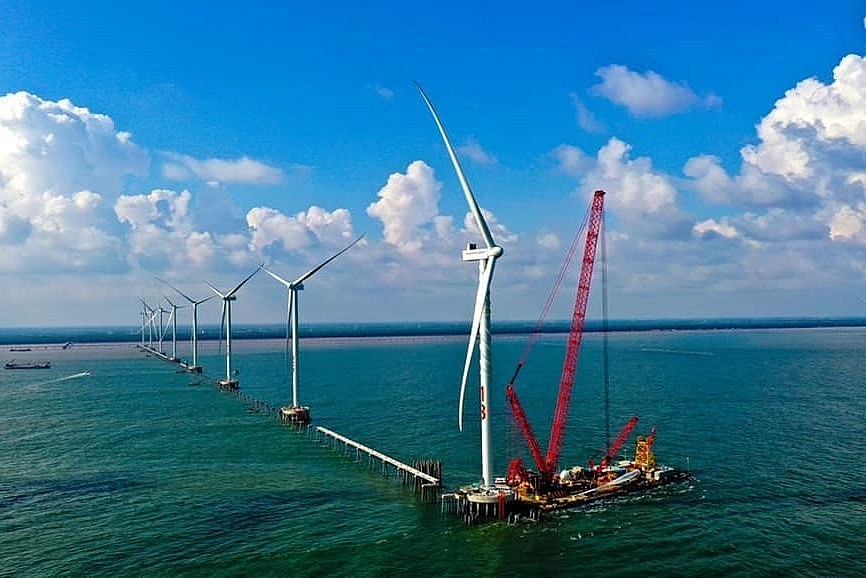 Strive for net zero emissions by 2050. Photo: MOIT
Ngoc also proposed five ideas related to the energy transition in the future. The first is to carefully calculate the roadmap for the green and sustainable transition to ensure national energy security.
Secondly, during the transition, it is necessary to reduce its impact on vulnerable groups, especially the effect of higher electricity bills on poor households and the transfer or job loss of workers in industries and fields such as fossil energy to renewable energy.
Third, all parties involved in the transition are responsible for it. Four, completing the transition requires the support of finance and technology from developed countries.
Lastly, during the process of implementing the energy transition, it is necessary to effectively carry out assessment, inspection, supervision, and related sanctions to limit and reduce investment, have alternative routes, and close polluting production facilities and high-carbon infrastructure.