Vietnam News Today (Aug. 3): VNeID app officially used for boarding domestic flights
Vietnam News Today (Aug. 3): Vietnam wishes to strengthen ties with International Trade Centre: ambassador; Two to three tropical storms, tropical depressions to batter Vietnam this August; Three years into EVFTA: Vietnam's agricultural exports grow impressively; VNeID app officially used for boarding domestic flights.
Vietnam News Today (Aug. 3) notable headlines
Vietnam wishes to strengthen ties with International Trade Centre: ambassador
Two to three tropical storms, tropical depressions to batter Vietnam this August
Three years into EVFTA: Vietnam's agricultural exports grow impressively
VNeID app officially used for boarding domestic flights
Vietnamese enterprises enter international market
Foreign investment attraction - silver lining in Hung Yen province
President presents Friendship Order to outgoing Italian Ambassador
Vietnam, Indonesia vow to strengthen defence cooperation
Vietnam exerting efforts to realise net zero commitment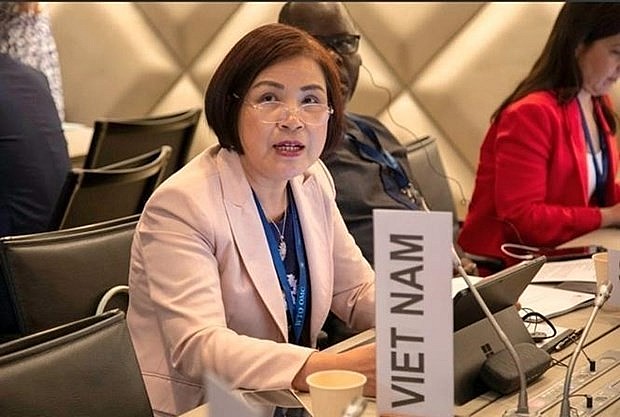 Vietnamese Ambassador Le Thi Tuyet Mai speaks at the 57th session of the International Trade Centre's Joint Advisory Group on July 20. (Photo: VNA)
Vietnam wishes to strengthen ties with International Trade Centre: ambassador
A Vietnamese diplomat has highlighted the country's wish to enhance cooperation with the Geneva-based International Trade Centre (ITC) while addressing the recent 57th session of the ITC's Joint Advisory Group.
In her remarks, Ambassador Le Thi Tuyet Mai, Permanent Representative of Vietnam to the United Nations, the World Trade Organisation (WTO) and other international organisations in Geneva, highly valued the ITC's assistance for micro, small and medium-sized enterprises (MSMEs) over the past years, especially for their digital transformation, green transition and access to foreign markets, along with its trade facilitation.
Vietnam hopes to strengthen ties with the ITC in the time ahead on the basis of its trade and development achievements obtained during the transformation from an underdeveloped country into a lower-middle-income one, she went on.
The country is working hard to implement the climate change response strategy and shift to a circular economy, she said, noting that green growth is not only an inevitable choice but also an opportunity for Vietnam to keep up with the global development trend and reach the target of net zero emissions by 2050.
Therefore, Vietnam and some other countries' participation in the new ITC project of "Climate competitiveness: Building opportunities in the green economy for emerging and developing countries", funded by the European Union for 2023 - 2026, will create favourable conditions for them to capitalise on assistance during the adjustment of policies and trade practices in adaptation to climate change, and discuss trade and environmental issues at WTO to boost trade and sustainable development.
As an active ITC member since 2007, Vietnam sincerely appreciates contributions by the ITC and other sponsors to the technical support and capacity building projects for its MSMEs, Mai noted, applauding the development of the Vietnam - ITC partnership as seen in some pilot projects of the centre.
The hybrid 57th session of the ITC's Joint Advisory Group reviewed the centre's performance in 2022 and gave recommendations for its activities in the time ahead, cited VNA.
ITC Executive Director Pamela Coke-Hamilton said the centre disbursed more than 150 million USD for projects in 130 countries last year, the highest-ever sum. ITC-funded projects helped over 27,000 small businesses, including 10,000 women-led ones, improve their competitiveness.
At a meeting with Ambassador Mai prior to the session, Coke-Hamilton described Vietnam as an excellent partner of the ITC during the implementation of this centre's projects in Southeast Asia.
The country is accessing some ITC-financed programmes and projects to improve export competitiveness and trade promotion capacity of MSMEs. In Vietnam, the centre is running nine projects, the biggest among ASEAN members.
Two to three tropical storms, tropical depressions to batter Vietnam this August
The East Sea is anticipated to brace for two to three tropical storms or tropical depressions in August 2023 that are likely to pound the coast of Vietnam, according to the National Centre for Hydro-Meteorological Forecasting.
They will probably strike the northern and north-central provinces of Vietnam, reported the National Centre for Hydro Meteorological Forecasting.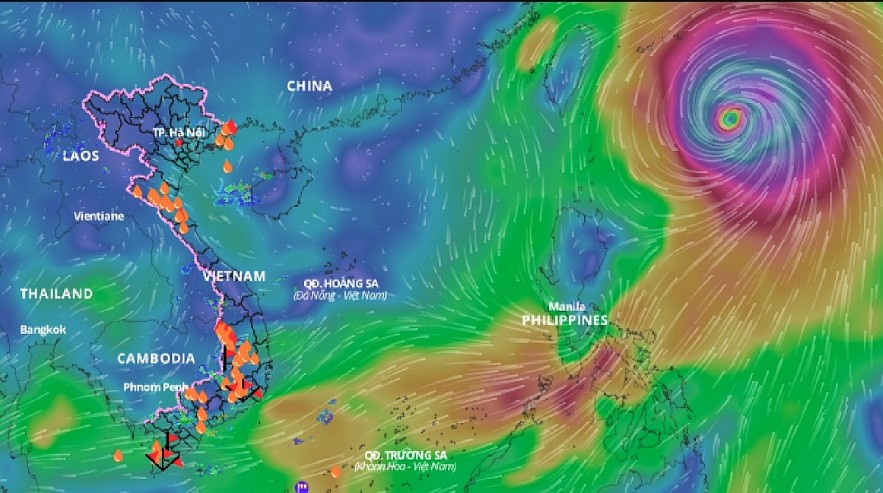 Vietnam is likely to be impacted by two to three tropical storms or tropical depressions this August.
The centre said the number of tropical storms and tropical depressions that hit the East Sea and Vietnam might be lower than the annual average.
Between 11 and 13 storms or depressions are likely to form in the East Sea, of which five to seven will probably hit Vietnam, said the centre.
Tropical storms are forecast to be more active in the East Sea from August to October 2023 and gradually subside from November 2023, according to VOV.
In July 2023, two tropical storms formed from tropical depressions in the waters off the coast of the Philippines.
Typhoon TALIM slammed into the southern part of China's Quangxi province on July 18 before moving along the Vietnam – China border, weakening and dissipating in northern border localities of Vietnam.
Meanwhile, DOKSURI strengthened into a super typhoon before the northern part of the East Sea. the super typhoon swept across the Philippines and then pounded Taiwan (China), but did not hit the northern coast of Vietnam.
Three years into EVFTA: Vietnam's agricultural exports grow impressively
Since the EU-Vietnam Free Trade Agreement (EVFTA) took effect in August 2020, most commitments in the agreement have been implemented and left positive impacts on business activities, especially trade, said Do Viet Ha of the Trade Office of the Vietnamese Embassy in Germany.
She cited statistics from the General Department of Vietnam Customs which showed Vietnam's total export turnover to 27 member countries of the European Union (EU) in the period 2020-2022 recorded good growth.
Specifically, in 2022, total value of Vietnam's export to the EU reached 46.83 billion USD, marking a year-on-year increase of 16.7%, and accounting for 12.6% of Vietnam's total export turnover. Particularly, exports to Germany totalled 8.97 billion USD, up 23.1% compared to 2021.
Meanwhile, data from the German Federal Statistical Office (Destatis) showed Germany's import turnover from Vietnam reached 15.4 billion USD, up 21% compared to 2021, Ha said, explained that the difference between the figures is due to statistical methods and different rules of origin applied.
She listed some Vietnamese export items that recorded impressive growth to Germany, which were cameras, camcorders, and components, up 265.9%; toys and sports equipment up 126%; footwear 53.8%; textiles 37%.
The export of some agricultural and aquatic products grew steadily, with aquatic products increasing by 26.1%; vegetables by 8%; coffee by 13.1%; tea by 14.6%, reported VNA.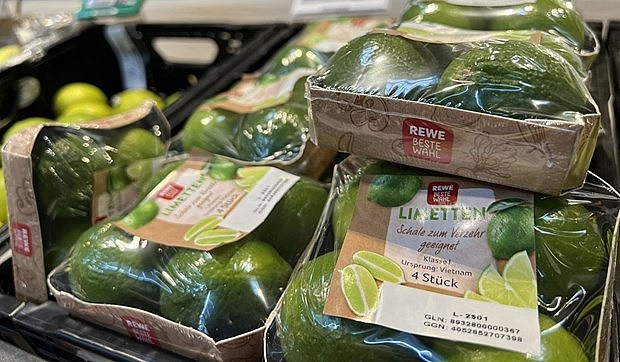 Vietnamese lemon is sold at a supermarket in Germany. (Photo: VNA)
The EU is Vietnam's third-largest trading partner and an import market for agricultural products with strong growth after the EVFTA came into effect. Vietnam's agricultural sector is considered one of the biggest beneficiaries of the EVFTA.
Vietnam's key agricultural products exported to the EU are seafood, rice, and vegetables, which all enjoy preferential tax rates right after the EVFTA comes into effect, while rules on origin and protection of geographical indications give Vietnamese agricultural and aquatic products opportunities to enhance their brands and product value on the EU market.
The official noted that rice is not a key item in export to the EU, but its export turnover in this market has increased steadily in recent years. This shows that EVFTA has actively supported Vietnam's exports. Businesses also make the most of the rice quotas to enjoy the 0% tax rate that the EU gives Vietnam.
Last year, rice exports to the EU market increased sharply, reaching 94,510 tonnes and exceeding the annual quota of 80,000 tonnes set in the EVFTA. Rice exports to some EU markets posted strong growth such as the Netherlands (44%), Poland (68%), Spain (89%), and Belgium (149%).
Regarding the benefits of the agreement for EU countries, Ha said that Vietnam has made a strong commitment to cutting taxes under the EVFTA, thereby offsetting the high transport costs from EU to Vietnam and increasing EU products' competitiveness.
Products from Germany/EU enjoy tariff reduction under EVFTA including vehicles, electrical machinery and equipment, plastic products, iron and steel, mineral oil, meat and poultry, sausages, milk, and dairy products.
In addition, Vietnam's commitments related to customs reform and trade facilitation, food hygiene and safety, animal and plant quarantine, technical measures for trade, and trade remedies make it easier for EU goods to access the Vietnamese market.
However, when entering the EU market, Vietnamese goods still face difficulties, particularly in meeting the rules of origin to enjoy preferential tariffs, and the risk of increasing trade remedies, Ha said.
To overcome these difficulties and maximise benefits from the EVFTA, the official said that businesses need to proactively study the guidelines of the agreement, the standards of goods exported to the EU market, as well as the EU market, people's tastes and consumption need, with a view to suitably improving product quality and design.
According to Ha, the government needs to develop an overall strategy to provide orientations and roadmaps for ministries, sectors, and localities to fully and promptly implement the commitments of the EVFTA; develop mechanisms to facilitate the development of domestic enterprises, prepare solutions to support industries under great competitive pressure when implementing the agreement.
More policies are also needed to attract foreign investment from the EU to Vietnam, she said.
VNeID app officially used for boarding domestic flights
The Civil Aviation Authority of Vietnam (CAAV) have officially allowed passengers to use the mobile ID app VNeID when boarding domestic flights at all local airports, starting from August 2.
Accordingly, passengers who have VNeID accounts at level-2, which means their information has been verified by the authorities, will be able to use the app for security checks for domestic flights.
With a level-2 identity account, a person's driving license, vehicle registration, health insurance card, payment of various electronic bills, financial transactions, government services, and online public services are all integrated. In addition, a level-2 identity account is equivalent to a chip-based ID, cited VOV.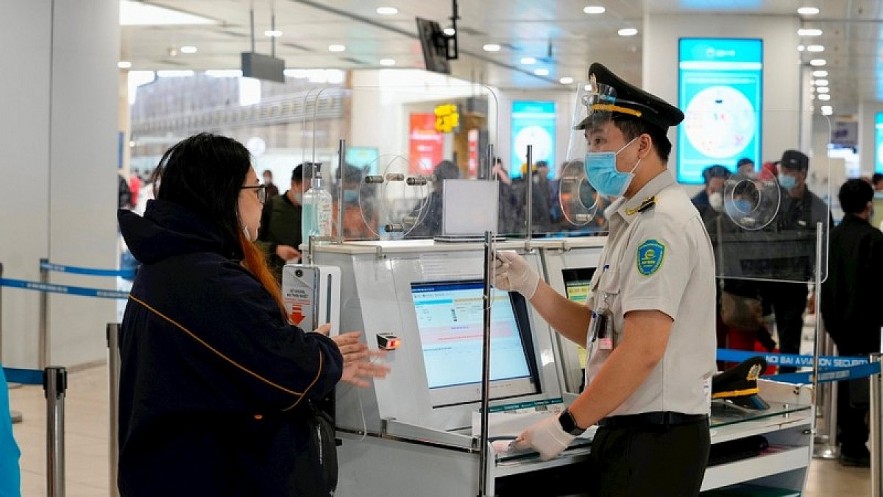 Mobile ID app VNeID has officially been used for boarding domestic flights (Photo: Ha Noi Moi)
The CAAV also requested that Airports Corporation of Vietnam (ACV) purchase equipment in order to check for authentic and fake VNeID accounts, equip biometric authentication systems, and to launch other standards and guidelines in the future on the basis of ensuring convenience for VNeID implementation.
Furthermore, from August 1 Korean Air passengers could check-in by themselves at self-check-in kiosks available at the Da Nang International Terminal.
Self check-in kiosks are a growing trend at modern airport terminals around the world, providing a quick and convenient experience for passengers. These kiosks are touch-screen devices which allow passengers to do self-check-in at a certain time prior to boarding.
The automatic check-in solution aims to digitise check-in procedures, contributing to reducing passenger congestion which occurs during peak hours and saving time for large groups of passengers.
Vietnamese enterprises enter international market
The Vietnamese business community is taking great strides on the path to bring Vietnamese-made products to the globe.
Along with the economic development of the country, the Vietnam Confederation of Commerce and Industry (VCCI) has been acting as the pedestal for Vietnamese businesses by not only suggesting policies to create favorable conditions for them to operate, but also by giving advice to go global.
VCCI's deputy chair Nguyen Quang Vinh said VCCI has been accompanying Vietnam's businesses since the 1990s, the first years after Vietnam began opening its economy.
VCCI was one of the first units that organized trips for Vietnam's businesses to go to South Korea to seek investment opportunities. In 2022, when reviewing the 30-year Vietnam - ROK relationship, VCCI took pride that it not only helped attract South Korean FDI (foreign direct investment) to Vietnam, but also supported thousands of Vietnamese businesses making outward investments.
The same has occurred with Japan. VCCI has been actively organizing business exchange activities with the international business community to assess Vietnam's economic and investment potential, cited VNN.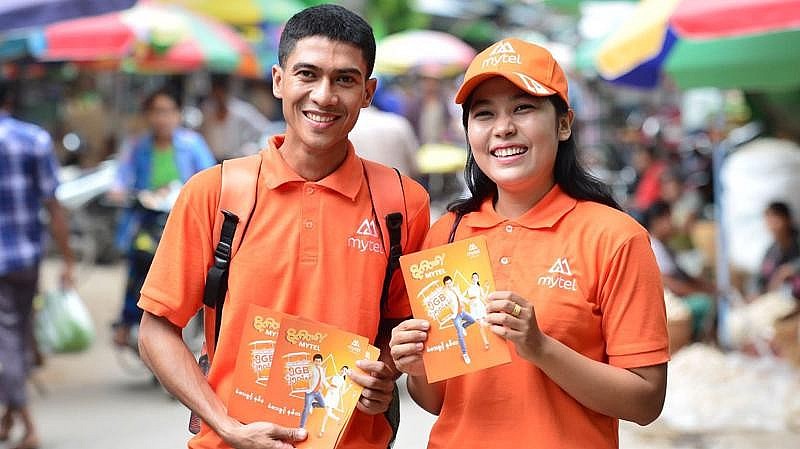 Mytel, developed by Viettel, is the most favorite mobile network in Myanmar.
Multilateral business cooperation has created conditions for Vietnamese enterprises to work directly with foreign enterprises, expand business cooperation, and attract investment capital from overseas.
Many enterprises have succeeded, such as the Sai Gon Investment Group, Sovico, BRG, and Garment 10 Company. Through the active cooperation activities with regional enterprises, the reputation of Vietnamese enterprises has improved.
Through the ASEAN Business Awards, Vietnamese enterprises prove their position in the international market in most business fields. The enterprises include Bee Logistics, SEABank, BIDV, SHB, Mirae, KinderWorld, Kem Nghia, Golf Long Thanh and Vietjet Air.
"VCCI has been playing a very important role when accompanying the Vietnamese business community to take strong steps to bring Vietnamese-made products to consumers all over the world," Vinh said.
Mentioning well known Vietnamese brands, Vinh said Vietnam now has many businesses which not only do well in the country, but also run very large investment projects overseas, such as Vingroup and Viettel,
The technology group Viettel, after many years of outward investments, is now present in 11 countries, providing services to 220 million customers in Asia, Africa and Americas.
Now Viettel is the No 1 investor in telecom in Myanmar, Cambodia, Laos, East Timor and Burundi. The group also invests in digital transformation, education and e-commerce in the markets.
Vinamilk, the nation's biggest dairy producer, after reaping fruit in the Vietnamese market, has developed foreign branches. Angkormilk, the 100 percent Vinamilk owned subsidiary, was established in 2014 in Cambodia. Vinamilk has two other subsidiaries, Driftwood in the US and Lao-Jagro Development in Laos, and a joint venture Del Monte-Vinamilk in the Philippines.
Vingroup in 2021 spent $450 million to develop projects in the US, Germany, France and the Netherlands. In early 2022, it announced to invest $4 billion on its e-vehicle factory in the US.
Highly appreciating the strong development of Vietnam's digital technology, Vinh cited a report as saying that 70,000 digital technology firms registered their establishment and operation, or three years earlier than Vietnam's plan (2025).
Statistics showed that about 1,400 businesses exported products and export revenues of digital technology in 2022 reached $136 billion.
"Businesses need to keep calm, restructure and re-position their business and export strategies to take stronger steps forwards," Vinh said.
He added that Vietnamese businesses have great advantages, including reasonable labor cost and skifull workers. What they need to do is settle the problem in foreign language skills and improve their critical thinking.