Vietnam News Today (Aug. 8): Vietnam to Form Seven Marine Economic Clusters by 2030
Vietnam News Today (Aug. 8): Vietnam reports 1,381 new Covid-19 cases on August 7; Japan keen on Vietnam's supply chains; Vietnam to form seven marine economic clusters by 2030; Webinar connects Vietnamese, Côte d'Ivoire businesses.
Vietnam News Today (Aug. 8) notable headlines
Vietnam reports 1,381 new Covid-19 cases on August 7
Japan keen on Vietnam's supply chains
Vietnam to form seven marine economic clusters by 2030
Webinar connects Vietnamese, Côte d'Ivoire businesses
Apple CEO Tim Cook appreciates Vietnam market potential
Business leaders eye challenges, opportunities to boost growth after Covid-19
Vietnam boosts agro-tourism model
Automobile sales down 42 per cent on chip shortage
Samsung plans to invest US$3.3 billion in Vietnam in 2022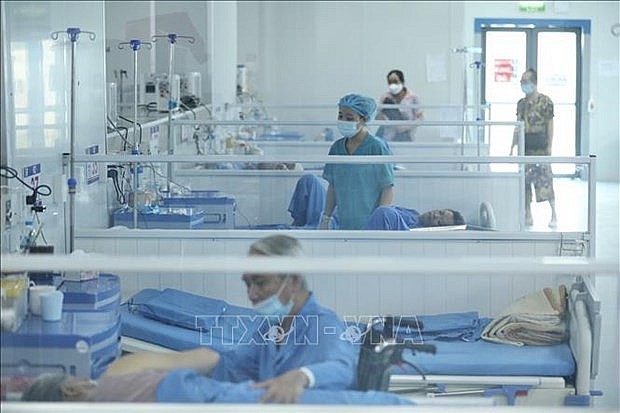 Illustrative image. Photo: VNA
Vietnam reports 1,381 new Covid-19 cases on August 7
Vietnam logged an additional 1,381 Covid-19 cases on August 7, according to the Ministry of Health.
The new infections brought the country's total number of Covid-19 cases to 11,347,518.
As many as 8,589 patients were declared to free from coronavirus SARS-CoV-2 on the day, lifting the total number of recoveries to 9,973,122.
Meanwhile, the death toll from the disease was kept at 43,094 as no fatality was reported on August 7, accounting for 0.4% of the total infections, cited VNA.
More than 248.6 million doses of Covid-19 vaccines have administered in the country so far.
Japan keen on Vietnam's supply chains
The Government of Japan will support over 40 Japanese investment projects in Vietnam to diversify supply chains post Covid-19. Compared to other regional countries, Vietnam has the largest number of chosen investment projects.
This was announced by Nobuyuki Matsumoto, chief representative of the office of the Japan Trade Promotion Organization (JETRO) in HCMC, at a press conference on the organization of the METALEX Vietnam Exhibition and the Supporting Industry Exhibition 2022 held yesterday, August 5.
Since 2021, the Ministry of Economy, Trade and Industry of Japan has implemented an investment aid policy for Japanese firms abroad, aiming to diversify supply chains in the face of the pandemic, according to Matsumoto.
Of the 103 projects selected after five rounds of consideration, Vietnam has 41 projects, followed by Thailand with 25, Malaysia with 12 and Indonesia with 12, according to SGT.
Matsumoto said in the wake of stalled production activities due to supply chain disruptions, Vietnam has drawn the attention of Japanese businesses.
Last year, the survey by JETRO showed that 55.3% of the total number of businesses agreed to expand their business in Vietnam in the next one or two years, the highest rate in Southeast Asia.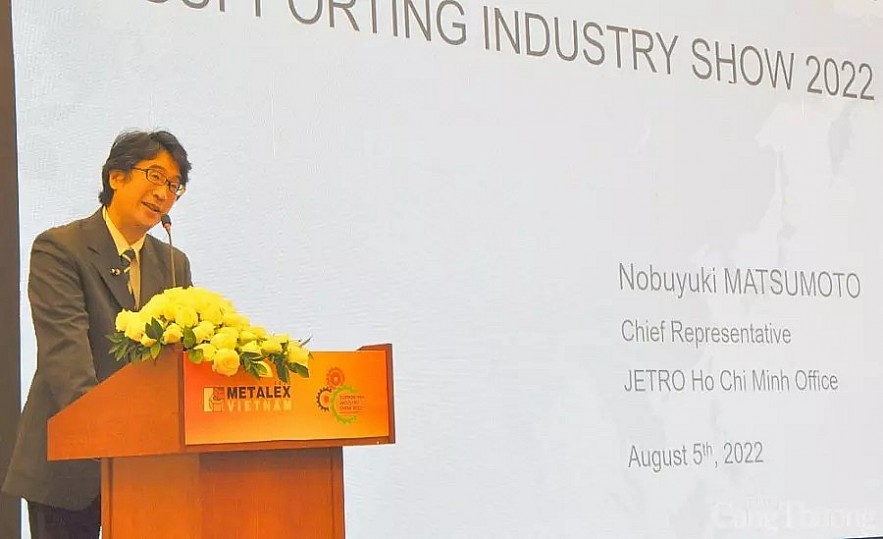 Photo: VNN
Conversely, only 2.2% of businesses sought to scale down their business in Vietnam, the smallest number in Southeast Asia and the second smallest in Asia, after Pakistan.
Shifting to higher value-added products would be one of the major advancements in terms of the business orientations of Japanese companies, as well as sustaining their strength in multi-functional products, according to Matsumoto.
However, Vietnamese businesses have also faced several challenges. Matsumoto said domestic enterprises have to deal with issues including product quality and insufficient manufacturing processes, which hinders the procurement of components and materials in the country.
Vu Trong Tai, general director of RX Tradex Vietnam Company, the organizer of the METALEX Vietnam exhibition, said Vietnamese manufacturers should update new equipment and technologies, raise productivity, decrease consumables, improve human resources and enhance cooperation in industrial value chains to bolster their competitive advantage.
By doing so, domestic firms could tap the investment potential of international corporations and expand factories in Vietnam to enter global supply chains, according to Tai.
The Supporting Industry Exhibition 2022 is organized by RX Tradex Vietnam in collaboration with JETRO, the Investment and Trade Promotion Center of HCMC and the HCMC Centre for Supporting Industries Development. The event facilitates collaboration among industry enterprises between Vietnam and Japan.
The METALEX Vietnam Exhibition and the Supporting Industry Exhibition 2022 will take place from October 6 to 8 at the Saigon Exhibition and Convention Center in HCMC.
The event will provide opportunities for manufacturing, mechanical processing and supporting industries to connect with over 250 brands from 20 countries and regions.
Vietnam to form seven marine economic clusters by 2030
Seven maritime economic clusters will be formed by 2030, serving to turn Vietnam into a strong marine country.
The information was included in Decision 892/QD-TTg recently signed by Deputy Prime Minister Le Van Thanh, approving a project on the development of marine economic clusters associated with building strong sea-based economic centers by 2030.
The project aims to build seven marine economic clusters in the next ten years in advantageous coastal areas and develop three to four leading maritime economic centers in the Southeast Asian region, VNA reported.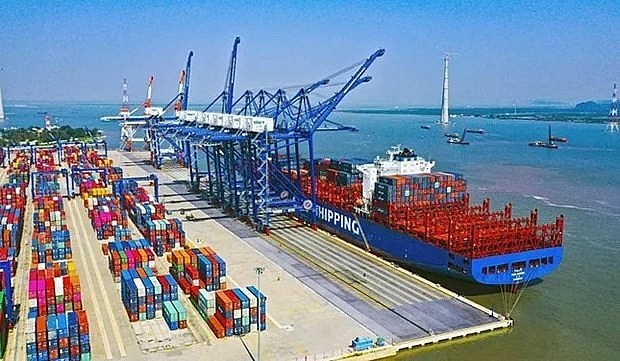 Illustrative image. Photo: VNA
The clusters will prioritize services, products with added value, attract large-scale enterprises and high-tech projects to contribute to green growth, and protect the marine ecological environment as well as the marine economy.
These clusters will also contribute to consolidating and strengthening national defence and security in the sea and islands.
Notably, developing sea and island tourism is one of the priorities for effectively exploiting the potential and strengths of tourism resources in each region and the entire coast of Vietnam.
In particular, the project stresses the importance of the development of the tourism economy with eco-tourism and leisure centres, complexes and sea and island resorts that meet international standards in clusters in the central region, the southwestern coastal area (Kien Giang - Ca Mau) and other areas with suitable conditions.
Webinar connects Vietnamese, Côte d'Ivoire businesses
The Vietnamese Embassy in Morocco and Côte d'Ivoire has recently collaborated with the Ministry of Industry and Trade's Vietnam Trade Promotion Agency and the Côte d'Ivoire Chamber of Commerce and Industry to organise a webinar connecting businesses of the two countries.
Speaking at the event, Dang Thi Thu Ha, Vietnamese Ambassador to Morocco and Côte d'Ivoire, noted that Côte d'Ivoire is one of the leading economies in West Africa and has great potential in economic and trade cooperation with Vietnam.
With a population of nearly 26.5 million people, this is a country with strong commodity consumption, but its requirements for product standards are not too strict, cited VOV.
Côte d'Ivoire is also rich in natural resources, with an abundant source of raw materials for many manufacturing industries that Vietnam can access and exploit, including some products that Vietnam has been importing with high volumes such as raw cashew nuts, cotton, and raw materials for animal feed, Ha said.
In the coming time, the embassy will coordinate with relevant domestic authorities such as the Ministry of Industry and Trade, the Ministry of Agriculture and Rural Development, the Institute for African and Middle East Studies to hold both online and in-person activities to connect Vietnamese and Cote d'Ivoire partners, she added.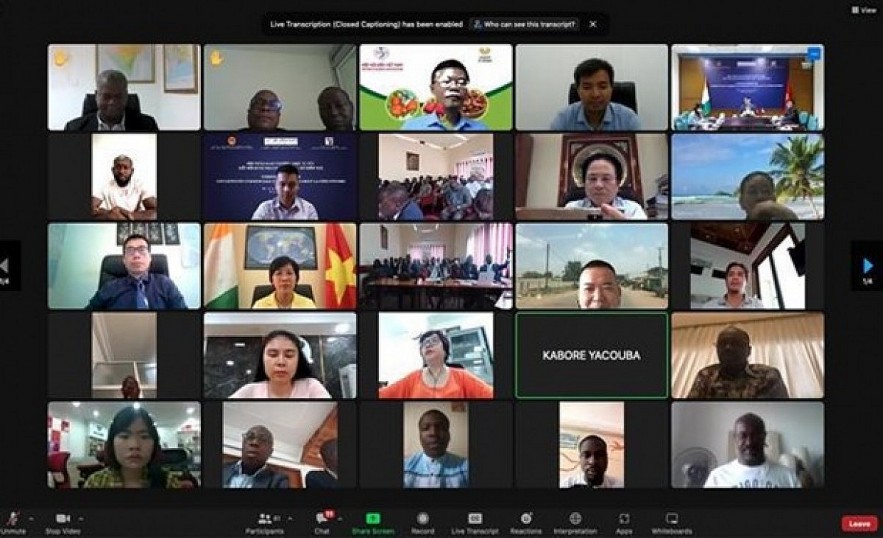 Delegates attend the webinar. Photo: VOV
Côte d'Ivoire is Vietnam's second largest trading partner in Africa, after South Africa, and the fourth largest export market of Vietnam in this continent, after South Africa, Egypt and Ghana.
In 2021, bilateral trade recorded strong recovery after a period of decline due to the impact of the Covid-19 pandemic, with a total turnover of nearly US$1.26 billion, up 38.7% compared to 2020, of which Vietnam's exports reached US$266.2 million, up 1.2% and imports US$992.3 million, up 54%.
Faman Touré, Chairman of the Côte d'Ivoire Chamber of Commerce and Industry, said that the chamber will organise a business delegation to visit Vietnam in September to seek more business and investment opportunities.
Many enterprises registered to participate in this delegation right at the webinar.
Apple CEO Tim Cook appreciates Vietnam market potential
Vietnam, together with Brazil, Indonesia and India that are emerging markets, have made practical contributions to Apple's group's outstanding performance in the second quarter of this year, said CEO Tim Cook.
In its financial report for the second quarter of 2022, Apple announced a record revenue of US$ 83 billion, up 2% over the same period last year, despite market fluctuations.
Speaking to analysts after releasing the figure, Cook noted the quarter saw record revenue in developed and emerging markets "with double-digit growth in Brazil, Indonesia and Vietnam, and a new doubling of revenue in India."
The CEO said that the company continues to execute across some significant geographies with "low penetration of iPhones between Indonesia, Vietnam and India where we did quite well".
"iPhone tends to be the engine for those markets, particularly at the beginning of creating the market there for Apple products," he added.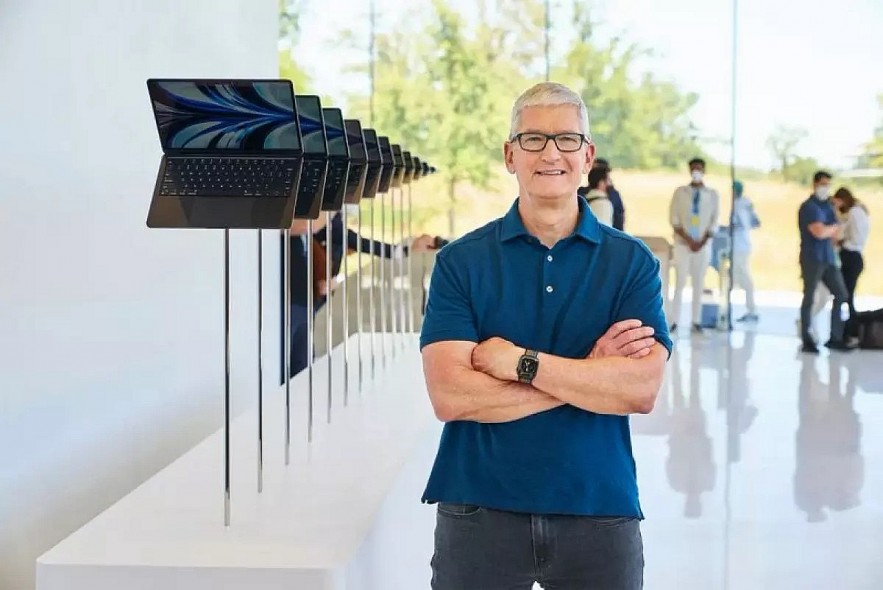 Apple CEO Tim Cook. Photo: Apple
The CEO did not specify the growth rate of each region, but iPhone is the device that has brought in the largest revenue in Vietnam. At The Gioi Di Dong stores, four iPhone models were among the top 10 smartphones with the highest revenue in the first half. At FPT Shop, iPhone 13 Pro Max was the best seller device that has generated the highest revenue.
During a meeting with Vietnamese Prime Minister Pham Minh Chinh at the Apple Park Campus in California last May, Tim Cook said Apple desires to expand its supply chain in Vietnam.
According to reports, Vietnam has 31 companies that employ 160,000 workers producing and assembling electronic parts and equipment for Apple products.
Apple is shifting more of its production lines from China to countries like Vietnam and India in order to diversify its supply chain and manufacture more products. It has started assembling some AirPods Pro, iPads, and HomePod mini devices in Vietnam.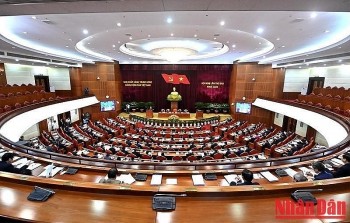 National
The 13th Party Central Committee discussed two important projects on October 4, the second working day of its 6th plenum.