Vietnam News Today (August 16): HCM City Extends Social Distancing by Another 30 Days
Vietnam News Today (August 16): HCM City extends social distancing by another 30 days; Vietnam to buy additional 20 million Pfizer vaccine doses; HCM City, Binh Duong records highest number of Covid-19 cases, total hits 9,580; All Vietnamese are equal to access modern education: new scheme
Vietnam News Today (August 16) notable headlines
HCM City extends social distancing by another 30 days
Vietnam to buy additional 20 million Pfizer vaccine doses
HCM City, Binh Duong record highest number of Covid-19 cases, total hits 9,580
All Vietnamese equal to access modern education: new scheme
Famous tourist hotpots to extend social distancing measures to contain Covid
Vietnam to fortify defense for World Cup qualifiers: captain
Forestry production expected to rise 5.5 percent annually in 2021-2025 period
Specific goals in Covid-19 fight needed to avoid crisis: PM
Kien Giang works to ensure locals' health as Phu Quoc to be open to foreign tourists
Vo Van Kiet street on July 26, 2021, after HCMC restricts people from going out after 6 p.m. Photo: VnExpress
HCM City extends social distancing by another 30 days
HCMC will extend its social distancing status by another month until September 15 in response to sustained coronavirus threats.
The decision to continue the social distancing campaign was made Sunday as the city of 10 million people completed 30 days of semi-lockdown under Directive 16 and recorded 149,286 Covid cases. It had previously gone a social distancing campaign under Directive 15 for 40 days.
Directive 16 requires people to stay home and only go out for basic necessities like buying food or medicines or to work at factories or businesses allowed to operate. Directive 15 requires suspension of social events, bans gatherings of 20 people or more in one place and of 10 people or more outside workplaces, schools and hospitals, cited VnExpress.
The pandemic is still raging in HCMC with then number of daily new infections going up on Saturday and Sunday after decreasing for a short time. The fatality rate in the city remains high at 241 deaths on average per day.
The city continues to require people not to leave their homes from 6 p.m. to 6 a.m. the next day except in the following cases: vaccination, emergency, forces in charge of pandemic prevention, those authorized by the local authorities, employees of supermarkets, convenience stores. Shops and business establishments must remain closed.
State agencies and political organizations must operate with no more than one fourth of officials on site, except for military and health sector forces that have to ensure 100 percent capacity in exercising their pandemic management functions.
Vietnam to buy additional 20 million Pfizer vaccine doses
The Vietnamese Government has agreed to buy a further 20 million doses of the Pfizer-BioNTech Covid-19 vaccine, as part of the deal for 31 million doses of the vaccine as adopted by the Ministry of Health in May.
The Ministry of Health will be responsible for the purchase of the vaccine as swiftly as possible as Vietnam is projected to vaccinate 70 percent of its population against Covid-19 to achieve herd community by early next year.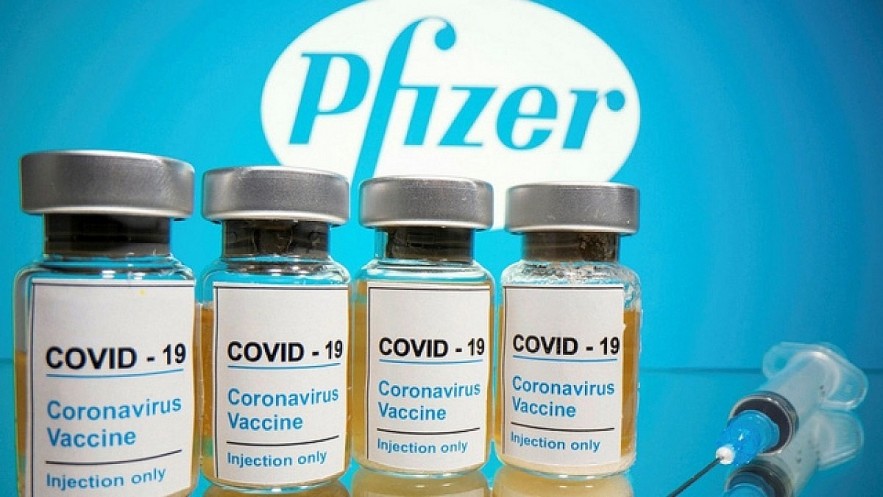 Photo: VNN
The nation received the first one million of Pfizer doses in July, while another three million are set to be delivered this month. The remaining 47 million doses are expected to be delivered in fourth quarter of the year, reported VNN.
Earlier in June Vietnam also consented to buy 30 million doses of the AstraZeneca Covid-19 vaccine from the Vietnam Vaccine Joint Stock Company (VNVC).
The country has so far received 19 million doses of Covid-19 vaccine from the deal with VNVC, the global vaccine access mechanism Covax, and as support from other nations. This consists of 11.5 million doses of AstraZeneca vaccine, 12,000 doses of Sputnik V, 746,000 doses of Pfizer, more than 5 million doses of Moderna, and 1.5 million doses of Sinopharm vaccine.
As of August 14, more than 13.7 million people nationwide received at least one dose of the Covid-19 vaccine, and more than 1.2 million have been fully vaccinated.
HCM City, Binh Duong record highest number of Covid-19 cases, total hits 9,580
A total of 9,580 positive Covid-19 cases, including 6 imported infections were confirmed by the Ministry of Health on August 15, pushing up the national tally to more than 275,000.
Of the total figure detected in 41 provinces and cities, Ho Chi Minh City and the southern province of Binh Duong recorded the highest number of infections with 4,516, and 2,358.
Some southern localities also recorded hundreds of local cases, while others reported either single or double-digit cases.
Among the new cases, 2,470 were recorded in the community and the remainders in quarantine zones and areas that have been isolated. Vietnam has so far registered a total of 2,437 imported cases, and 272,607 local transmissions.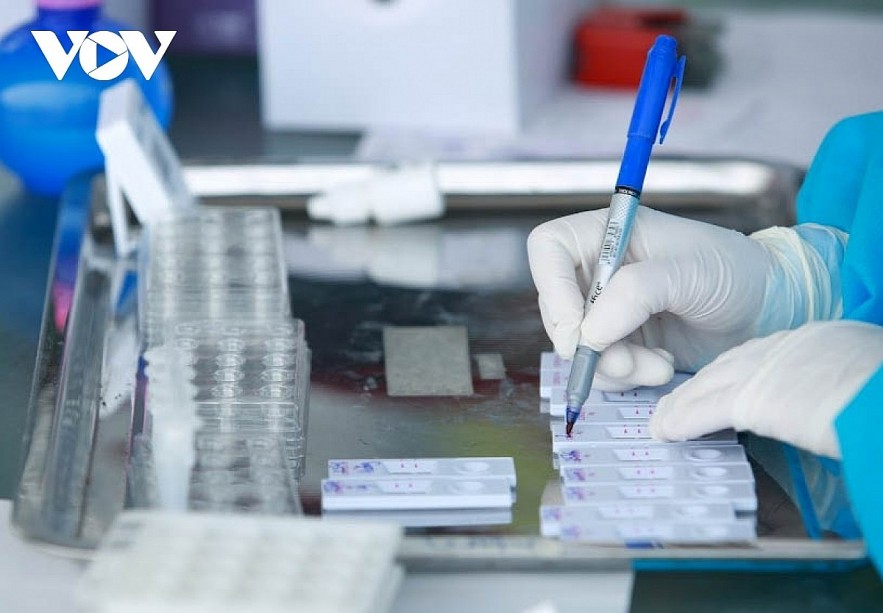 Photo: VOV
More than 271,000 domestic cases were recorded nationwide during the fourth wave of Covid-19 outbreaks in late April, of which more than 99,000 patients have been declared to be clear of the virus, according to VOV.
One day earlier, the Health Ministry confirmed more than 9,716 new Covid-19 community transmissions in 40 cities and provinces, with HCM City hotspot continuing to take the top spot at more than 4,200 local cases.
The same day the Health Ministry announced the discharge of 5,519 Covid-19 patients, therefore raising the total number of recoveries to over 102,000.
A further 337 patients died from the disease across 14 provinces and cities, with the total number of fatalities increasing to 5,774.
August 14 saw nearly 613,000 people inoculated against Covid-19, bringing the total number of vaccinated people to more than 14.4 million.
Elsewhere, southern localities continue to see increasingly complicated developments of the pandemic, especially with Ho Chi Minh City, the country's current Covid-19 hotspot, which will go ahead with its continued strict social distancing order for another month until September 15.
All Vietnamese equal to access modern education: new scheme
All Vietnamese people will have equal opportunities to access an open, diverse, flexible and modern education system by 2030, thus contributing to promoting the development of human resources, especially high-quality ones, to meet the requirements of the Industry 4.0 and international integration.
The goal is set in the project "Building a society of learning in the 2021-2030 period" recently approved by the Prime Minister.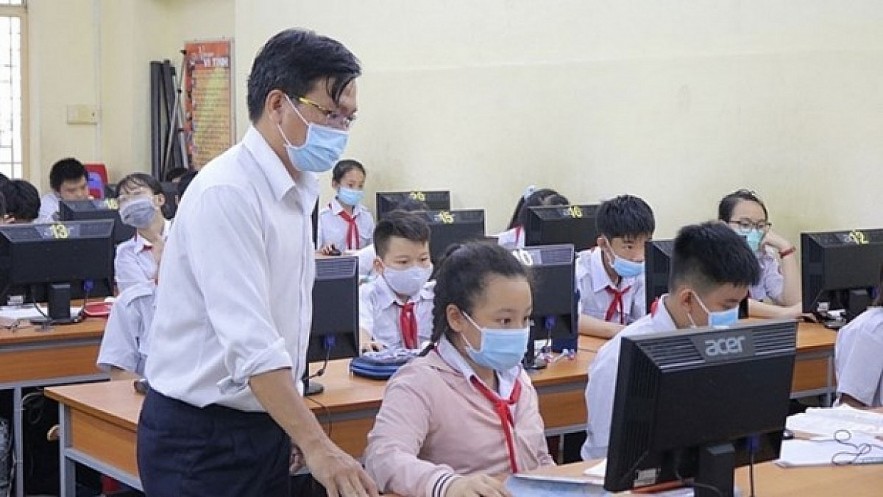 Photo: VNA
The project sets targets of 90% of provinces to achieve the literacy standards at Level 2, 100% to complete preschool education universalisation for preschool children, and 70% to meet the standard of universal primary education at Level 3 by 2030.
It also strives for 70% of people in the working age to be equipped with information capacity and living skills, 60% aged from 15 trained in technical and professional qualifications, and 15% having a university degree or higher.
In order to achieve the above goals, the project offers a number of tasks and solutions such as disseminating and raising awareness about building a learning society, completing relevant mechanisms and policies, promoting the implementation of digital transformation and application of information technology in the organisation of lifelong learning activities, reported VNA.
It is necessary to promote activities of the community learning centre, launch movements and campaigns to promote life-long learning, and strengthen international cooperation in the field of life-long learning, build a society of learning and developing open and distance learning technology, according to the scheme.
Famous tourist hotpots to extend social distancing measures to contain Covid
Ba Ria-Vung Tau in southern Vietnam and central Binh Dinh Province, famed for their beaches, would extend social distancing measures amid the complex pandemic situation.
The entire Ba Ria-Vung Tau Province of nearly 1.2 million people, except for Con Dao Islands, would continue lockdown measures for another 10 days from next Monday until Aug. 25 under Directive 16, which requires people to stay at home and only go out to buy necessities like food or medicines or to work at factories or businesses allowed to operate.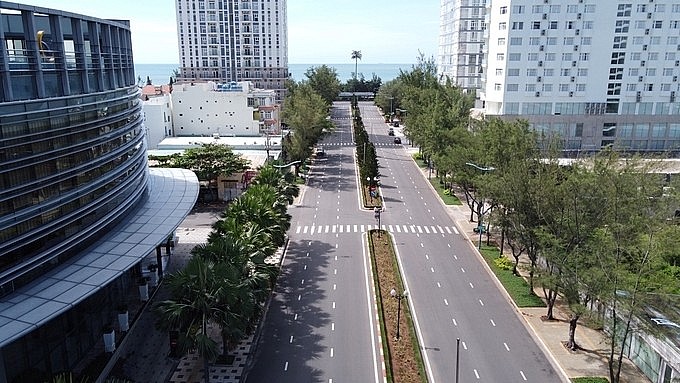 A street leading to Vung Tau beach is left deserted, July 2021. Photo: VnExpress
After more than one month and a half of recording community transmissions during the current wave, the southern province, which neighbors epicenter Ho Chi Minh City, has reported 2,462 infections and 21 deaths, cited VnExpress.
Con Dao, famous for its beautiful beaches and wartime prison, will relax restrictions with Directive 15, which prohibits social events, gatherings of 20 people or more and 10 outside workplaces, schools and hospitals.
The island district of over 10,000 people has not yet recorded any infections during the ongoing outbreak though all tourism services and flights connecting to the island have been suspended.
Binh Dinh, home to famous beach town Quy Nhon, would continue social distancing for another 10 days from Sunday until Aug. 25 under the less stringent Directive 15, according to the provincial portal.